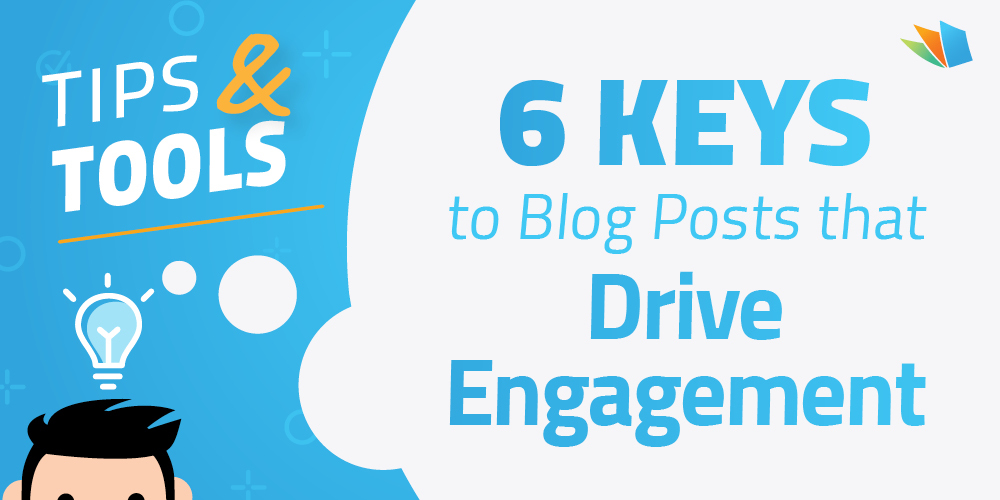 Content that engages your audience isn't about winning a popularity contest. It's about enticing or activating motivation, making it more likely that the reader will convert into a borrower. Engaging content also makes your business more memorable. So even if the prospect didn't take action then, your content and business would linger on their mind long after, increasing the likelihood that they'll return to your mortgage site. 
If you're stumped on how you can give your mortgage web content a fresh and engaging upgrade, this post is for you. In this post, we will look at six keys for creating mortgage content to drive engagement. 
Use Visuals like Video, Graphics, and Images
It's well known that humans are primarily visual learners. This study illustrates that idea when it found that a person could remember about 65 percent of visual information after three days versus only 10-20% of written information. That's not to say that text is irrelevant. Written content is still a preferred way to consume content and the foundation to organic web traffic. But adding a visual element will help to make your content more appealing and memorable.
The other thing about visuals is that they are more likely to be shared around the web, helping to intensify engagement opportunities.
Make Lists
Business blogs are discovering what magazines have known for over a century — readers like lists! Articles with titles like "top ten ways…" or "20 tricks to" instantly pique curiosity and trigger the reader to click more to read the entire article. 
Another benefit of lists is that they break down information into bite-size pieces, making it easy for the layperson to understand complex topics like finance or real estate. 
Use storytelling to share a success story
Humans love a hero story, and sharing a client success case study is how you can do it. The great thing about this method is that you don't even have to be a great storyteller. Just follow this basic three-act model, and you'll have an engaging piece of content that your reader will devour.
The setting – Offer some background demographics on the client, like age, career, and family. Also, share info on whether the client is a first-time homebuyer, a veteran, or perhaps looking to retire soon.

The problem- Describe questions or obstacles that the client is struggling with.

The resolution: Bring the story into a climax, describing how concerns were resolved.
Create a how-to guide
When writing a "how-go mortgage" guide for driving engagement, go long. About 1,500 words or more. Substantial guides are more likely to get read and shared. Although a 1,500-word guide or blog post can seem too challenging to create, an easy way to think of them is as a list blog post where you dive deep into each bullet point.  
Here are some additional tips on creating how-to guides for your mortgage blog:
Focus on solving a problem for your prospective borrower

. A how-to guide is only helpful and valuable if it actually solves a real problem for your reader.

Break up large chunks of text.

Break up topics visually with checklists, quotes, or infographics. 

Include a workbook.

A companion workbook adds even more value to your guide and invites engagement. No time for creating a whole separate workbook? Consider adding exercises or questions at the end of each section for the reader to complete. 
Provide resources or tools
Create content that lists tools or resources helpful for the prospective borrower, such as: where to check their credit history, a guide for creating a budget, an affordability calculator, recommended local home repair service providers, local hiking trails, and community activity guides are a few examples of helpful resources that will likely get shared.
Do something unexpected
The purple cow is a method made popular by marketing guru Seth Godin. Godin introduces this idea with an anecdote about going on a car trip and seeing cows grazing on the field. While it excites you at first (especially if you're a city slicker), you get bored after miles of the same plain cows. Now imagine that there's a single purple cow grazing amongst the hundreds of typical cows. Not only does it immediately catch your attention, but it keeps it as well –for some time!
This relates to engaging content creation because you want to pivot from the norm to get people talking. Here are some ideas:
Play devil's advocate and offer a different perspective on a popular mortgage topic

Include gifs on your blogs or create memes for shareable content

Combine mortgage topics with seemingly unrelated subjects (i.e., "Dwight or Jim: The Office Guide to Buying Your First Home")
Ask for engagement
A simple way to increase your content engagement is to just ask for it! At the beginning of the post, ask your reader to bookmark it for future reference. At the end of the post, ask your reader to comment and share the post on social media.
Be sure to include a social media plug-in to make it super simple for the reader to share with their followers. 
Did you find this article helpful?
Check out past articles on related topics like top ten online courses to grow your mortgage business and ways to drive more traffic to your mortgage website.