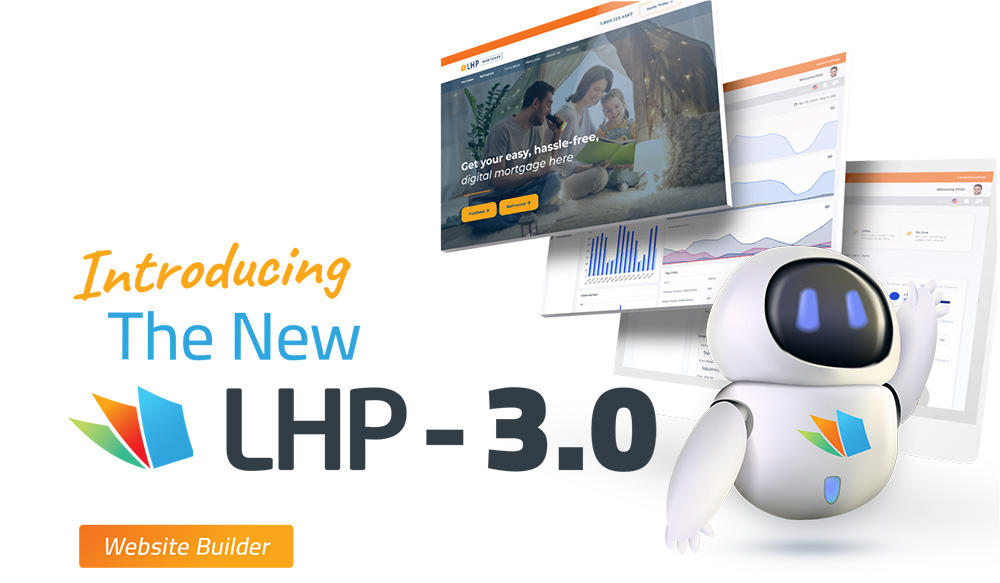 We knew we had something compelling, innovative, and unlike anything else in the market when we launched our new LHP 3.0 website builder–but what we weren't prepared for was the OVERWHELMING POSITIVE response from our early adopters!!
The excitement is palpable, and we couldn't be more thrilled to hear our clients rave about how LHP 3.0 helped them take their business to the next level.
LHP 3.0 has redefined what's possible for mortgage websites and for my business…it's not just an upgrade, it's a game changer! –Stephen G.

Love [LHP 3.0] and the new AI features. Makes it simple to really optimize your content. — Adrain J.
Are you ready to join the ranks of LHP 3.0 success stories? The clock is ticking, and the time to upgrade is NOW!
Until October 20th, we're offering an exclusive opportunity for our existing clients to migrate their websites to LHP 3.0 with no migration fees.
Watch LHP 3.0 Recorded Webinar
Absolutely the best service. They have upgraded their editing software for the website and it's more customizable. –James B.
Don't miss out on the chance to unlock the power of AI-driven features that will not only transform your online marketing strategy but also set you on a path to unparalleled success!
Why Upgrade to LHP 3.0?
1. Simple Page Design & Editing
With LHP 3.0, you'll experience a website builder that's user-friendly and intuitive. Say goodbye to coding nightmares; our stackable page editor allows you to effortlessly create and edit pages. Drag and drop content, images, videos, and more with ease, giving you full control over your website's design.
2. AI-Generated Content
Struggling with content creation? LHP 3.0 introduces Chat LHP, powered by Chat GPT, an AI-powered content writing assistant. Generate engaging and personalized website content, from blog posts to product descriptions, with ease. Boost productivity and enhance your online presence.
3. Rank Higher (SEO)
Stay ahead of the competition with LHP 3.0's top-ranking performance. Build a blazing-fast website that captures organic traffic effortlessly. SEO speed considerations are integrated seamlessly, helping your website rank higher on search engines.
4. Social Media Content
Revolutionize your social media marketing with LHP 3.0. Automatically generate branded content tailored to your company's identity. Empower loan officers with personalized content to increase traffic and build stronger connections.
Act Fast, Pay Less: Upgrade to LHP3
5. Integrated Landing Pages
Create custom landing pages in minutes, or choose from pre-made templates that align with your branding and messaging, showcasing your services professionally and effectively. Ideal for paid ad campaigns!
6. Customizable Lead Funnels
Capture more leads with ease using LHP 3.0's lead funnel templates. Guide website visitors through the mortgage journey, providing relevant information and encouraging applications.
7. Automated Review Posting
Enhance your credibility by seamlessly integrating third-party reviews. Display authentic customer feedback, building trust and confidence among visitors. Boost your brand reputation and conversion rates –all within your LHP3 website!
8. Calendar Integration
Streamline communication with Calendly integration. Allow prospects and borrowers to schedule appointments with loan officers directly from your website. Simplify the appointment booking process for your clients.
9. Analytics
Access detailed analytics on traffic, sources, and content performance. Make data-driven decisions to optimize your strategies and achieve outstanding results.
Don't miss out on the opportunity to supercharge your digital presence with LHP 3.0. Upgrade before October 20th to enjoy a seamless migration with no migration fees. Elevate your online marketing strategy and stay ahead in the competitive mortgage industry. Connect with us today to get started!
No Migration Fee for LHP 3.O – Act Now!