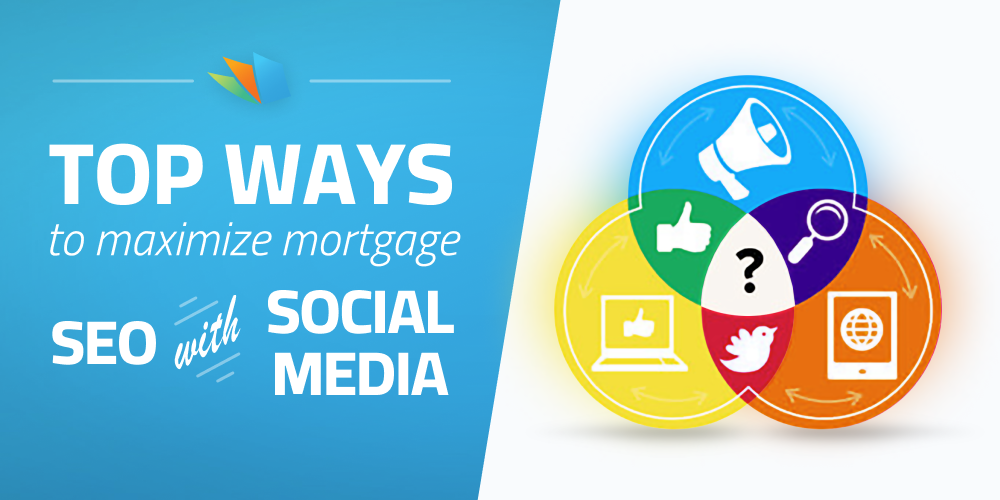 Many mistakenly believe that SEO and social media are two different entities when, in reality, they're two sides of the mortgage marketing "coin."
If you are a loan officer or mortgage broker handling your brand's marketing on your own, keep reading to learn about social media's impact on your mortgage website. Our mortgage SEO strategies, backed by an active and impactful social media presence, can significantly improve search engine rankings and increase website traffic, ultimately producing more leads in your pipeline.
Done-For-You Mortgage Social Media
Social Media's Impact on Website SEO
'Social SEO' is a marketing term you may have come across. It refers to the site's search engine ranking resulting from your social media content.
While Google has mentioned that social media doesn't directly impact a website's SEO, many studies suggest otherwise. For example, a recent Hootsuite study revealed that content backed by social promotion performed 22% better in search engines than content with no social promotion.
Other search engines, however, have openly shared that social media signals influence their ranking algorithms.
The truth is that social media and SEO are closely integrated.
In fact, marketers consider social media platforms themselves to be a form of mini search engine. Platforms like YouTube and Facebook receive a couple of billion searches a day! Therefore, would it be unreasonable to assume that those billion searches are influencing search engine rankings, too?
An active social media presence helps to get your business in front of the prospect's eyes –whether that's on the social media platform itself or through its SEO impact.
Top Social Media Strategies to Improve SEO
Now that we've covered what social SEO means, let's dive into some expert tips on improving SEO for mortgage brokers using top social media sites such as Facebook, X (Twitter), Instagram, LinkedIn, TikTok, etc.
Sustain Visibility of Your Top-Performing Content
Social media provides a continuous opportunity to share your best content to bring new traffic. So instead of a one-time post on your website, which will get buried under an array of other posts in just a month or less, you'll reignite interest and extend the life of each piece of content.
Plus, it gives you more chances to reengage your audience in a topic you already know matters to them!
Want to get even more life out of your content? Invite your followers and referral partners to reshare the post on their social media.
The traffic generated to the content, plus the time spent on your site, all vouch toward your boosting the visibility of your mortgage website, resulting in a boost to your organic search engine ranking.
AI-Driven SEO Websites: On-Demand Demo
Capitalize on Social Media to Share Glowing Reviews and Elevate Your SEO
The public actively searches out business reviews and considers them necessary to learn about a company's reputation. So it's not surprising that search engines prioritize businesses with favorable reputations by ranking them higher in search results.
So, how can you use social media to do the same?
Ask your top clients to follow you on your socials. Chances are they will comment on your posts and support you, boosting your buzz and rep! Having social profiles also allows clients to tag you when they want to commend your service.
As long as your social media community praises your services and uses terms related to your industry (mortgage, loan officer, real estate, etc.), the public and search engines will quickly pick up on this to influence your ranking within related searches.
Harness the Power of Social Media to Boost Backlink Prospects
In the world of SEO, having another website link to your site matters. This is called backlinking. Social media opens up an avenue for backlinking by creating opportunities to connect with content creators who also own websites.
You'll want to do this in an organic and valuable way. Simply messaging or tagging other content creators on a post without developing a relationship first is unlikely to yield results.
It might even get you blocked by the creator!
Instead, engage with their content and build a rapport. Research their site and see where you can add value to their platform that makes sense for your business as well. When you've found where you can provide value and you have the content that will fill the gap, share it with them!
They will have a tough time passing on linking to your content now that familiarity and confidence have been established.
Use Social Media To Get Your Content Indexed Faster
Did you know that search engines prioritize indexing content that generates the most clicks in the least amount of time? This tells Google and other search engines that a particular piece of content is important and should be shown in front of more people.
That's why you should make it a key goal to post your content often on social media so you increase the chances for more clicks to your blogs and pages.
Pro tip: Use social media in tandem with the manual indexing feature in Google Search Console for lightning-fast indexing!
Fast-Track SEO Success: LHP3 Website Templates
Social Media Helps to Establish Authority –A Key Factor in SEO Ranking
Google prioritizes subject authority. It wants to present the most helpful content to its searchers, using every avenue at your disposal to send signals that you are an authority in this industry for your location is a must.
And as you might've guessed, social media helps with this aspect too!
There are many types of posts you can share on your socials to present yourself as an expert in your niche, including:
A reel where you demystify the home loan process in three steps
Mythbuster carousel posts about why people opt to rent rather than buy
Client stories about how you led them through multiple hurdles (reels or posts)
Not only will you increase SEO authority with more backlinks, but with more content circulation, others recognize how valuable your content is.
BUT…
Make sure authority doesn't stop after someone clicks to go to your website. If a potential mortgage client has high expectations about your mortgage services and is led to a difficult-to-navigate website, overlapping design elements, inconsistent messaging, etc., chances are you'll never get the lead!
Even details like page speed can affect your SEO ranking!
If you need to redesign your website to better convert your site visitors, consider using a mortgage website template. LenderHomePage's library of SEO-optimized website templates includes all the features that every mortgage brand needs on their website, including:
Built-in lead funnels
Lead magnets with professionally drafted eBooks
Interview-Style digital 1003
Landing pages for your paid campaigns
Interactive mortgage calculator, client testimonial engine, and more.
Open Up Referral Partnership Opportunities
Social media is meant to connect people in general and not just to connect businesses to their target audience. Remember, thousands of companies have business profiles on top social media sites. This makes it easy for you to seek out new partnership opportunities for client referrals.
To find new partners to work with, look for other brands within the mortgage industry that have a decent following but aren't your direct competitors. However, keep in mind that if your business profile has 20 followers, chances are that a brand with 5,000+ followers won't want to partner with you. In the end, both of you should provide equal value for each other's business, so try to find other accounts with a similar amount of followers as yours.
Once you find a company you are interested in partnering with, DM them asking to collaborate.
Types of collaborations can include:
Content collaborations: Split a piece of content in half so your partner encourages their audience to go to your website to read the rest, and vice versa. (ex. In an article about refinancing tips, go over three tips on your website and send your audience to your partner's website to read the other three tips. Your partner will do the same for you.).
Client referrals: Ask your partner to refer their clients to you for their loan process, and make sure you do the same for them.
Gain Insight Into Your Followers' Needs to Provide Tailored Content
If you think about it, social media is one of the few options that provide you with a community where you can get to know your audience better. When you create interactive content that encourages your followers to respond to you or ask questions, you can learn more about their interests.
There are also a number of social media features that help you learn about what's trending in the mortgage industry, including hashtags, top posts, and others' blog content.
This can help you brainstorm topics for new content that your audience wants to see. Creating content on trending topics will likely garner more impressions and clicks to your mortgage content through Google.
Through indirect means, social media can help you improve your search engine ranking and helps you gain more traction on your quality content.
If you don't know how to start creating top-notch social content, or you don't have a design team to create social graphics for your brand, try using a mortgage social media service –included in every LHP3 Website! That way, you don't have to worry about reinventing the wheel and brainstorming new ideas for top-performing posts.
LenderHomePage's social media program includes done-for-you posts to generate social engagement, leads, and followers. Our posts include powerful call-to-actions to ensure your audience is enticed to click and be led to your website. Request a demo of our all-new AI-driven mortgage websites with social media today!