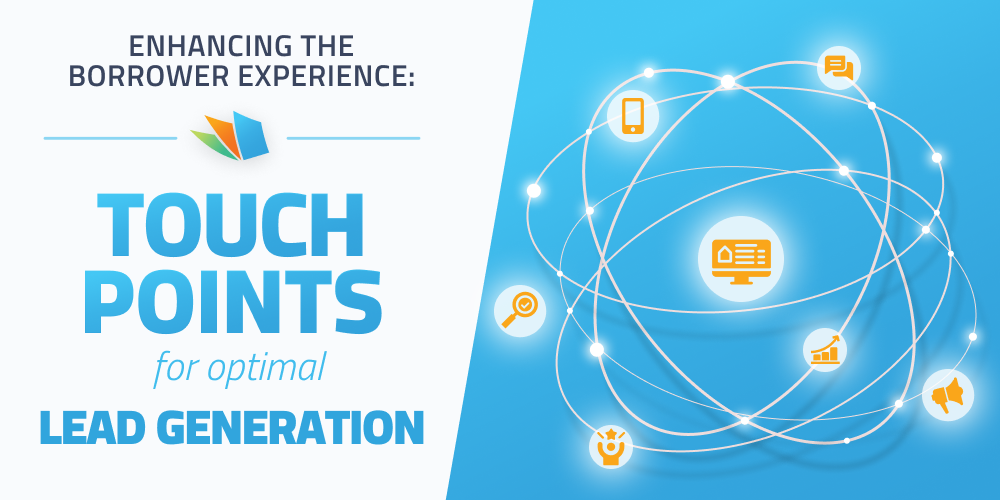 Effective lead generation involves identifying and implementing pivotal touchpoints, or points of contact, throughout a mortgage lending buyer's journey. It is a survival strategy. You miss one touchpoint, and your prospect drops off and gives another lender their money.
It takes an average of eight touchpoints to make a sale. However, this is a general stat, and the number varies from industry to industry and depends on what buying stage a prospect is in. The mortgage industry requires almost twice as many touchpoints.
Touchpoints should also be leveraged post-sale, as it's vital that you stay in touch with clients to generate new business through referrals, refinancing, etc.
Read on to see the 14 touchpoints you MUST incorporate for a successful mortgage broker lead generation strategy.
Transform Your Lead Gen – Book a Demo Now
Before a Sale
Intuitive Website
Your mortgage website serves as the initial gateway to your professional brand, and it's crucial that it exudes intuitiveness and user-friendliness. Ensure that every visitor finds all the essential information at their fingertips, including:
1. Specialized Loan Offerings: Clearly present the types of loans you specialize in, making it easy for potential clients to identify the financing solutions you offer.
2. Service Areas and Licensing: Highlight the regions you serve or are licensed in, establishing trust by demonstrating your commitment to local expertise and compliance.
3. Contact Information: Make it effortless for potential homeowners to reach out to you. Your contact details should be readily accessible and prominently displayed.
The significance of a professional brand cannot be overstated.
It sets the tone for your mortgage business and instills confidence in potential clients. To optimize your website's potential, consider incorporating interactive tools that facilitate the collection of crucial information to enhance your engagement with inbound mortgage leads.
The result of a well-branded, user-friendly website is that it not only exudes professionalism but also fosters a seamless and professional experience, leaving a lasting positive impression on your audience.
Social Media
An impactful social media presence is a vital touch point in the homebuyer's journey. It provides a unique platform for sharing invaluable industry insights that empower prospective homeowners with a deeper understanding of the homebuying process. To maximize this engagement:
1. Share Your Wisdom: If you consistently produce informative blog content on your website, make it a point to broadcast it across your social media channels. This approach broadens your reach and ensures that your expert advice reaches a wider audience.
If producing share-worthy content is a struggle, check out our new LHP3 website builder! It has a built-in AI blog-writing tool to help you blast through writer's block. Plus, all LHP3 websites come with a library of ready-to-use social media content, so you always have engaging and valuable content ready to share.
2. Ask The Audience: Enhance your connection with your audience by creating polls or asking questions that delve into their behaviors and preferences. Gain valuable insights and use this information to tailor your content and services to meet their needs.
3. Personalized Interaction: Acknowledge and engage with interested homebuyers by responding to their comments and direct messages promptly. These personalized interactions demonstrate your commitment to fostering a supportive and approachable relationship.
Incorporate social media as a cornerstone in your strategy, and you'll discover an array of dynamic opportunities to connect with your audience, bolster your brand, and offer invaluable guidance at essential points along their homebuyer journey.
Done-For-You Social Media – Get a Demo
Online Ads
Elevate your impact in the homebuying consideration phase by strategically leveraging targeted online advertising campaigns on platforms like Google Ads and Facebook Ads.
1. Precision Targeting: With Google Ads and Facebook Ads, you have the power to precisely reach your desired audience. Craft ad campaigns that resonate with potential homebuyers at the exact moment they are researching the market. By targeting specific keywords and demographics, you can ensure your brand is top of mind when they are actively seeking information and making critical decisions.
Make it even easier by using a landing page builder –no design or coding know-how needed!.
2. Outshine Competitors: Don't overlook the opportunity to run Google Ads for terms that indicate someone is researching your competitors. This tactic positions your brand to stand out and articulate its unique strengths. By addressing the competition head-on, you assert your brand's superiority in the eyes of the consumer.
3. Retargeting Advantage: Reach out to those who have already visited your website but may have temporarily strayed from their homebuying journey. Implement retargeting campaigns to reignite their interest and gently guide them back to your offerings. Remind them of the advantages of choosing your mortgage services, reinforcing your brand's presence in their consideration set.
By harnessing the potential of online advertising, you not only create additional touch points with homebuyers but also tailor your message to address their specific needs and preferences. This proactive approach strengthens your brand's position and influence during the pivotal homebuying consideration phase.
Blogs & Expert Content
Blogs play a vital role in the homebuying journey. Homebuyers often feel overwhelmed by the complexities of the process. To ease their path, create expert content on a range of mortgage-related topics. Additionally, generate content on less-saturated subjects to attract more readers.
Blogs serve as an essential touchpoint, offering clarity and guidance while establishing your brand as a credible and valuable resource in the journey to homeownership.
Below are some ideas for unique mortgage blog posts:
10 Insider Tips for First-Time Homebuyers in Tyler, TX

Guide to Understanding Fixed-Rate vs. Adjustable Rate Mortgages in West Palm Beach, FL

Cedar Falls Homebuyers: How to Improve Your Credit Score Before Applying for a Mortgage
Coming up with original and valuable mortgage blog content on a consistent basis is a challenge.
That's why we introduced an innovative AI-blog writing tool into our new LHP3 Website Builder. We recently demoed this ground-breaking feature at AIME Fuse 2023 in Las Vegas, and the response was phenomenal!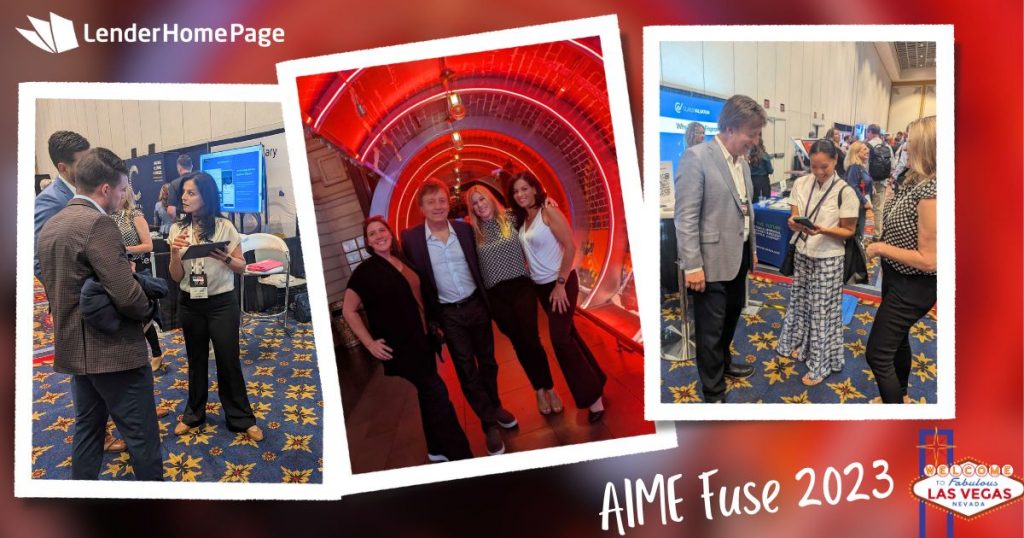 Events & Webinars
Active homebuyers likely attend real estate events, so every mortgage broker marketing plan should include events to pull in strong prospects. Sites such as Eventbrite list out all the events happening in your area, and you can always do a quick search for 'real estate' or 'mortgage'.
If budget and time permits, consider hosting your own in-person mortgage events, where you educate interested homebuyers on complex mortgage subjects such as building a good credit score, making the most out of a home loan, etc.
Webinars are typically engaging and in-depth versions of blogs, where you have a chance to put your face on the knowledge you distribute online and answer questions directly in the sessions. There's a lot more content you can cover in a 40-minute webinar than a 1,200-word blog post.
Joint webinars with your best clients better convince prospects to work with you.
Referrals
Referrals represent a pivotal touch point in the homebuying journey. These recommendations, originating from satisfied past clients and trusted real estate agent partners, serve as beacons of assurance for potential homebuyers. They provide a roadmap, directing individuals towards your services with confidence.
Incorporating a robust customer referral program is akin to crafting a bridge of trust throughout this journey. The referred leads approach your services with an established sense of reliability, saving you the effort of creating an initial favorable impression. Now, your primary task is to perpetuate and enhance this positive image, ensuring the promises made by previous clients continue to be fulfilled.
Referrals, therefore, do more than streamline your lead generation efforts; they fortify your brand's reputation and solidify your role as a trusted expert in the mortgage industry, creating lasting impressions along the way for potential homebuyers.
Boost Realtor Referrals – See a Demo
Tip: Ask prospects what exactly they heard about you that made them want to reach out. You can then elaborate on those points to further solidify your brand as the #1 option in your audience's minds.
During a Sale
Direct Conversations & Discovery Calls
The discovery call stands out as one of the most pivotal touch points in the homebuying journey, as it often serves as the decisive factor in whether prospective homebuyers will choose to work with you. It's the moment when their aspirations and your expertise align.
To make the best use of this crucial interaction, meticulous preparation is key. Gather all the information necessary to guide them toward their homeownership goals. Some essential talking points that you must not overlook include:
1. Financial Profile: Understand their financial situation thoroughly. Inquire about income, credit history, and outstanding debts. This insight enables you to tailor mortgage solutions that suit their unique circumstances.
2. Homeownership Goals: Delve into their homeownership aspirations. Determine their ideal property type, location, and budget. This information allows you to recommend properties and financing options that align with their desires.
3. Timeline: Discuss their homebuying timeline. Whether they're in a hurry to secure a home or taking a more deliberate approach, this knowledge helps you set realistic expectations and provide the right guidance.
4. Potential Challenges: Identify any potential challenges or concerns they may have. These could range from understanding mortgage terms to navigating the homebuying process. Addressing these apprehensions instills confidence and trust.
5. Communication Preferences: Inquire about their preferred means of communication. Some clients prefer regular updates, while others may favor a hands-off approach. Understanding their communication style ensures a seamless partnership.
6. Next Steps: Clearly outline the next steps and the path forward. Providing a roadmap of the process and setting expectations ensures a smooth transition from this touch point to the next phases of their homebuying journey.
By giving thorough attention to these talking points during the discovery call, you not only gain a deep understanding of your clients but also showcase your expertise and commitment to guiding them in the right direction. This sets the foundation for a successful and harmonious partnership as they embark on their path to homeownership.
8. 1003 App
Much like your website, your 1003 application serves as a vital touch point in the homebuying journey. Ensuring its ease of use is paramount. An intuitive, user-friendly interface is key, as it streamlines the application process and minimizes any potential hurdles for prospective homebuyers.
An interview-style questionnaire 1003 emulates a conversational experience, creating a sense of engagement and personal connection. This unique approach sets a tone of interaction, making applicants feel like they're having a guided conversation with a knowledgeable expert.
9. Reviews & Testimonials
Direct potential borrowers to your best reviews and testimonials to further build trust. This is easy if you have testimonials for a broad range of clients, so you can direct them to a client of a similar persona.
Since this is a high-converting element you MUST HAVE on your website, make sure to keep these updated. A built-in automated review posting feature for your mortgage lead generation website helps a ton.
10. Point of Sale
While an easy 1003 application allows you to receive more completed applications, there are a handful of other features you can offer to quickly close more deals.
Quick document uploads help keep everything in one secure portal. Regular loan status updates allow you to hold your audience's hand without contacting them directly. Automated preapproval letters make borrowers feel in control.
Lastly, direct messaging and communication within the same platform your audience uses for all of the above helps the whole process feel less intimidating and more connected.
Loanzify POS – Schedule a Demo
11. SMS Updates
People generally get annoyed by text message reminders, but when it comes to homebuying, your audience WANTS to be updated by text.
Use an SMS reminder platform such as Loanzify to easily set up automated and customizable SMS updates to gently remind clients to continue their application process or alert them to any updates to their loan file.
12. Secure Mobile or Web Portal
Detailed documents are required to get a mortgage. However, the last thing homebuyers want is to sacrifice sensitive information.
Let your audience know that their information is secure in the Loanzify portal, with safe and easy documentation uploads. This further convinces prospects to work with you, as it's one less worry for them.
After a Sale
13. Thank You Letter
Don't cut off all contact with clients once you receive payment. Show your audience that you appreciate their business. Take the time to craft a thoughtful email and personalize it to make them feel special.
At the end of the letter, make sure you ask them to leave you a review and link to your review platforms such as your Google Business profile, Yelp, Facebook page, etc.
You can also link to private feedback surveys so you can collect valuable insights into how your service was. Encourage them to be honest.
Lastly, you can gently ask them to recommend you to friends and family if they enjoyed your service.
14. after-Sale Emails
After-sale emails are not just an essential touch point; they are the invisible thread that keeps you connected to your borrowers long after the deal is sealed. By sending after-sale emails with pertinent market updates and valuable homeownership tips, you stay firmly on their radar.
These post-sale emails offer a dual benefit. Firstly, they provide your borrowers with valuable information, helping them make informed decisions regarding refinancing or other financial matters. This thoughtful approach enhances their trust in your expertise and fosters a sense of ongoing support.
Secondly, these emails are subtle reminders to your previous clients about your extraordinary service.
By consistently delivering informative content, you remain a trusted resource in their eyes, making it more likely that they'll recommend you to friends, family, or colleagues who are embarking on their homebuying journey.
In this way, after-sale emails serve as a powerful tool to not only engage and educate your audience but also to subtly cultivate referrals and maintain your position as a top choice in the mortgage industry.
Final Thoughts
The mortgage lead generation strategies shared in this guide are more than just a roadmap; they're a compass that points toward a future where lenders not only survive but thrive.
By leveraging these 14 key touchpoints, you're not just enhancing the borrower experience—you're transforming it into an unforgettable journey that sets you apart from the competition.
Your borrowers are waiting, your leads are out there, and now you possess the tools to make an incredible mark. Here's to a future of lending excellence and unrivaled success.
Interested in learning more about mortgage touchpoints? Check out our post on How to Use Touchpoints to Drive Mortgage Lead Generation.