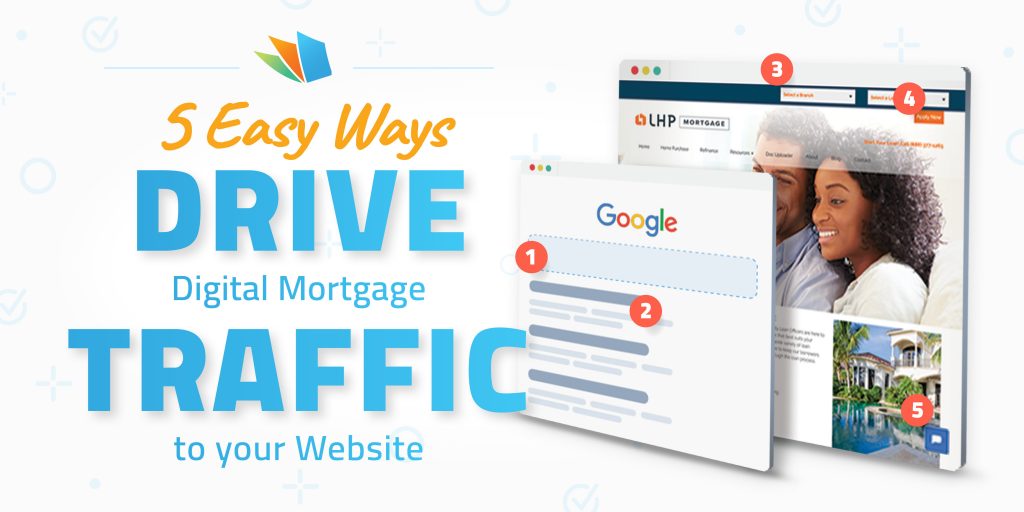 Setting up a website isn't too complicated –especially if you use a templated mortgage website. But what seems to stump many mortgage pros and brokerages alike is how to drive more traffic to their mortgage website. Although there isn't a one-size-fits-all solution (as marketing budgets vary for paid tactics), the strategies we're about to share with you have proven effective time and again. 
Before we dive in, we must clarify that these are not a one-shot deal. Many of these strategies are cumulative and require tweaking along the way. And some tactics you may want to consider handing off to a professional marketing team.
Now that we've set the right expectations let's get started.
Top ways to drive quality traffic to your mortgage website

Long-Tailed SEO Keywords
Unlike traditional keywords, long-tail keywords are highly specific phrases with keywords interwoven in them. Although they have a lower search volume, their higher level of specificity makes search engines more sensitive to it. Search engines see these phrases as indicative of highly related content, which, in turn, means your site will rank higher for these searches, and the visitor has a higher likelihood of converting.
An example of long-tailed SEO keywords would be "Spanish-speaking mortgage broker in Houston area" or "FHA loan requirements in Denver."
Get Active on Social Media
Given that about 70-80% of American digital consumers are on social media, it's a no-brainer to drive traffic to your mortgage website. Here's how to engage users and get them to click over to your site:
Share recent news or your latest blog post, and remember to add some personality to your social media copy! Your brand voice sets you apart from competitors and helps to strengthen relationships, making it easier to convert followers into web traffic. 

Format your social media posts to fit the platform. For example, tweets contain character limits and typically more hashtags, whereas Facebook has no limits, and marketers will add 1-2 hashtags max.

Interact with followers by replying to their comments or asking for their opinions.

Always add a link back to your website with every post, and make sure it's on your profile page as well.
Run Paid Ads
Paid ads on Google, social media or review sites such as Yelp are also great ways to promote your business and increase website traffic. Here are a few ways to do it:
Run display ads: Examples of this are banners, content texts, or images placed on third-party websites.

Paid search ads: These are the text ads that search engines show on their results pages. Google ads are the most commonly used paid search ads.

Social media ads: Image or video ads that pop up on the user's feed on social media platforms like Facebook, Instagram, Pinterest, LinkedIn, etc.

Sponsored content: Content that publishers are paid to distribute on their site (such as guest blogging) or their media channel (such as their YouTube channel)
However, something to keep in mind is that since this traffic will cost you, you want to make sure that the traffic converting into leads. In other words, it's not enough for these paid ads to bring traffic. Monitor the ads to ensure that the increased website visitors are also converting into mortgage leads.
Write Evergreen Content
Evergreen content is a longer form of content, usually about 1,000 words or more, on topics with a long shelf life. Think of this content as a pillar or reference article that you will share with your prospects for years to come. 
These are high-value content pieces, so make sure that you spend a significant amount of time crafting it or hire a professional copywriter to draft it for you. Combine it with the long-tail keywords that we mentioned earlier for a greater boost, and be sure to include a call-to-action such as a pre-qualify lead capture form to lead the traffic into your mortgage sales funnel.
Repurpose Old Content
Reusing already-published content gives you a head start since you'll already have the reference article for the necessary info and a baseline for the traffic that particular topic brings. Here are ideas for how you can breath new life to old content and boost your mortgage web visits:
Create a slide presentation

Create a video with talking points

Expand it into a webinar or ebook

Rewrite the article into a fresh new one (be sure that it's different enough so that search engines view it as a recent article and no duplicate content)

Publish the rewritten article on Linkedin, your blog, Reddit, or another website. Be sure it includes links back to your site. 

Create an infographic

Use excerpts as graphic quotes to share on social media.
Fast Track Your Web Traffic with a Mortgage Website From LenderHomePage
We know mortgage websites because we've been designing and perfecting them for over 10 years. As one of our flagship products, our templated mortgage websites continue to be one of the most praised digital mortgage tools on the market today. The clean designs are impressive enough to use right out of the box but can also be branded and edited without coding or tech skills.
Mobile-responsive matters!
Mobile responsiveness is a factor in ranking (Google has disclosed this info) and influences visitor behavior. Essentially, the more pleasant their experience is via mobile, the more likely it is that they will apply for a loan and recommend your site to others. Try it out free for 14 days here.