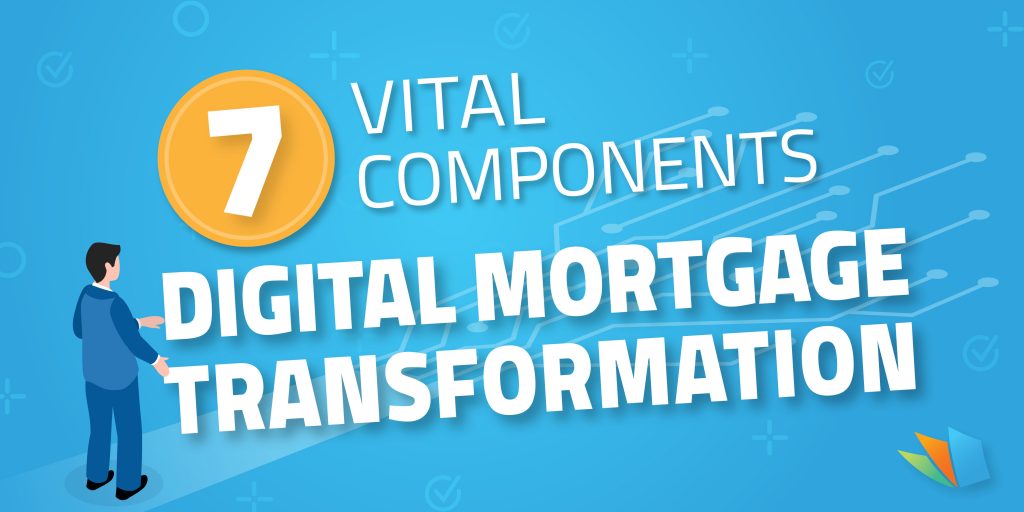 Research shows a direct link between successful digital implementation and profitability. But the correlation requires originators and lenders to think beyond deploying individual tech tools and instead target a digital-focused business strategy with user experience (UX) and loan automation technology. 
Digital Mortgage Transformation Is Essential to Driving Profits
Improving the components of digital mortgage delivers a multitude of benefits that contribute to increased ROI, including:
Improved borrower acquisition and customer satisfaction ratings

Better employee performance and engagement

Increased client and employee retention 

Reduced cycle times and operational costs

Expanded efficiency and market share in addition to other measurable benefits. 
The above might sound like info you've heard before –even before the pandemic. 
But effective digital mortgage transformation demands more than adding a single piece of lending software. Digital mortgage transformation is a well-conceived strategy that permeates every aspect of your business.

From the Borrower Journey and business structure to data-driven decision making and back-office operations, digital transformation is crucial in every element of lending. 
But what makes for an effective digital mortgage transformation? Here are 7 vital components you need for success:
Reimagined UX (Borrower Journey). Understanding the borrower's perspective is more crucial than ever as the preference for digital convenience booms and UX in mortgage lending is more than its utility. For example, the new URLA/MISMO v3.4 that Fannie Mae and Freddie Mac are requiring starting March 1, 2021, reflects a shift in the borrower lifestyle as well as the need for a better way to organize the data.
But the new URLA itself does nothing to increase completed mortgage applications. That persuasiveness is left to a Borrower Experience that is immersive and adaptive in design and emotional engagement. Read this article to learn more about transitioning to the new, mandatory URLA. 
Omnichannel Efficacy. Omnichannel is a borrower-centric approach that meets the borrower where they are – physically and emotionally. In terms of digital mortgage transformation, it strengthens relationships and works with the borrower's motivation to remove hurdles and facilitate a conversion. It is flexible, responsive, and consistent across every touchpoint. 
Upgraded Automation. Automation accelerates every part of the loan cycle by minimizing loan touches and increasing accuracy. You can read this previous article, where we go in-depth about mortgage automation. However, the key takeaway is that delegating tasks into the "capable hands" of loan automation software is a 360-degree advancement for your mortgage team, stakeholders, and consumers. 
Keep the human touch in mortgage automation. Download this free ebook to learn how.
Executive Vision and Leadership. Digital transformation is a positive disruption –but nonetheless, a disruption, and it'll require guidance. Depending on your organization's size, the leadership can come from you as the sole broker or from your management team. 
Leadership doesn't need to be tech-savvy. However, it is necessary that leadership fully understands how digitally transforming the organization will improve operations, customer experience, revenue, and competitive position. In turn, leadership should be able to articulate these benefits to the entire organization. Read this article to learn more about scaling from a single broker to an enterprise.
Mortgage Analytic Platforms. Analytics in lending comes from many sources, including Google Analytics, CRM scoring, and customer communication analysis. While the info varies, all of these metrics give actionable insight to help create more effective marketing strategies, measure consumer engagement across processes (mortgage lead, intake, customer support, etc.), and help you determine the root cause of any dissatisfaction. 
Lending KPIs. Similarly, your lending KPIs give you a picture of your organization's overall health, allowing you to be proactive in understanding and correcting under-performing areas to prevent severe losses. Read this previous article to see which loan officer KPIs actually matter. 
Digitally-Enable LO Workflow. Going hand-in-hand with mortgage automation, defining and digitally-enabling LO workflow is a fundamental aspect of digital transformation. Rather than reiterate the benefits of a digital workflow (see upgraded automation above), this component emphasizes the importance of a configurable, mobile-first capability. 
The mortgage workflow platform should be rich in parameters and custom settings that provide flexibility, but it should do so in a logical and easy-to-implement manner. Furthermore, digital transformation also means your origination process must be mobile-ready. Yes, that means the ability to manage your pipeline from your smartphone or tablet. It's possible with the right mortgage POS system.