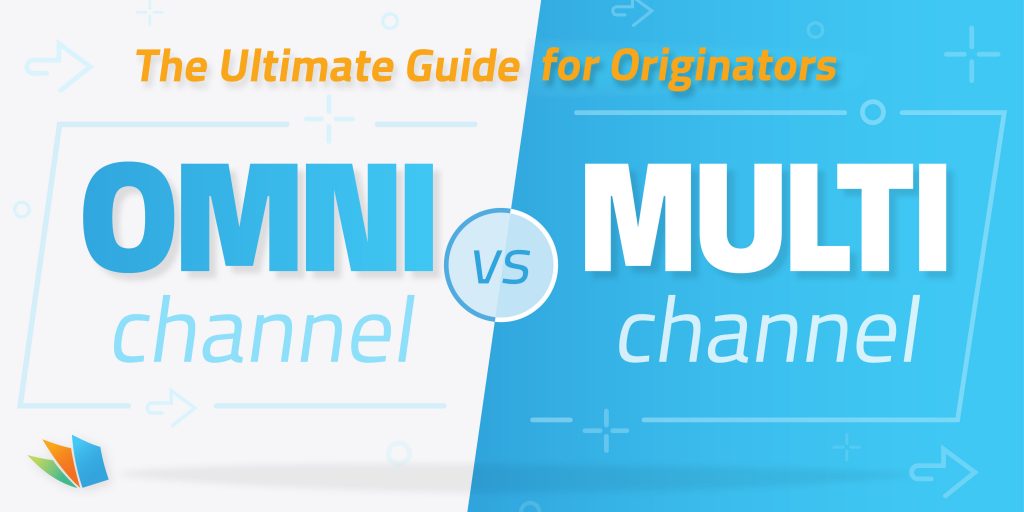 There's been a shift in how consumers interact with digital channels. It may seem inconsequential, but make no mistake, the transformation from multichannel to omnichannel in digital lending makes a massive difference to your lead generation and closing rate. 
In addition to a better  customer experience (which results in more repeat customers and referral), connected platforms save you a lot of time, and provide analytics to help you focus your time in the areas that grow your business.
In this originator's guide, we'll dissect what omnichannel lending looks like, how it's different (and better!) from a multichannel method, and how you can implement it now.
What is Omnichannel in Lending?
Multi-channel is great, if you have the time to piece together parts of a transaction to see where your customers are, and build your own reports, hoping you don't lose a customer along the way.
Omnichannel connects the various channels and platforms, to give your customers a seamless experience and smooth journey, while saving you time and providing valuable insight.
Omnichannel lending puts the borrower at the center. It focuses on the borrower's needs and delivers a seamless, unified, and personalized experience that allows them to access their information from any channel since all channels are connected. What's more, omnichannel lending creates opportunities at every stage of the mortgage sales funnel for targeted and meaningful interactions between the originator and the borrower.
In contrast, multichannel lending is the ability to interact with a borrower through various channels –meaning that the point-of-contact and operation are channel-focused. Mobile, telephone, social media, and in-person touchpoints are segmented with unique goals and strategies. 
Get a live demo to see for yourself how moving to an omnichannel platform with LenderHomePage.com and Loanzify can transform and boost your business.

Why Omnichannel in Lending Matters
Saves time – spend more time closing deals, and less time pulling all the deal elements and reports together.
Manage your team – in a convenient dashboard.
Better, faster reporting – Connecting channels means transparency across all channels, and effective reporting dashboards.
Increases the quality of touchpoints – The fluidity of an omnichannel system ensures the experience is consistent, moving the consumer forward through the sales funnel. 
High click-through and conversion rates– Omnichannel strategies have statistically significant higher engagement and conversion rates.
Harmonious Borrower Journey – Automated workflows out-perform siloed, separate-channel processing due to consolidating redundancies and expediting funding.
Increases customer satisfaction – Reviews, recommendations, customer loyalty, and reduction in abandoned applications are primarily based on how consumers feel about brand and service. Omnichannel assures the sentiment is outstanding. 
Have you ever had a drawn-out customer service experience that resulted in the agent saying something to the effect that "their department is a different system than the other department," so they'll need to contact the other department before they can assist you? 
That's the problem with multichannel in a nutshell. While each department (or channel) may work exceptionally well from a stand-alone perspective, it's flawed from a customer-experience and workflow standpoint.
Surprisingly, multichannel is precisely how many lenders work –with the branch, mortgage website, and mobile-app working independently from one another. In some of the worst cases, we've seen brokerages so disconnected that it takes several emails, calls, or texts to update team members on the loan status. Unacceptable in 2020. Amen?
Imagine how much more frustrating it must be for a borrower to get answers with every channel segmented.
Simply put: Omnichannel lending creates a consistent, efficient, and pleasant borrower experience that consumers appreciate and are attracted to. It communicates the value you place on the details, and it echoes how much you value your borrowers. 
Here's another thing to keep in mind: when it comes to comparison shopping, consumers often make selections based on how they feel about the brand and service. What feeling do you imagine omnichannel inspires versus multichannel? 
What to Look For in an Omnichannel Lending Platform
Before committing to a particular omnichannel mortgage software, determine its architecture, its interface-ability, workflow structure, customization-ability, scalability, and whether it enables a customer-driven workflow. It should also:
Support borrowers' preferences, especially when it comes to communication

Support regulative reforms in both the mortgage industry and online business 

Have event-driven prompts that initiate the completion of tasks

Should have a function and integrability that justifies its cost
Also, consider whether it's outdated! Look at whether the prospective omnichannel platform has had any significant updates in the previous six months. If you find minimal upgrades, it's definitely out of date. 
A-ha moment! Think you found the perfect omnichannel mortgage platform? Great! Now, look at their customer success and onboarding training. A mortgage software company that claims to have an "omnichannel product" should be delivering a similar experience to you as the shopper. 
While it may seem like multichannel and omnichannel are the same, you can see that the latter is a more finetuned strategy that delivers more substantial results. 
See it in action! Sign up for a live demo today to experience a superior omnichannel digital mortgage approach to business growth.