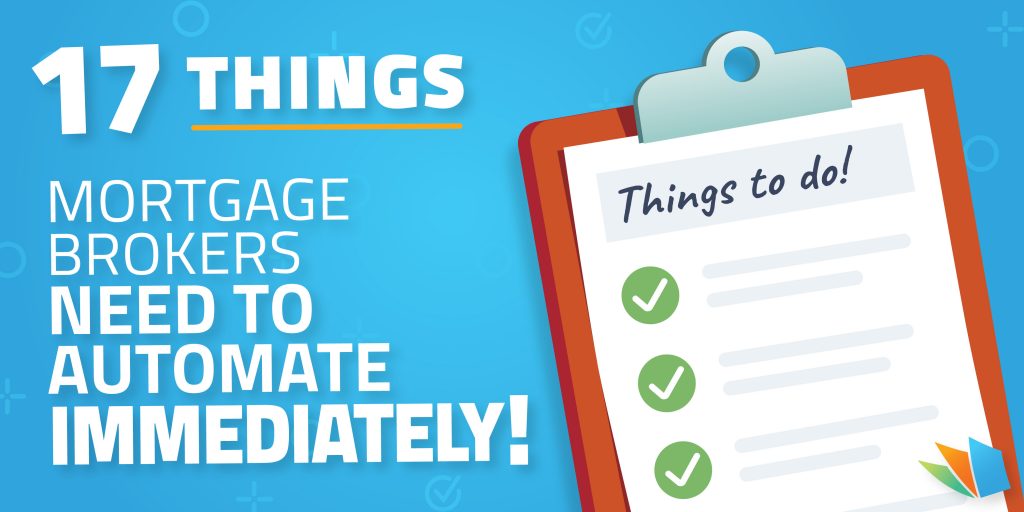 We're going to start by saying that not everything in lending should be automated. Time and again, we see that the most successful loan originators employ a human element as part of their overall strategy for mortgage lead generation and remarkable pull-through rates.
However, automation has a permanent and necessary role in origination. 
The goal of automation in lending is to make the process faster, cost-effective, accessible, and accurate for both the originator and the borrower. Essentially, automation means freedom. 
Sounds good, right? So let's dig in and see the opportunities where you can automate your mortgage practice starting immediately. 
Credit Pull and Pre-Verify
This is probably the most critical task that you must automate immediately. If Day 1 Certainty isn't already part of your process, you're missing out big time. Fannie Mae's Desktop Underwriter System pulls credit, tax returns, employment, and income info electronically, blasting through the most labor-intensive part of lending. 
Amplify the benefits by integrating Day 1 Certainty with mortgage POS software, like Loanzify POS.

Automate Public Interest and Organic Lead Gen
Consumers have a lot on their minds these days, and keeping their interest is challenging. Even "hot leads" require more than one "touch" to finally get them to complete an application. 
Keep their interest smoldering by automating your mortgage content. Offer free quality content in the form of a downloadable eBook or publishing a blog. No time to write weekly content? No problem! We've automated that for you too on our templated mortgage websites. 
Nurture Leads with Email Drip Campaign 
Remembering that prospects often need more than one interaction, an automated email sequence is a tried and true method to gain more business. Read this previous article to learn how to create a mortgage email campaign from scratch.
Are you a Loanzify POS user? No need to do anything further. This is an inherent function of the loan intake process with Loanzify.
Automatically Feed Leads Into Your CRM
Web leads that feed into your inbox are bound to get lost or forgotten. Fix that problem fast by automatically feeding the new leads into your CRM system. It's a lot easier than you think! With Zapier's integration capabilities, you can connect mortgage form intakes to your CRM.
Read this article to learn how to use Zapier to connect Loanzify POS with your favorite CRM. 
Remarket to Unconverted Prospects via Google and Facebook Ads
Create yet another automated "touch" by retargeting web visitors with a Google or Facebook ad. Retargeting allows you to re-engage a website visitor, enticing them again to take action.
Pop over to this article to learn how to create a retargeting Facebook ad and start automating your mortgage lead generation.
Use a Pre-Qual Questionnaire that Flips to Full 1003
Getting many organic leads is fantastic, but wasting time sorting through them to find the qualified ones is not so excellent. Neither is having your prospect fill out the same information several times. 
Instead, automate the process by using a pre-qualifying lead capture form that "flips" to a full online 1003. 
Automate FAQ with a ChatBot
Help your prospects to find answers with a chatbot. One of the simplest ones to set up is Facebook's Messenger, which integrates onto websites too. All you need to do is set-up the questions and responses once, and the bot will automatically take care of the rest.
Questions that are beyond the bot's capabilities will be redirected for you to take care of personally.
Automate Your Appointment Booking
Sometimes, the simplest of tasks, like setting an appointment, will take a few back-and-forth rounds via text or email. Instead, automate your appointment booking with a tool such as Calendly or Google Calendar. These systems will also automatically send out reminders, eliminating yet another tedious task. 
Try what LenderHomePage Sales Executives do and include the booking link underneath your email signature. 
Collect Required Docs Automatically
Collecting documentation is a pain point for originators and borrowers alike. While several rudimentary uploaders exist, few automate with customizable settings based on the type of loan. Fewer still automate reminders for missing docs. 
Ensure your document uploader can do both—bonus points for uploading software that allows the originator to accept or reject documents right from the dashboard. 
Automate Collecting Bank Statements
Gathering bank statements is yet another pain point for borrowers. Fortunately, tremendous strides have been made with securely collecting, submitting, and verifying bank statements 100% virtually. The only thing required to utilize this automation is mortgage software that interfaces with a third-party application designed to collect the documentation securely. 
Track Deal Stages and Milestones
To keep the loan moving forward, you need to know in what stage it's at. Do this by both automating the workflow for all team members and setting up notifications for milestones reached. 
You can piece together a method yourself (the more challenging way) or employ a mortgage POS system that already has this defined. 
Automate Client Updates
Clients also need updates –sometimes to notify them that an action is required and other times to provide them with an on-demand "progress report." A Mortgage Milestone Tracker that the borrower can access from their dashboard is one way to do this, but make sure there's also an automated, client-facing notification system. 

Automatically Update Client Profiles on CRM 
You already know the importance of keeping client profiles up-to-date, but how much time do you dedicate to maintaining accurate records? Forgo manually updated it and, instead, connect your CRM and POS systems so that they automatically "talk" to each other.
This sort of automation integration typically requires a developer. However, Loanzify POS users can DIY it with Zapier. No coding!
Auto Set Reminders
The purpose of a particular reminder will vary from originator to originator, but all can benefit from automating it. For example, you might want to set a reminder to thank the appropriate real estate agent for the lead they sent. Or perhaps you would like a reminder to personally follow up with jumbo loan borrowers.
The most efficient way to do this is by utilizing a "trigger-event" automation, and Zapier comes to the rescue once again when it comes to this type of functionality. 
Automate Communication Tracking
All communications between the origination team and the borrower must be logged and easily accessible by a system admin. Email and instant messaging aren't useful for tracking, nor are those methods effective for automation. 
This can only be achieved through mortgage software with archival functionality built-in.
Automate Review Requests
Follow up on a superb loan experience by requesting a review from your borrower. One way to do this is by setting up a reminder (see above) to email the client post-settlement. You can also use 3rd party applications like Reviews.io to send requests and gather reviews.
Get even more automation benefits when you use the review to create a graphic for social media sharing!
Automate Referrals 
The best time to ask for a referral is right after funding, while the feel-good euphoria is still riding high. Set a task reminder to send a pre-written, automated email. If you're a Loanzify POS user, set task reminders by connecting it to Trello or Slack with Zapier. 
Learn more about mortgage automation in the previous post and see how it works with an omnichannel Borrower Experience.