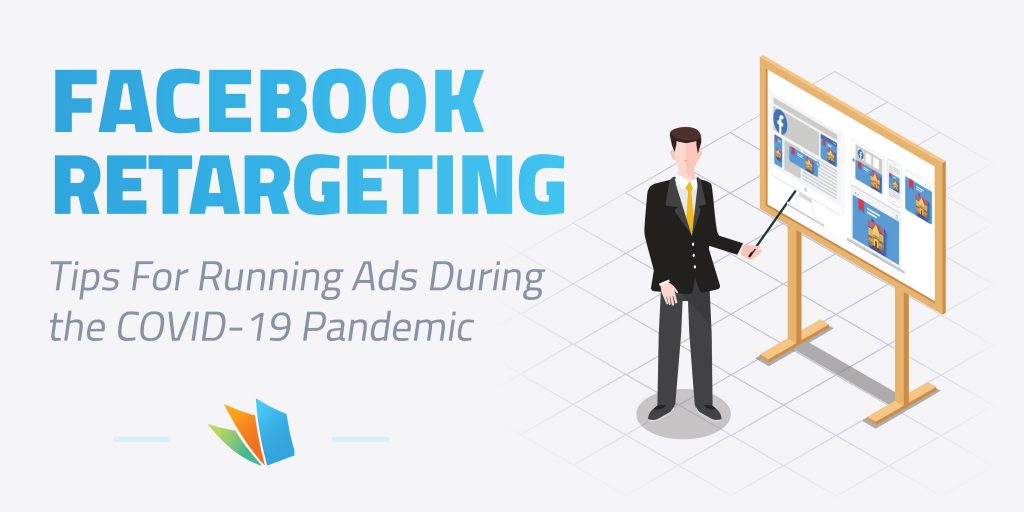 Continuing with our series of COVID-19 business articles for mortgage pros, this week, we're zeroing on one of the most profitable boss-moves you can right now. We're talking about mortgage retargeting ads on Facebook.
If you're new to creating ads, you'll want to check out this previous tutorial, where we give you step-by-step instructions for creating mortgage ads on Facebook.
For those that are already familiar retargeting ads but aren't sure if it's the right time to invest money on paid ads, check this out:
Facebook recently revealed that app usage has soared since the start of the pandemic

Although the most significant increase was in messaging, feed and stories usage has also jumped

Some of the biggest ad buyers, such as travel and event advertisers, have stopped all ads, driving DOWN the cost of FB ads.
This article focuses on FB ads, but the strategies could easily apply to Instagram and Twitter.
4 Strategies for Mastering Facebook Retargeting Ads During the Coronavirus Pandemic
Extend your high-performing ads when possible

Build brand awareness for future conversion

Grow your leads and fill your CRM

Increase social proof
Extend Your High-Performing Ads
Save time and money by using ads that are currently running and have already proven successful. Not only does it eliminate the learning curve but also you won't have any delays in running your ads. Facebook has stated that ad approval is delayed due to staffing issues. So your best bet is to use your current ad and do so without editing.
However, there's one caveat. If your best running ad has wording or images that are inappropriate for the current situation (such as an image of people shaking hands), then you'll probably want to edit it. 
Build Your Brand Awareness
We already mentioned that consumers are spending more time on social media. And as the shelter-at-home order extends, so will the desire to connect through social media. Which — you guessed it –increases ad visibility opportunities.
Remember that building your brand and communicating your value is just as important as getting a click. Every time a prospect sees your ad, the connection with your brand strengthens. And the stronger is it, the more they trust you, and the more likely it is that they will do business with you. 
Grow Your Leads and Fill Your CRM
Did you know that you capture leads right on Facebook, without requiring the prospect to click through to a landing page? 
With FB lead capture ads, the prospect sees an ad with a CTA to fill out the lead capture form right from the platform. You'll be able to download a spreadsheet of your leads from your Facebook ads manager.
What's the benefit of within-platform lead captures? Why not just send them to your mortgage landing page? It has to do with simplicity. The less work they have to do (clicking around), the more likely it is that they will do the action (fill out the lead capture form). And doing it all without leaving FB is very simple. 
Does that mean you should forgo mortgage landing pages altogether? Unequivocally, no, you should not. Landing pages are a must when you're running paid ads on Google. By the way, Google's rates for paid ads are also very affordable right now due to the pandemic. Consider running some retargeting ads there too!
What should your message be?
Now that you have our top four strategies for mortgage retargeting ads let's talk about what to say. One of the worst things you can do during times of crisis is to say something insensitive. It's also just as damaging to ignore the challenges that our country is currently facing. 
The goal for your mortgage ad is to be positive but not ignorant. Here are some guidelines to follow when it comes to marketing messages during the pandemic:
Keep Prospects Informed But Don't Be an Alarmist.
Sharing mortgage news is valuable, but make sure to do so in a way that doesn't capitalize on their fear. Be mindful of dramatic language.
Show Empathy and Don't Brag.
If showing "the good life" is typically part of your marketing plan, you'll want to pivot that message. Remember that many are struggling financially or otherwise negatively affected by COVID-19. Flashing success to worried people will not only lose the sale, but it may also damage your image.
Highlight How You Can Help
People are genuinely feeling vulnerable right now, so it makes a big impact when lenders offer to help or demonstrate how a new loan can help. Also, consumers are more likely to feel positive towards businesses that had their back during the tough times.