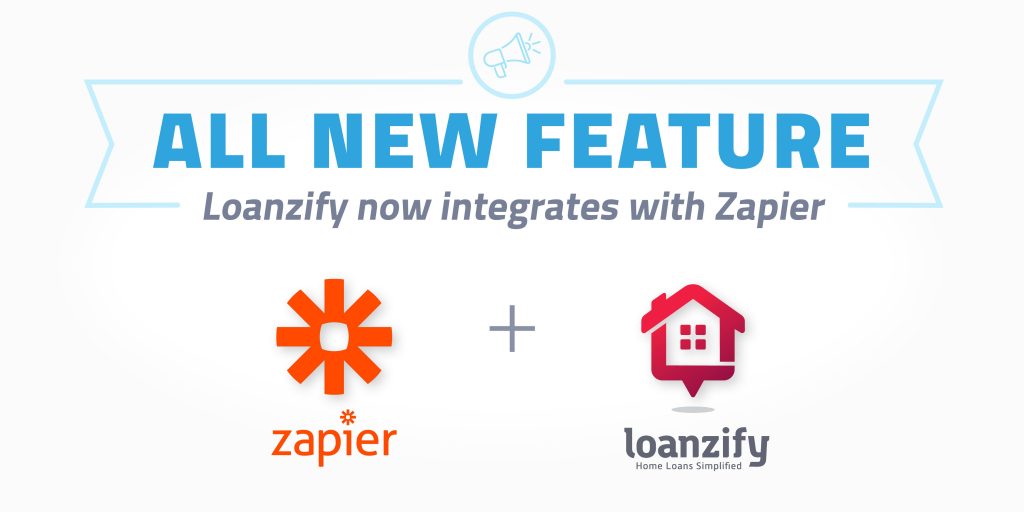 We're thrilled to announce that Zapier is now part of our ever-growing list of strategic partnerships! Zapier's platform connects your favorite apps and software to improve workflows, and Loanzify's integration with Zapier opens up a host of new options for automating and expanding your loan management capabilities. 
What's so cool about Zapier?
Most modern software and apps are built with an Application Program Interface (API). Developers use APIs to create connections and functionality between apps, such as downloading data, updating records, or creating a record. 
In a nutshell, Zapier is a tool that acts like a "middle-man," enabling you to automate between apps without coding and for free. 

How does the Loanzify & Zapier integration work?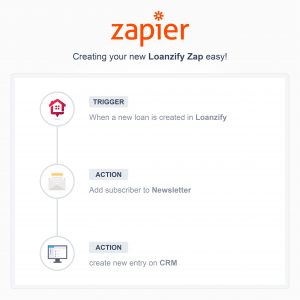 When you connect Loanzify to Zapier, you can use the data you gather from a new loan in Loanzify to automate your day-to-day tasks and customize your workflow. Zapier calls its connections **Zaps**, where a trigger (a new loan) sets off a specific task/action on a third-party application. 
For example, when a borrower creates a new loan application, Zapier can automatically populate the data onto your CRM while simultaneously adding a new contact to your accounting software. 
Other Zaps you can create with the data collected from Loanzify include:
Adding a new lead to your email subscriber list.

Creating a reminder to follow-up by email.

Updating a deal that's already in your pipeline.

Triggering an auto-tweet that announcing a new application just came in.

Creating a checklist in your task management software.

And so much more!
Take a look at more possible Zaps you can create with Loanzify and Zapier. 
Getting Started with Loanzify + Zapier
Setting up is simple, and you'll only need to do it once per Zap.
Sign in to Zapier or create a new account (it's free!)

Navigate to "My Apps" from the menu.

Click on "Connect a New Account" and search for "Loanzify."

Click "Sign in" and then enter your API Key in the pop-up window (you can find your API Key on your Loanzify POS dashboard: settings > integrations).
You're now ready to create your first Zap.
Creating a Zap with Loanzify
Navigate to "Make a Zap" from the menu bar.

Choose "Loanzify" as your trigger app and "New Loan Created" as your trigger event.

If you haven't already, sign in to Loanzify to give Zapier permission (see step 4 above).

Now choose the third-party app and set up your desired action to create a Zap.

Explore Loanzify Zap possibilities

. 
 Loanzify + Zapier Pricing
Integrating Loanzify with Zapier is free. Zapier has a variety of plans depending on how may Zaps you need and how many tasks you run. Their free plan gives you up to 5 Zaps and 100 tasks per month. Affordable paid options start at only $20 for 20 Zaps and 750 tasks per month. Compare Zapier's plans. 
Loanzify POS: The Flexible and Robust Loan Automation Solution
Join the league of top-producers who discovered a simple, time-saving, and revenue-boosting way to manage their loan volume. Sign up for a live demo of Loanzify POS today!

 New