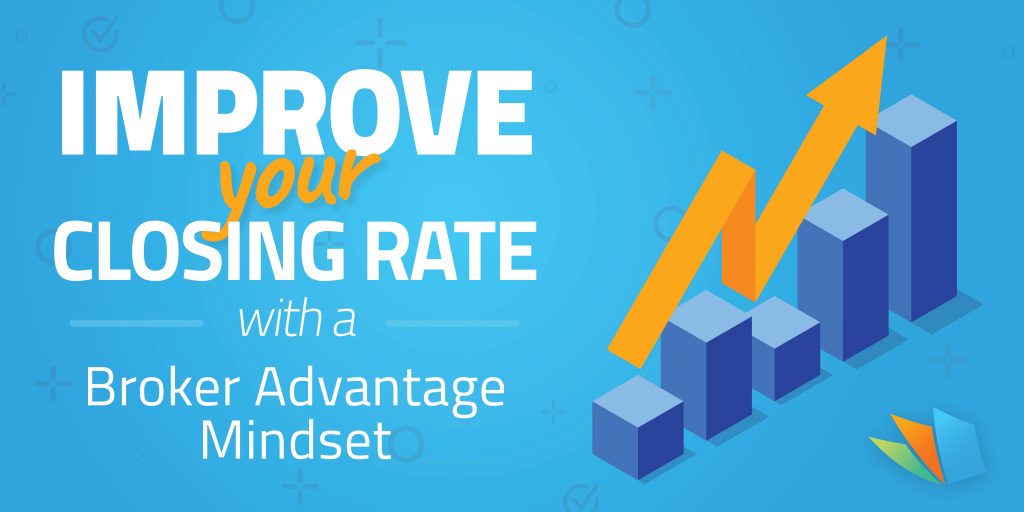 Patience, persistence, and perspiration make an unbeatable combination for success. –Napoleon Hill
There's a reason that mindset hacks are a hot topic since Napoleon Hill's 1937 classic, "Think and Grow Rich." It works. 
Gary Vaynerchuck swears by "gratitude" for success. Tony Robbins trusts increasing happiness. Jeff Bezos says his secret sauce is long-term patience.
Although experts are still catching up on understanding the phenomena of mindset and how it alters intrinsic motivation, we can't argue with the results. 
Massively successful people achieve their goals, in part, by creating a winning mindset.
And the same can be done for mortgage brokers who want to improve their closing rate. By hacking into the "Broker Advantage" Mindset, you can grow your revenue and your business to the desired level. 
Hacking Into "The Broker Advantage" to Increase Closing Rate
Believe in Your Value and Capabilities 
Last year, Housingwire published an article about the mortgage brokers' comeback, and its underlying message is a powerful one —mortgage brokers are badass. Brokers go through the extra steps of getting licensed. They understand the industry more intimately than most and juggle multiple loan products while growing a business, managing a team, and personally attending to the best interests of their clients. 
One could say that that's "praiseworthy," but we'll call it what it is —that's badass. When's the last time you reflected on the value you bring to your clients and your badass capabilities?
How it helps you close more loans: Consumers equate confidence with competence and trustworthiness -key drivers in sales that increase your closing rate. 
Implement Forward Thinking
There's no room for a "this is how we've always done it" mentality in a competitive industry. And this concept more relevant in our post-COVID world more than ever.  The environment has transformed, and so have your consumer's needs. Heck, even mortgage website compliance has dramatically changed in these months! 
And the transformation is compounding and accelerating.
That makes it urgent to have a vision for the future and a foundation to help get you there. Here's how to do it: 
How it helps you to close more loans: Consumers equate technological implementation with expertise, efficiency, and ease –thus eliminating hesitation and improving your pull-through. 
Have a Borrower-Centric Attitude
Want more loans? Put your prospective borrower's wants and needs first. Obsess about it. Have an uncanny understanding of your borrower's experience before, during, and after the initial application process. 
The same goes for their experience before, during, and after the loan is funded.
The goal is to provide a consistent and positive borrower experience from the first contact, and infusing this concept in your mindset is the "Broker Advantage" way to do it. Here are tactics for application:
Desire to Serve – Understand that whatever their mortgage needs are, it's keeping them up at night. Approach each new prospect with a deep-seated desire to serve and alleviate their uncertainty.
Be Eager – Make timeliness a priority, and your prospects will notice it. That goes for both your response and application processing time. 
Aim to Exceed – Don't just "go the extra mile." Aim to delight your borrowers with genuine, personalized, and compelling experiences. This can be automated, by the way. See how Loanzify POS does it.  
How it helps you close more loans: When a borrower believes you have their best interests in mind (which you do), you gain the power to influence their decisions, thereby increasing the volume of loans you close. 
"The Broker Advantage" Matters More Than Ever
These past months have been crazy, to say the least. Adding to the mental toll has been the surge of refinances and the need to provide a touch-less, digital mortgage experience.
Are you keeping up? We can help.
Contact us today to get the support and digital platform you need for a 360° "Broker Advantage."