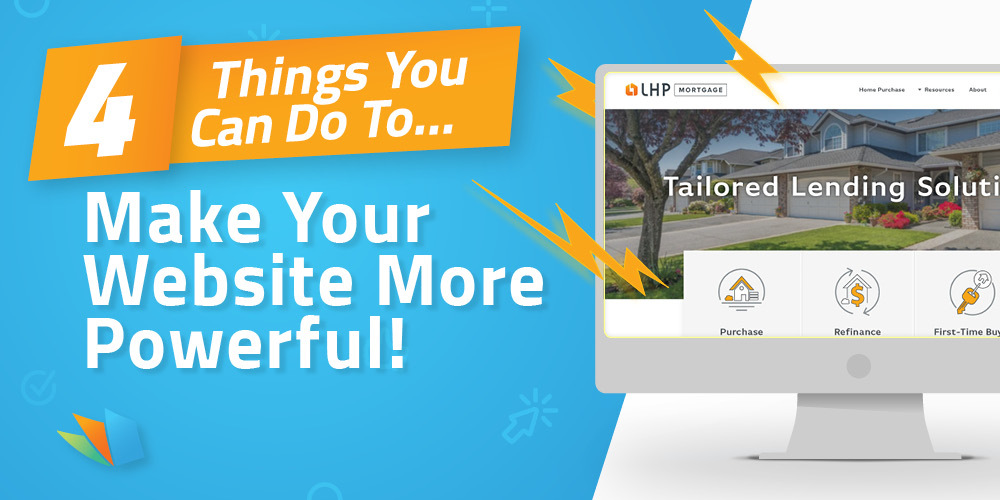 If your mortgage website looks more like a "billboard," having little more than today's rates and a welcome message, then you're missing out on making an impactful and persuasive first impression. One study found that up to 88% of digital consumers wouldn't return to a site after a single poor experience with a business website. 
In an already highly competitive industry, losing the trust of nearly 88% of web traffic is too high a price to pay, especially considering that the cost of a high-converting mortgage website can be as little as some design tweaks or workflow pivot. 
Read on to find out 4 things you do right now to make your mortgage website more powerful and attractive to prospective mortgage borrowers.

Make It Interactive 
An interactive mortgage website allows the digital consumer to feel empowered. With high-value and engaging tools right on your website, the user will have a positive and automated way to build trust and further commit to applying for a home loan with you. 
It also makes use of a psychological phenomenon where the consumer is willing to give a little more every time they interact with you. So while they may not give you their contact information the first or second time, they probably will after the third time of engaging with your interactive mortgage website. We recommend high-value digital mortgage tools like mortgage calculators and chatbots with instant messaging.
Personalize and Modernize Your Site
Digital consumers are becoming more aware of the modern website design practices so a website that looks out of date or DIY won't cut it for conveying professionalism and expertise. Although the aesthetic of your website will vary according to your mortgage brand, these are good practices for every site:
Create "breathing room" by being purposeful with white space

Utilize illustrations

Use short feature videos

Flat or semi-flat design (meaning minimal shadows)

Use a well-defined color palette throughout your site
Regularly Publish Content 
Creating great mortgage content starts with meeting these 3 criteria: detail, utility, and appeal. Detail refers to how well you know borrowers –their pain points, goals, and desires and how your loan product relates to those key drivers. 
Utility comes to play with how helpful the content is to your reader, and appeal is all about how persuasive and relatable the copy is. Combine all three elements with long-tail SEO keywords and you'll have a mortgage content plan that brings in organic mortgage leads that also hooks users in from the start. 
Include Customer Testimonials
Customer testimonials are a multi-faceted way to multiply a mortgage site's power and appeal. First, positive customer testimonials drive traffic to your site by simply being found on popular review sites like Yelp, Facebook, and Google reviews. Google reviews, in particular, also give your site an SEO boost. 
Furthermore, customer testimonials build credibility and lessen skepticism with their unbiased "sales pitches" and candid mortgage experiences with your business. Automate this mortgage website booster with a testimonial engine that grabs those reviews and posts the highest ratings right onto your site. 
A Mortgage Website That Rocks Right Out Of the Box
A mortgage website is more than just the "digital face" of your company –it's the first impression that your prospect sees and one of the most critical touchpoints in your mortgage sales funnel. Is your website working in the most powerful way possible?
A mortgage website from LenderHomePage is built with all the essentials that top producers and top-production-minded need. From attractive and accurate mortgage calculators to an automated testimonial engine to regularly published mortgage content and plug-and-play branding, a mortgage website from LenderHomePage is the fast track to making an unforgettable and irresistible impression on digital mortgage consumers.