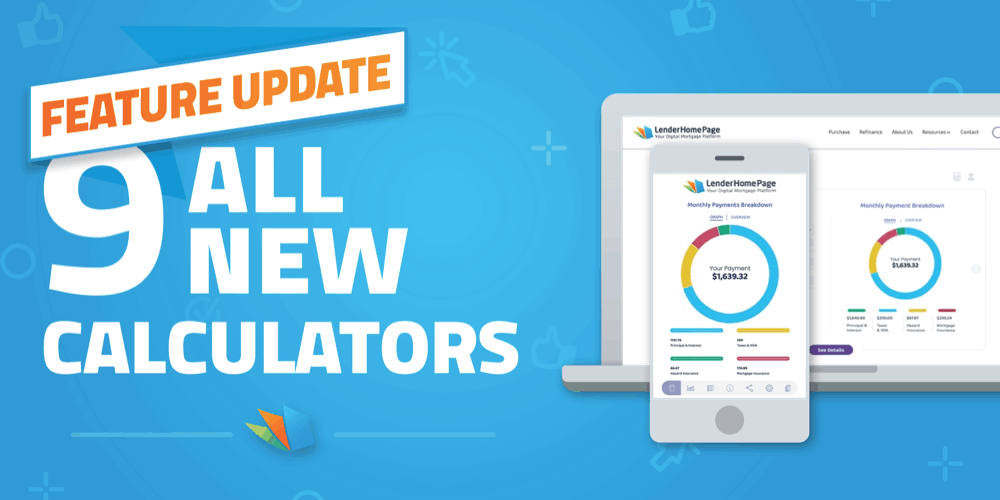 We 're excited to unveil 9 all-new mortgage calculators! Always on your side and ahead of the game, this latest update is designed to impress right from the start, keep your prospects engaged, and boost your conversion rates.
These interactive consumer-facing calculators are a free update for all our mortgage website clients.

Our new mortgage calculators provide a modern, accurate, and user-friendly way to calculate Monthly Mortgage Payments, APR, Amortization, Principal & Interest, Payoff Date, and other parameters of the loan.
FHA, Conventional, VA, USDA, and Jumbo calculations include Mortgage Insurance (MI), HOA, Hazard Insurance, and Property Tax components as well.
The most exciting part of the new release is that now your mortgage calculator is another Lead Generation Tool on your website.
Benefits to your Borrower:
Calculate Monthly Payments (down to the penny)
Estimate Home Affordability
Calculate APR
Effects of "Extra Payment"
Tax Benefits
Should I Pay Points?
Income Needed to Pre-Qualify
Interest-Only
How Much Will Principal Be?
Calculations:
FHA Mortgage Payment Calculator (including FHA Upfront MIP)
Conventional Mortgage Payment Calculator (including PMI, HOA, and Taxes)
VA Mortgage Payment Calculator (including VA Funding Fee)
USDA Mortgage Payment Calculator (including USDA Funding Fee)
LenderHomePage: Tools for the Driven Mortgage Professional
In 2019, about 70% of consumers began their journey online. Today, it's likely close to 100%! That's why it's absolutely vital that your consumers are engaged and impressed right from the start.
We give you the tools to make that happen. See why driven mortgage pros prefer LenderHomePage above the rest.

or Call:
888-377-1265 
to talk to a Sales Rep.