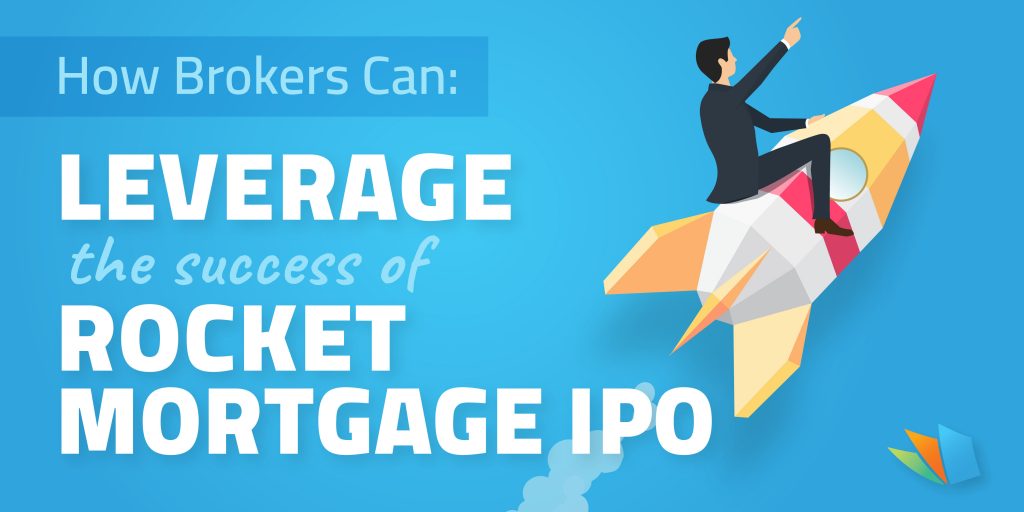 The industry is buzzing with the news of Rocket Mortgage going public. Debuting at $18 for each of their 100 million shares, Rocket Mortgage ambitiously aims to increase its market share from 9% to 25% over the next ten years. 
As an originator, does this news make you nervous about your own prospects? It shouldn't. The fact that Rocket Mortgage is publicly traded (with stocks already rising!) is a testament to the extraordinary position your lending business is in. Here's the proof.
How Brokers Can Benefit from Rocket Mortgage's IPO
Validates The Digital Mortgage Space in the Market
The first thing is to recognize that Rocket Mortgage's booming success means that the demand and desire for a digital mortgage are strong. The fact that they've reached the pinnacle of business success (by our American standards) confirms it.
And doing so amid this 2020 COVID pandemic is even more incredible!
Many aspects of our economy indeed remain uncertain. Yet, six months deep into the pandemic,  tech-driven Rocket Mortgage became the third-largest U.S. IPO of the year. CEO Jay Farner specifically mentioned, "leveraging [thier] technology platform to unlock opportunities in [the mortgage] ecosystem," and we couldn't agree more.
Technology usage was essential for growing its market share, and now, demand for a digital mortgage has carved a permanent space in the American economy. 

Consumption Increases As The Target Market Is Educated
Consumers aren't always quick to try new methods. It was not that long ago that we, as consumers, were wary of online shopping.  Today, a report by the U.S. Department of Commerce shows that over 160 billion dollars in e-commerce sales occurred in Q1 of 2020 alone.
What changed with consumers' preferences and behavior that made online shopping widely successful in the present day? 
Exposure! The more consumers were exposed to the idea of shopping online, the more comfortable they were in doing it. The more people participated, the more exposure it got –thus increasing the number of new online shoppers. 
Let's not overlook the massive improvements that occurred in the online shopping experience that undoubtedly boosted the demand.  
The same can be said for Rocket Mortgage. They rely heavily on technology for their mortgage services, so they saturated their messages with that idea. The more consumers saw it, the more they felt comfortable with it. Their tactic was so effective that consumers began to prefer it over traditional lending and made Rocket Mortgage one of the leading lenders in the U.S.! 
Fast forward to 2020: a touchless mortgage experience is the only option, and consumers have made the full transition to all-digital. All that's left for the originator to do is provide an outstanding, automated digital mortgage experience. 
Defines Brand Positioning and Differentiation
Opportunities for success increase when another has already achieved it.  In this case, that someone else is a $1.8 billion-valued company. Now, it's up to you to figure out how to do it better with a clear position and differentiation. We recommend focusing on branding, marketing, and Borrower Journey. 
Why those factors and not technology? Unless you have a team of developers, a background in programming, a surplus of money to invest in software development, and the desire, there's no need to try to outgun Rocket Mortgage. This is especially true since we've already done it for you with our suite of digital mortgage tools, including our newest Loanzify POS system.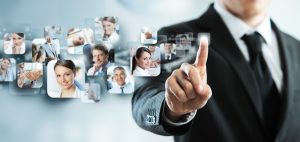 Instead, focus on developing precise positioning and utilizing your competitive differentiation. By the way, positioning and differentiation were also part of the formula that the tech lender employed to surpass their mega-bank competitors.
Read this previous article for more information on building a mortgage brand, and this article for learning how to leverage the Borrower Journey to steal prospects away from large lenders. 
Increased Efficiency and Policy Hurdles Clarified
One of the most compelling perks of a free market such as ours is that it fuels innovation, especially when it comes to expanding efficiency. Rocket Mortgage did just that when they successfully launched one of the first online mortgage applications in the early '90s.
This service triggered a slew of tech developments that challenged regulations and caused some compliance issues –all of which altered the mortgage landscape. While it seems like a negative thing to happen, it, in fact, created a perfect storm that forced the entire industry to switch to digital.
Essentially, Rocket Mortgage endured all the growing pains while today's originators reap the benefits of a more compliant and streamlined process. 
Watch Out! Don't Focus Too Much on Rocket Mortgage (Or Other Competitors)
Being aware of your competitors is smart, but don't let it distract you from the immediate elements that affect your revenue. Double-down on the Borrower Journey, local marketing, loan automation software, and cultivating a team that drives your lending business, and you are pretty much guaranteed to move forward.