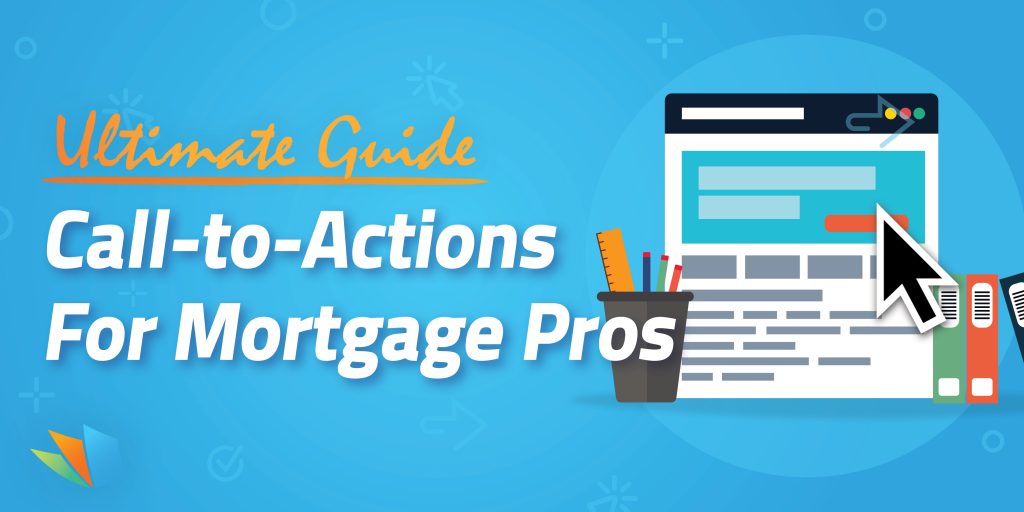 A call to action, or CTA, encourages your reader to take a particular action on your website, landing page, or blog post. No doubt, you encounter several CTAs on the websites you visit every day. From offering free downloads to discount codes to subscriptions, CTAs are an integral part of the conversion funnel across all industries. 
CTA for mortgage websites typically revolve around encouraging the prospect to apply for a loan. But a simple "click to apply" link doesn't always equal more completed loan applications. 
There is a strategy. A high converting CTA combines the needs of that particular prospect with the ideal placement, action required, and the landing page. Let's dig a little deeper. 
Types of CTA for Mortgage Websites
The mortgage CTA you often see are those that plainly ask the reader to apply for a loan
While these are effective (and necessary for all mortgage sites), poor placement can make them obtrusive. Plus, you must take into account that not every visitor to your site is ready to apply right away. Most mortgage prospects need to be "warmed" up a bit before they're open to taking action. 
Using an "inline" CTA is how to do just that!
Inline, or in-content, calls-to-action utilize a "building up" strategy that makes the action more:
logical

rewarding

trustworthy
Inline CTAs are so popular and non-threatening that marketers often include several in a single article, making it one of the most effective ways to guide a loan prospect to fill out the full mortgage application. When you embed a CTA into your content, your sales pitch doesn't come off like a cold call. Instead, an inline CTA iis taken as a helpful and trustworthy solution from a mortgage pro.
We'll give you a specific example below, but first, let's look at three guiding principles for inline CTA for mortgage websites:
The CTA should be relevant to the article topic. For example, if the article is about USDA Refi programs, it would not be wise to include a "first time home buyer" CTA
Make sure the desired action and offer are noticeable so that the reader does not quickly glance over it. For example, it should be obvious that a link within the content is clickable because it's a different color than the rest of the text, underlined, bold, or something similar.
Include several different variations if the CTA throughout the content and repeat them. However, be mindful of distracting the reader. Read more on this below.
Audit Your Mortgage Site and Current Inline Call-to-Actions
Before you begin to implement changes, audit your current content to eliminate any CTAs that go against the above principles. Although you can add several inline CTAs, those that have high click-through rates but little conversion distract from higher converting links. Thus, we need to clean house to get rid of those. 
Look at your Google analytics to review which links are truly worth keeping. 
Did you know that Google Analytics is free to use? Plus, if you're using one of our mortgage website templates, it's easily installed too –no coding required!
Make it a habit to review your Google Analytics about once a month to monitor any changes to your CTA click-through rate.
If you have little to no CTAs on your current content, not to worry. We're about to show you how to add some. Now that we've "cleaned house" from those low converting inline CTAs, it's time to look at how to do it right. 
Mortgage CTA Examples
Since the goal is to lead your prospect down the conversion funnel, we're going to look at two types of CTAs that can help you achieve it –those designed for lead generation and those designed for "sales."
Call-To-Action for Mortgage Lead Generation
Lead generating CTAs are the ones you are probably most familiar with. Words like "click to download" or "click to subscribe" are classic examples and ones that we use as well.
If you're not already on the list, click here subscribe to our mortgage marketing blog. (see how we did that)
The primary purpose of these CTAs is to add the prospect to your CRM to continue the conversation so you'll see this type of CTA in the middle or end of an article. The truth is, few that visit your site are ready to apply for a loan right away. Lead generating CTAs gives additional opportunities to convert them into a mortgage.
Now, let's look at the article itself. The headline should be a hook that hints at the offer or what the reader can expect to receive if they take action. 
Here's how that might look: 
Headline: Veterans Can Buy A Home With No Money Down
Article: There are several loan programs available exclusively to Veterans and their spouses. Here is a free report that details the different types of VA loan programs to help you select the program that is right for you!
CTA: Download My FREE VA Home Loan Report Now!
While we're talking about inline CTA, you may also consider including this same CTA in the form of a button, banner, or a pop-up. The trick is to make it as non-obtrusive as possible. Click here to see examples of well-designed mortgage website templates to this in action. 
"Sales" Generating Call-To-Action for Mortgage Websites
Sales-generating CTAs for mortgage sites refer to readers filling out the loan application. For example, a reader may have found your FHA article searching for "how to buy a home with bad credit." As they read about the features and benefits of the loan program for borrowers with poor credit, the reader may find themselves ready to take action. 
They click your APPLY NOW button that leads them to your digital 1003. 
Now, please pay close attention because this is where most other mortgage sites have it wrong. 
The digital 1003 is just as crucial to the conversion rate as the content that brought them there. 
In other words, the landing page (in this case, your online 1003) must encourage the reader to follow through. What we don't want is a bunch of click-throughs with no conversion. 
How can your remedy abandoned 1003s? By implementing a digital 1003 incredibly user-friendly! 
Click here to learn more about the features of a high-converting digital 1003 and take our SmartApp 1003 for a test drive. 
---
Marketing has changed a lot these past few years, just as much as the mortgage industry has. But the goal remains –to drive prospects into action and CTAs are how to make that happen. 
Want to learn more about writing excellent mortgage content? Read this past article where we show you how. And if you aren't already familiar with the power of a stackable and customizable digital mortgage platform, claim your free 10-day trial here!