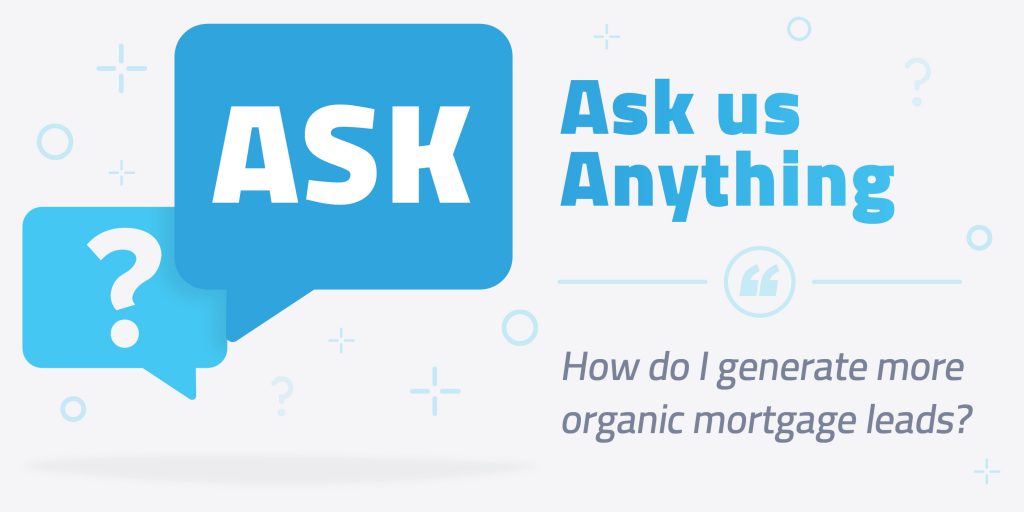 Is paying for mortgage leads the only real way to generate online mortgage leads? While paying for leads is a vital part of keeping that pipeline filled, gaining mortgage leads through organic searches should also be part of your business growth strategy. 
Truth be told, it does require quite a bit of effort and you'll never get it just right. That's because Google is often changing their algorithms. But this is actually a good thing! Changing things up helps to level the online "playing field," giving lone and mid-size lenders a legit shot at outranking mega lenders.
So is it worth it to try to keep up with algorithmic changes and optimizing SEO? As it turns out, the possibilities are extremely impressive!  Here are a few stats about SEO: 
Google receives over 63,000 searches

per second

on any given day

Businesses who rank high on Google are more likely to get the business from consumers

61% of marketers say that improving their SEO and improving their organic presence is their top inbound priority.

The search phrase "near me" has doubled in usage over the past 3 years
4 out of consumers use search engines to look for local information
Armed with the evidence that search engine optimization and organic lead generation HOT, here are answers to the most frequently asked questions about how to execute it.
FAQ About SEO and Mortgage Lead Generation
What does mobile-friendly mean and does it really matter for search queries?
Mobile-friendly means that the site is optimized to work for a mobile device, meaning the way it looks and functions. There are two main reasons why this matters and why you it should apply to any of your online platforms including your website, landing pages, and online 1003 application.
User Experience – Enough cannot be said about how important user experience is to moving your consumer towards applying for a loan. The slightest frustration or limitation can be enough to cause them to click out of your site or abandon the application. Even something as simple as "zooming in" to manually resize the screen could trigger them moving on to another lender. Other common problems with non-mobile-friendly sites include buttons too tiny to click,  navigation that disappears on mobile view, and slideshows that don't automatically resize. With over 80% of searches being conducted on a smartphone, making your mortgage site mobile-friendly for user experience should be a top priority.
Mobile-friendly – also called mobile-optimized or resposive, matters for search queries too! Google has stated this plainly several times: they prioritize mobile-friendly sites over non-mobile-friendly. Not only that, but as consumers become more and more "mobile," it's not a stretch to think that sites that aren't mobile-friendly will rank so far below that they might as well as not even exist!
Should I focus my SEO on my MOrtgage brand or my LOan niche?
Both! Though we suggest emphasizing on your niche or services over your brand or personal name.  The reason being that it's more likely that someone will conduct a search for a specific loan over your brand name. 
But don't abandon your brand for the loan product! The more you attach your brand or personal name to mortgages in your area, the more relevance it will gain for localized online inquiries. So definitely do both — but put extra effort into your niche.
How do I know which keywords to use for SEO?
There are several services out there that can give you keyword suggestions based on a topic and popularity. The most reliable one, however, is Google's Keyword Planner. This tool is available as part of their Google Adword creation, although you don't actually have to make an ad to use it. It's free. It's accurate. And it's so thorough that the information can be overwhelming.
Like we mentioned, it's extremely accurate because the Keyword Planner is pulling the data straight from Google searches. The other advantage is that you can define the location and THIS is how you can outrank those giant guerilla lenders! By using keywords that are relevant to your niche and are top searches in your target location, you'll have greater opportunity to rank higher on location-based searches. 
I don't get any traffic from social media, does it even work for lead generation?
It takes time! Time and testing and more time and more testing and just keeping at it. Remember that the value of social media is not just about direct lead generation. It's also about social proof. Just like people read Google and Yelp reviews, consumers check out social media to see if brokerage or LO is trustworthy. Being active on social media and posting info that the mortgager consumer finds useful increases their trust, which in turn, increases the likelihood that they will contact you about their loan needs.
So think of social media as a smoldering and flickering fire –one that constantly needs to be fanned and fueled –and that will blaze up every so often with a white-hot lead. 
What's the biggest mistake that hinders organic leads?
Without a doubt, the biggest mistake that hinders organic is a lack of call-to-action. A call-to-action (CTA) answers the consumer's question, "what next?"
You see, whenever a consumer takes in information and they agree with it or have found it useful, their innate question is "what do I do next?"
The CTA  answers this question. Your CTA could be:
Read this related mortgage post

Contact us today

Share this information

Forward this email

Fill out our online 1003

Give us your opinion

Visit our website
You get the idea. Give your consumer the next action to take and the means to do it. Which brings us to another huge mistake that hinders organic lead generation.
Missing links on social media profiles. We've run into hundreds of LO Twitter and Instagram profiles without a link on their profile. So if you're wondering why you're not getting any leads from your social media posts, it might be because you haven't provided the means for them to take action on your social media!
Also check out our Beginner's Guide to Generating Mortgage Leads Online.
Online mortgage lead generation is only as good as your foundation. How's yours? Click to explore the our stackable digital mortgage tools and sign up for a live demo with a helpful Senior Sales Exec.