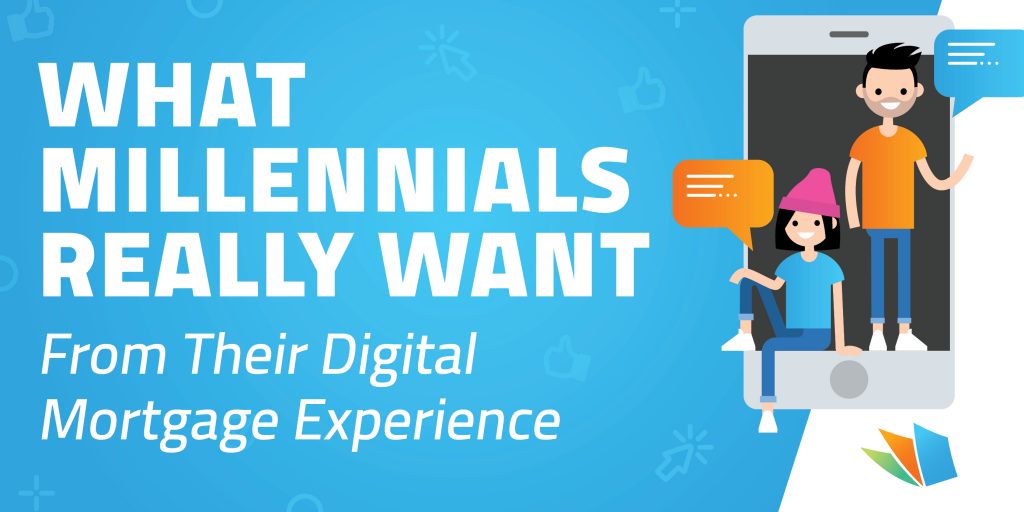 Are Millennials all about "the "next BIG thing" when it comes to technology and digital experiences? With Millennials eager to drop $1000+ on the newest iPhone and app downloads in the tens of billions, it's easy to think that Millennials are obsessed with whatever is shiny, new, and trendy. 
But is that true? Are Millennials just about what's up and coming? Well, yes and no. 
Just like any other consumer, Millennials want better –and in 2019 better is synonymous with a phenomenal digital experience. In fact, nowhere is the demand for a better digital experience more evident than in the financial and mortgage industry. 
The highest-rated "money apps" aren't the ones created by banks (as we would expect), but rather they're stand-alone money management apps that give users an outstanding experience.   In a recent survey done by Ellie Mae, Millennials revealed that applying for a mortgage online wasn't just about convenience but also about the improved experience it provided. 
So while a digital experience is essential to Millennials, so are the function and journey that it creates. 
The Digital Mortgage Experience
A digital mortgage is more than the individual products; it's about the borrower journey that a suite of mortgage tech tool creates. From the first moments of "messing around with mortgage calculators" to reading mortgage blogs to filling out a short-form 1003 and then the full 1003, Millennials want a digital mortgage experience that's smart, simple, and delivers at digital speed.  
What does that look like? And how can a mortgage professional (whether loan officer or multi-branch lender) create that experience to get more millennial borrowers?
We're going to show you what you need to give millennial borrowers precisely what they want, in the way they want it, and in a way that maximizes your millennial lead generation potential. 
Success Through Simplicity
Whether your millennial prospect is a legit digital guru or just uses tech to order takeout, making the mortgage process simple is a ridiculously easy way to boost your Millennial mortgage leads. 
WARNING! All digital 1003's are not the same. Many brokers make a mistake in thinking that all they need is a link to an "online 1003" and Millennial prospects will flock to them. Not true! Remember that millennials value the journey just as much as the ease. 
A top-level digital mortgage tool must be designed for the end-to-end for guided simplicity. Whether a stand-alone digital 1003 or full digital mortgage point-of-sale portal, Millennials want a digital mortgage experience that takes the headache and mystery out of the process. 
Critical Components of a Simple in Digital Mortgage Experience:
Immaculate interface 

Accessible on any device -mobile, tablet, desktop

"Save" function that allows them to pick up where they left off, no matter the device

Ability to turn their short-form 1003 into a full 1003 without having to fill out the same information again

Easy to understand, consumer-facing language

Dropdown and checkbox options for minimal effort answering

Interview-style questions
A Central Digital Mortgage Hub
The typical Millennial phone might look like a mess of an app-obsessed person. But there is more logic to it than you might realize. Millennials place a high value on "niche hubs," meaning a central location for managing specific tasks. A wildly successful company that nailed this down with Millennials is Uber.
The ride-share app could have added the Uber Eats feature to their Uber app. It certainly makes sense to add the full version to their app that already has millions of active users. But instead, the $100 billion company launched a niche app specifically for the food-delivery service. 
Why? One reason is likely for ease of use (see above), but the other is that Millennials prefer hub apps that are highly functional for specific tasks.
We see this with the financial apps too. While banks are scrambling to add more and more features to their online banking, developers are making a killing with niche finance apps that help millennials budget, save, invest, and send money instantly.
That goes for home lending too! Millennials want an experience that's specific to the mortgage approval process –everything in one central location: organized, secure, and instant. 
You can create that experience with a mortgage point-of-sale portal like Loanzify. 
Critical Components of Centralized Digital Mortgage Experience
Branded tools such as mortgage apps and mortgage POS 

Functions such as mortgage calculators and refi scenarios

Ability to upload docs via mobile or drag-and-drop on desktop

Prequalify or apply for a mortgage

Milestone tracker to see where they are in the approval process

Multiple points of access to

mortgage help from a mortgage professional
The Digital Mortgage Journey is Personal
Every Millennial is on a homebuying journey. Some are beginning to build up their credit. Others have added a new mini member to the family and are ready to set roots. Give your Millennial prospects a digital mortgage experience that meets them where they are, guiding them effortlessly to a home purchase.
Contact us to set a free demo and discover how our stackable digital mortgage tech delivers the experience your Millennial prospects want.