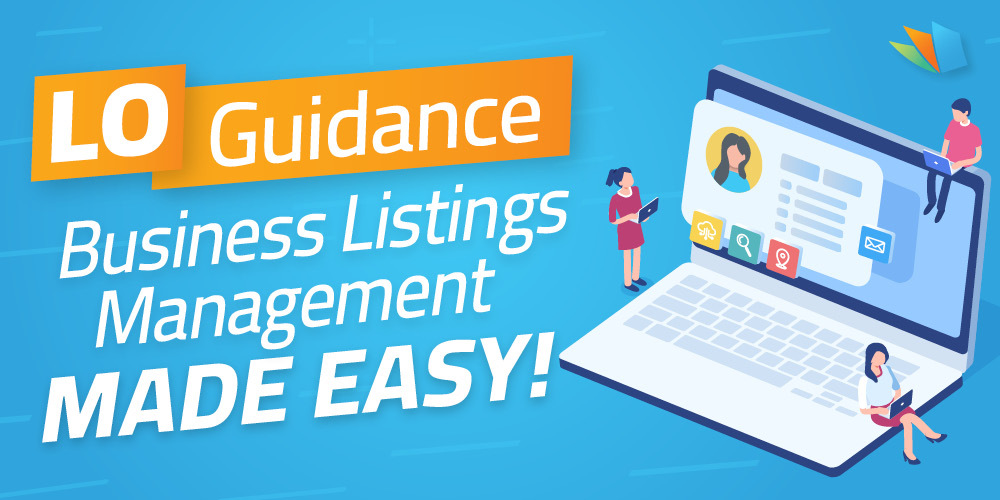 The days of physical directory books left at your doorstep are long gone, but that doesn't mean business listings are dead. In fact, a vast amount of consumers still research a local business before reaching out. In fact, Google revealed that roughly 46% of ALL Google searches are specifically looking for a local business! As a loan officer, you know that when it comes to making a major decision like home financing, prospective buyers need to have all the facts and feel confident before making a move.
So, how do you help homebuyers discover your business in a sea of fierce originator competition?
Discover Our Loan Officer Solutions
Along with excellent local SEO on your mortgage website and an active social media presence, local online directories and business listing sites are where it's at! However, we've found that most loan officers don't truly understand what it takes to effectively manage their business listing –if they even have one!
Since there are numerous online local business directories and many components to manage, we've put together this simple "marketing ideas for mortgage loan officers" guide to help you simplify managing your loan officer business listing.
The 4 W's of Business Listings for Loan Officers
Before we get into the various business listing sites and the tools to manage listings, let's take a step back and learn the importance of business listings for loan officers.
Why Should Loan Officers and Brokers Create Business Listings?
As we mentioned earlier, a large portion of online searches are for local businesses, which is why Google's algorithm highly favors geo-targeted listings. Adding your loan officer info to local business listings is an organic way to appear higher in search results.
What Info Should You Have On Your Business Listing?
Typically, a business listing has three core fields: name, address, and phone number (also known as NAP). Again, since your business thrives on online presence, you'll also want your website URL. Not only does this affect your SEO, but it also makes it more likely for searchers to visit your site.
Additionally, the option to add photos helps you show off your business visually and give your audience a sense of the face(s) behind your business.
Where Can Loan Officer Business Listings Be Found Online?
One of the most common business listing websites is Google itself. When somebody searches for a local business, a Google Business listing is usually shown first. That's if you've set up your Google Business listing. Other top local business directories for loan officers include Facebook, Yelp, Apple Maps, etc. It's also worth noting that many online directories search the web to compare business information. So, if any of your business listings are incorrect, it may trigger a domino effect and start spreading incorrect information across the web!
When Is the Right Time to Create a Business Listing?
The right time to create a business listing is NOW. The sooner you create one, the sooner you expose yourself to more home buyers, and you will gain a lot more traffic on your website and receive more inquiries.
However, be sure that you have your mortgage website ready and have a dedicated phone number that people can call. This will ensure your audience that your business is established and you've had previous clients.
Top Business Listing Sites All Loan Officers Should Take Advantage of
Although there are numerous online business listing sites that you can create a listing on, here are the top ones that are extremely beneficial for your mortgage brand.
Google MY Business
Creating a Google Business profile as a loan officer takes just minutes, costs no money, and is generally easy to manage. The more often you update your profile, add new photos of your business, update your hours, and answer some of the most frequently asked questions on your profile, the more likely your listing will rank higher.
When somebody searches for 'loan officer near me' or any similar inquiries, your business has a better shot at appearing as a top listing if your info is complete and current. Another good way to help your Google Business listing rank better is to gain as many reviews as possible. Be sure to ask your happy homebuyers to leave you a quick review!
Meta/Facebook
Social media is one of the best ways to get real estate clients, and contrary to the popular myth that Facebook is dead, the platform still gets around three billion monthly users. The truth is that many homebuyers are on social media.
One of the top benefits of creating a Meta page is that it makes it very easy for users to reach out to you through the Messenger option. This exposes your company to a brand new audience online that is otherwise not so easily accessible. Plus, it's free to create a listing.
Apple Maps
With at least 200 million users, Apple Maps is one of the top business listing sites on which every local business should be. Since nearly half of the American audience uses iPhones, having a listing on Apple Maps makes it easy for mobile users to find you whether they are sitting at home or on the go.
Like most directory sites, you'll need to verify your business at the end, and then you're good to go.
There are also listing sites geared more towards real estate, such as Trulia and Zillow, which are great sites for loan officers and brokers to get listed on.
Some real estate websites automatically pull up a list of licensed local loan officers and brokers without any action required on your side. It's still a good idea to monitor these and ensure your information is accurate.
Local Business Listing Management Tools You Should Know About
The sites listed above are just a few of the many directories on which you can list your business. The more websites you get listed on, the more challenging it will be to manage every listing to ensure that your business information is accurate and consistent on all websites.
The good news is that you can use many listing management tools to get a single view of all your listings and a report on how consistent the data is across different sites. Here are a few of them.
Yext
Yext is an online platform that allows businesses to control and synchronize their online listings across 200+ business listing websites. In other words, Yext helps companies ensure that business information such as phone numbers, addresses, hours of operation, and reviews are accurate and up-to-date. Some of the publishers Yext allows you to manage your listings on include Google, Apple, Amazon Alexa, and Bing.
With features such as the ability to remove duplicate listings, reputation management tools, and analytics reports that show how customers interact with a business's online content, Yext provides invaluable insight that can help you improve your overall customer experience and drive more online and offline traffic.
Thryv
Thryv may not be as advanced as Yext when it comes to business listing management, as it only allows you to manage around 40 listings. However, the platform is great in other ways. The main benefit of Thryv is that you can add your listing once to the platform, and the data auto-populates to the 40 other websites, saving you massive time.
Additionally, Thryv includes features to monitor reviews from customers, providing insights to improve customer engagement and help with reputation management.
BrightLocal
BrightLocal allows you to easily monitor and track the performance of 50+ online directory listings while also helping you clean up any inaccuracies that could be affecting your visibility online.
The platform provides detailed analytics to help you understand how your business appears in search results, which websites drive the most traffic to your site, and areas for improvement.
LenderHomePage Helps Loan Officers Elevate Their Digital Presence
If approached correctly, listing management doesn't have to be difficult for your mortgage business. There are numerous tools to help you manage your online presence.
As long as you are listed on the top directories mentioned earlier and your basic fields, such as your business name, address, phone number, and website URL, are consistent across platforms, your business can gain so much more exposure.
Business listings are just one of the many marketing ideas for mortgage loan officers. As you scale up your marketing efforts and gain more traffic on your website, you'll want to equally give importance to how your brand is presented to your audience.
Check out LenderHomePage's mortgage website templates and delight your prospects and customers today.