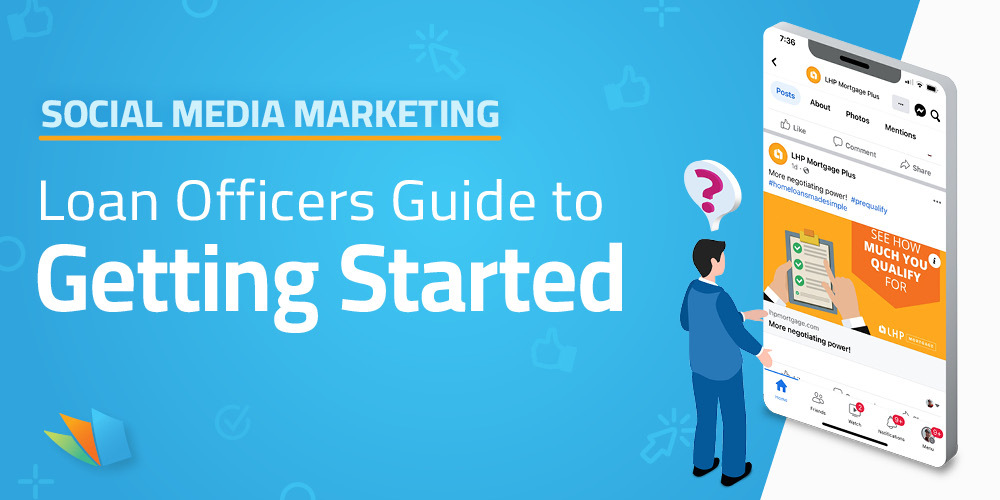 A crucial component of marketing yourself as a loan officer is social media. Social media has made it easier than ever for businesses to reach their target audience, with both its accessibility and the sheer number of internet users on social media.
Social media has assisted businesses of all sizes in establishing customer connections for years. While it is a helpful tool in increasing traffic and lead generation, more than anything else, social media helps businesses gain more exposure.
With all that said, it's a lot easier to state the benefits of using social media than it is to start.
There's also the issue of keeping up the momentum –knowing what to post, finding the right image, editing it, and writing a catchy headline…
It's a lot of work, we know!
Read on to learn the steps that can make social media content less intimidating and assist you in creating a lead-generating strategy.
Have you checked out the newly expanded Social Media Marketing Program? Our awesome automated evergreen content now also comes with done-for-you branded content to share on your personal social channels plus the ability to create your own branded social content for partners to share.

Learn more in this video.
How To Create A Mortgage Social Media Strategy
1. Define your Audience
If you're a loan officer marketing your services to everyone you can, you're wasting time, energy, and money. Let's say, for example, you're based in Texas. Instead of marketing to "everyone in Texas," it may be helpful to narrow it down to "first-time homebuyers with poor credit looking to buy in Houston." Being aware of and planning for your audience, in particular, can help you reach the right people with the right message and more successfully accomplish your marketing objectives.
So, to start, decide who your target market is. Broadly, you may say a homebuyer, but what does a homebuyer specifically look like? You should base the specifics of who these people are on your market research and the audience information you already have.
Find your target audience by:
Gathering data

. You must be aware of your target market's characteristics to reach them. To effectively market to your audience, you should learn what a typical homebuyer's age, location, and engagement trends are on various sites. Although gathering this data may seem difficult, a CRM makes this information easily accessible and simple to use.

Taking advantage of social media analytics.

Many social media sites, including Facebook and Twitter, have built-in analytics that can provide you with information about your followers, such as when, where, and other interests they may have. Additionally, using these tools with business accounts is free.

Keeping up to date with the competition.

You'll gain insights into how to communicate with your audience by knowing what those around you are doing. To fill any gaps in your current strategy, you can look at where your rivals are lacking and improve upon that.
Once you've identified your target market, stay up to date on their needs and interests, and put a social listening strategy into practice.
2. Establish Clear Goals
Setting objectives that direct your work is crucial to succeeding at social media marketing. The SMART goal strategy provides a helpful framework for setting up fundamental goals and achieving your overall objectives.
SMART is short for:

Specific: It's critical to be clear about the specific, smaller results you hope to achieve to meet your goals and measure your progress. By being specific, you can narrow in on what you and your team need to do to achieve your larger goal. For instance, you might want to increase your Instagram followers by 15% this quarter as a specific social media goal.

Measurable: You have to have a way to quantify whether or not you have succeeded in achieving your goal. Having clear ways to measure your goals can do that– you can use metrics to gauge your development and adjust your goals as necessary. For instance, if you discover that likes and follows don't result in increased website traffic, you can change the metric to one that will.

Achievable: All of your objectives should be attainable for your company. Unrealistic goals can discourage workers and cause conflict in your business plan. Realistic goals can increase your productivity and keep your motivation up. Make sure to adjust your goals as you set them if it seems like you aren't achieving them.

Relevant: Ensure that your social media marketing objectives align with your overarching business goals. For instance, if increasing brand awareness is your goal, you might set a target of getting 25 social media followers to click through a post to a landing page that details your services.

Timely: Your goals should have a clear and firm deadline to hold yourself accountable. Set a specific cadence to check in and ensure you're staying on track rather than setting a goal for some vague time in the near future.
Using SMART goals gives you a place to start, as well as a way to check in on your progress and make adjustments as necessary. Even though social media marketing has many moving parts, these goals can help to keep you on track and not get disoriented.
3. Administer your resources wisely
Social media tasks are often mindlessly handled as an afterthought for loan officers. It may seem that you're saving money and time by just handing social media to whoever has the free time, whether that be yourself or a colleague, but managing social media successfully calls for specific abilities such as:
A strategic mind

Organizing abilities

Branding knowledge
Hiring a specialist to manage your social media can be beneficial if you have the funds. If you don't have the funds to hire a social media manager, you can still spend money on social media advertisements, increasing reach and promoting brand awareness.
4. Use each platform differently
You may want to post on as many platforms as you can be strong, but doing so could hurt your social media marketing plan. For instance, if your target audience is people over 40, you may want to focus less on TikTok. You will likely find that most of your audience is on Facebook or Twitter.
When you are creating your strategy, take into consideration:
Where your competition posts

Where your target audience is most likely to be

Your metrics
Additionally, you should consider how to use each platform most effectively based on the purposes for which it was designed and the types of content that perform best there. For example, Facebook is good for quality live video streaming and interacting with followers one-on-one; Instagram and Tiktok rely more on visual content, like pictures, infographics, and short, entertaining videos.
Youtube is also for videos but is more oriented toward longer, informative videos. LinkedIn and Twitter are more written content-based, but Twitter is better for real-time conversations and quick news alerts, while LinkedIn is better for long-form written work, like articles and blogs.
You might discover that the majority of your target demographic doesn't tend to use fast-paced platforms like Instagram, so you'll want to gear your focus more toward Facebook or LinkedIn. Maybe you want to be able to frequently give quick updates to your clientele, in which case Twitter may be helpful.
To get the most out of your marketing efforts, research the best strategy for each platform you use. While there are many ways to expand your small business, social media can be useful for attracting and keeping new clients.
Request a Demo – Social Media for Loan Officers
5. Be consistent with your content.
Consistently posting compelling, engaging content is the key to success on social media. This will not only help to give you an appearance of trustworthiness, but it will also demonstrate that you care about engaging with your audience and that you have relevant information to share.
The principle of posting frequently is still valid despite changes in social media platforms' algorithms over time. It increases the likelihood that your content will appear in newsfeeds. By concentrating on producing consistent, pertinent content, you can convince the algorithms that your posts deserve to appear in different newsfeeds, which will eventually draw users to your page.
6. Engage with your followers
Because social media users enjoy interacting with brands, you can gain advantages like:
Increased brand awareness and a broader market reach

Increased brand loyalty

Seen as a local expert
According to Forbes, a staggering 83% of consumers place a high value on the customer experience, which makes the potential for a high return on investment (ROI) enormous. This includes interactions with brands on social media that help customers feel seen, heard, and understood. Using social media, you can keep an eye on conversations as they happen and quickly address any queries or concerns from your audience.
This can mean several things: it can include posing questions about your offerings, making Facebook groups, and employing the use of fun features like GIFs, emojis, and videos.
It can also be helpful to employ tools like Instagram Live to open up a dialogue with people looking to purchase or refinance a home. You can answer their questions and let your experience speak for itself as you engage with both prospective and current clients in real-time.
Allow yourself at least an hour a day of constant social media activity to keep engagement high.
With this hour, however, you should do your best to respond to any urgent concerns as quickly as possible throughout the day.
7. Keep things professional
Remember that whenever you post something on social media, you are representing your company. Too frequently, posts can be misinterpreted, upsetting followers and causing conflict. Consider developing a social media policy to direct your staff members' posts and interactions to avoid any unnecessary issues.
A typical social media policy will include the following:
Clear, non-confusing guidelines on what to post and how to react to unfavorable comments

Platform regulations and guidelines

The consideration of brands

Security measures
Investing in a social media policy can ensure that your company is prepared for any situation. Remember that social media is fundamentally about putting your customer service philosophies into practice.
8. Hone in your brand identity
Your company's brand identity makes customers relate to you and distinguishes you from the rest. Therefore, consistency should be maintained across all marketing channels, including print, digital, and social media.
For loan officers, maintaining brand consistency can be difficult, especially in the beginning. But it's significant in all aspects of your company, and social media is no exception. As you post, be sure to maintain your brand voice (how you speak to customers), keep your posts consistent across each platform, and concentrate on your value proposition.
A consistent brand identity can help increase loyalty and make it simpler to decide what to post.
9. Quality over quantity
Instead of randomly producing as many posts as you can per day on as many platforms as possible, you should concentrate on producing regular, high-quality posts. It's actually very likely that posting too many low-quality items will penalize your account and flag you as spam.
It's also difficult to keep up with a schedule that requires you to post several times a day. So ultimately, posting too often will end up hurting rather than helping your strategy.
Consider implementing a social media calendar to reduce these risks. You can use these calendars to organize your schedule and plan posts in advance. Marketers can keep track of the various moving parts of social media by categorizing posts into categories like when to post, post captions, post visuals, and which platforms to post on.
To keep your posts' quality high, constantly ask yourself before posting something: Does this information benefit my readers? Is this something new, motivating, inspiring, or enjoyable? Does the text cite its sources?
You can use these to produce high-quality content that interests and draws readers.
10. Watch your outcomes
Social media marketing is influenced by various variables, so it's crucial to evaluate and track progress. Analytics are helpful because they can improve campaigns, set new objectives, and identify tracking metrics.
Before you begin tracking, you should decide which metrics are most critical to your marketing objectives.
The most typical metrics include:
Reach\sEngagement\sImpressions

Mentions

Posting clicks

Video views
Although social media marketing can seem intimidating, there is much to gain. When done properly, social media marketing can be a reliable, cost-effective solution to keeping your pipeline filled and your referral network active.
If you still need help with your social media presence (or would like a quickstart way to supplement your posts), consider adding our social media marketing to your website plan. Click below to learn more and schedule a conversation with an account executive.