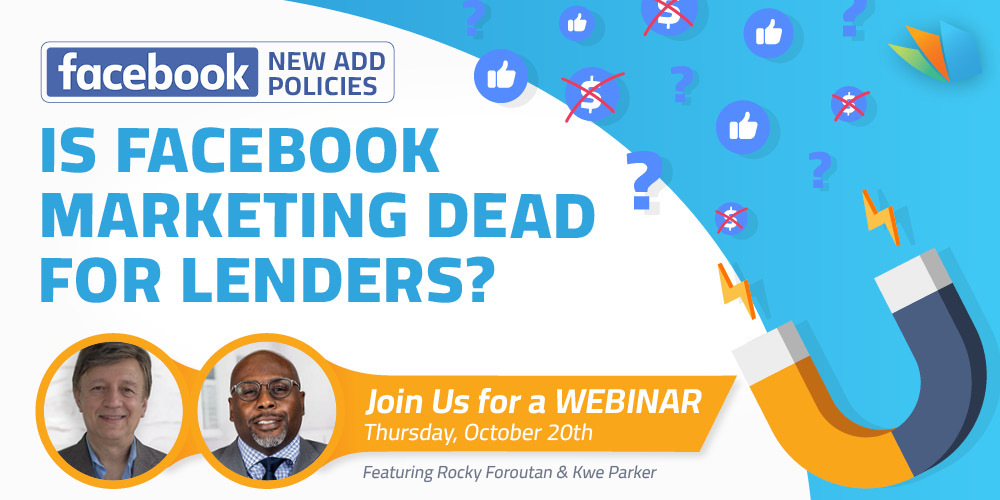 Starting Oct 12, 2022, Facebook will discontinue its "Special Ad Audiences" feature for ad targeting. This major announcement poses a significant hurdle for all financial institutions –including brokers and loan officers –who use Facebook ads as part of their lead generation.
Register for "New Facebook Ads" Webinar
How does this affect Mortgage Ads?
The 'special ads audiences" is a tool that allowed advertisers to define their target audience. This category only applied to ad campaigns that dealt with credit, employment, politics, and housing, and it aimed to help advertisers define their audience while minimizing possible discriminatory practices that would violate federal laws.
Facebook ads in the above-mentioned categories were required to use the "special ads audience" tool, according to Meta ad policies. However, this tool will no longer be available beginning Oct 12.
Any ads currently using the "special ads audience" tool will also pause.
Why is Facebook changing its ad policies?
This major update is part of a settlement agreement with the DOJ where Meta (Facebook) was accused of algorithmic discrimination. It was alleged that Meta's mortgage and housing advertising algorithm discriminated against users based on race, color, religion, sex, disability, familial status, and national origin.
The complaint also asserted that Meta's advertising algorithms partially relied on those factors that are protected under the FHA.
Are Mortgage Ads a thing of the past??
(spoiler alert: No, they're not!!)
While this change creates a significant obstacle for Facebook mortgage marketing, it does not mean mortgage ads on Facebook are dead!
Advertisers will still be allowed to run mortgage ads to their page followers and will be able to market their page to grow their following — all of which stress how critical it is to grow your digital presence and real estate partnerships.
At LenderHomePage, we've long understood the power of leveraging these factors for business stability and scalability.
This is what it takes to win in all markets despite policy changes.
Join us for a special webinar this Thurs, Oct 14. Led by our the Voice of Customer champion, Kwe Parker, this not-to-be-missed live webinar will give you the insight and tools you need to leverage Facebook advertising in 2023.
Register for "New Facebook Ads" Webinar