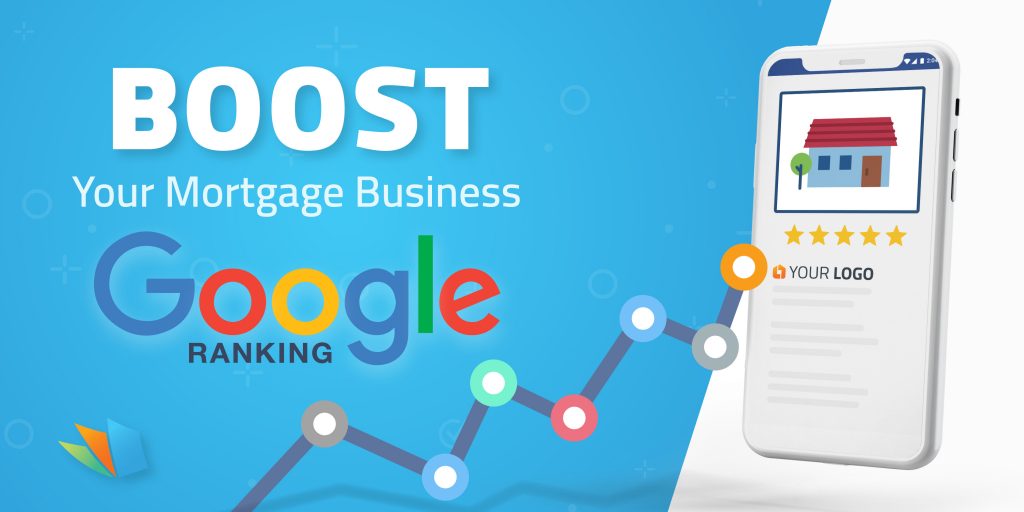 It's shocking to see how many mortgage businesses ignore the value of Google My Business (GMB). It's akin to leaving money on the table, and that is no exaggeration. Google states that nearly half of searches have a "local intent," making it vital that your GMB is set up for local digital consumer discovery.
Check out these additional benefits of Google My Business listings for mortgage businesses.

Appear On Google's "Local 3-Pack."
This is one of the most desirable places to be if you're a local business, and you can significantly increase your odds of appearing by simply creating a free Google My Business mortgage listing. Being listed in the local 3-pack not only shows searchers your location on Google Maps, but also you'll show up BEFORE organic results. Getting listed in the 3-pack has been shown to boost your clicks by over 700%!
Show Up in Google Maps Searches
Many searches for local businesses are conducted from Google Maps, not the traditional search engine. Let your mortgage shoppers know how close you are in proximity with your GMB listing. After completing a few more steps to get verified, your business will pop up as a red marker on Google Maps, indicating your mortgage business meets their search criteria and further increasing the likelihood that they will contact you.
Learn More About Your Business with "Insights"
Google My Business has a section called "Insights" where you can gain a wealth of valuable analytics information, including how visible your mortgage brand is, where your consumers are coming from, and how they engage with your business.
You can then use the information to create effective paid ads, discover new SEO keywords and topics, and discover new ways to reach digital mortgage consumers.
Optimize your mortgage Google My Business for a higher search ranking with digital consumers.
Keep Your Mortgage Business Profile Accurate and Consistent
Make sure that your mortgage business information is consistent across the web. Even simple variations like Anytown Mortgage versus Any Town Mortgage can confuse Google and hinder marketing efforts. Also, make sure that information like business hours, email address, mortgage website, business category, and the like are all filled out completely and correctly. 
Upload Properly Tagged Business Images
Add several images with descriptions. Be sure to rename image files with your business name and SEO keywords before adding them to your GMB. Having your business name on the file name ensures that Google will index them correctly. Avoid using stock photos. Although Google won't penalize you for it, stock photos do little to increase the trust factor with mortgage prospects. 
Add a Short Name on Google My Business
Verified GMB listings have the opportunity to create a custom' short name' to make it easier for digital consumers to find your business on searches. You can also use this short name to create a vanity URL and share it when requesting a Google review from your borrowers. The vanity URL will look something like 'g.page/[yourcustomname].'
Bonus! Add a location to your short name URL for an additional boost to your local SEO!
Use The Q&A Section in Google My Business
The Q&A section on GMB is where anyone on the web can ask and answer questions about your business. This is a great place to do some social listening, engage with prospective borrowers, and share more information about your mortgage services to help increase your ranking with Google. 
Post On Your Google My Business
Google posts are yet another section on GMB where you can share content and add even more SEO weight to your mortgage business. While there's some debate over how much GMB posts affect local ranking, there's a consensus among professional marketers that GMB posts are a factor in search ranking.
Boost Your Appeal With Ratings and Reviews
Checking out a business's reviews and ratings is standard for digital consumers. And, of course, the first ratings that Google will display are the ones that are listed on their platform. As you can guess, the higher the rating, the higher the ranking. This means that positive Google reviews are an organic way to increase your mortgage business's visibility and boost your click-through rate. 
Consistent Mortgage Branding and Borrower Experience With LenderHomePage
Part of Google's success is that they give the digital consumer the information they need while making it easy and fun to use their platform –and you can do the same with our digital mortgage platform.
Our mortgage website templates are designed to impress your prospects right from the start. The responsive design means that your website looks great and functions beautifully whether your prospects view it from their desktop or mobile. Ease of use encourages prospects to click around, explore, and initiates trust while the prominently placed "apply now" button provides a gentle but influential nudge towards conversion.
Every templated website has built-in features that enhance the borrower experience during their consideration stage of the buyer journey. However, the templates can also be customized with your logo, color scheme, font, text, and even add or delete the pre-populated mortgage content!
Pair your Google My Business marketing strategy with a mortgage website from LenderHomePage and impress your borrowers right from the start.