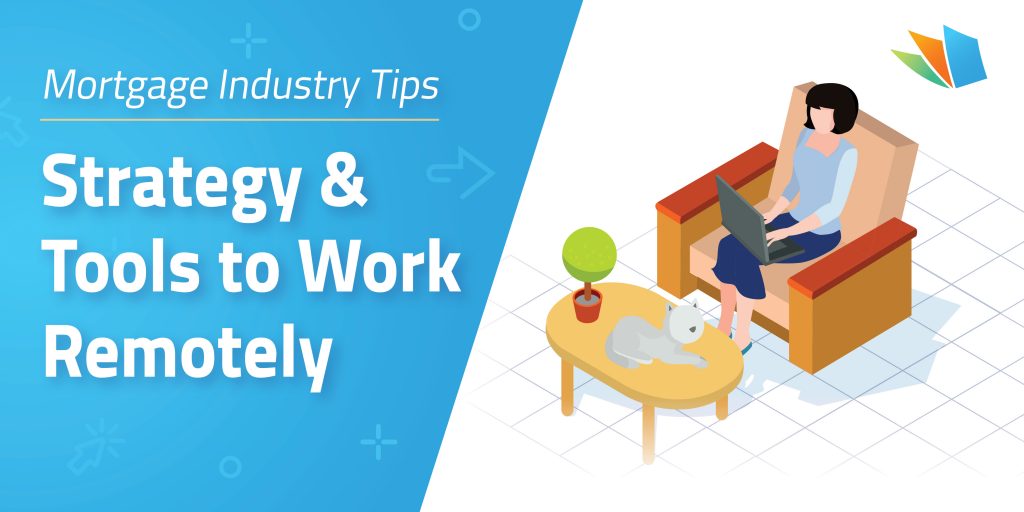 No doubt, things are different. Yet, while it's not "business as usual," your borrowers are still counting on you to be able to deliver "business as usual" — no matter the circumstances and work is piling up.
Yes, it's a tall order to be able to work remotely while delivering the same level of efficiency and capability, keeping the human touch that is needed more than ever before, and balancing your new work/life. 
Before delving deeper into how you can do the above, know that we at LenderHomePage care deeply about our clients and are here to support you. COVID-19 has proved an incredible challenge for us all. However, when it comes to working remotely and delivering outstanding customer service, know that the LHP team has worked with varying levels of remote collaboration for years. 
So not only are we experts in digital mortgage technology, but we're also experts in high-efficiency remote work and customer service. With that said, here are our best strategies and tools for mortgage professionals working remotely. 
Get ready for the day.
While tempting to go straight from bed to the laptop to work, getting dressed and ready for the day has a strong psychological effect. It shakes off that "brain fog" and puts you in the mindset of working at your top-level. You also have to consider video conferencing with your team and possibly Facetiming with your borrowers. 
Maintain a similar work schedule.
This may already be a company policy. But even if scheduling is more flexible given the current circumstances, keeping a regular work schedule –including breaks –is critical to your performance. Depending on space, try to have one area of your home dedicated to just work. If the area doubles as the kitchen table during non-work hours, make sure that the area is cleared of everything but what is necessary for to complete the days tasks.  
Have solid and varied channels of communication.
This factor cannot be overemphasized. Communication with your clients and team members needs to be a top priority and varied. The central component for allowing your clients to reach you effectively is maintaining a professional website which makes it easy for anyone to call or contact you via the web.  You'll also want to have a means of video conferencing, instant messaging, as well as voice messaging, email, etc. 
However, in the lending business, with so many variables and parties involved, you'll also want to have a means of focused communication. In other words, you'll want a dedicated borrower portal for group chats, doc transfers, and end-to-end collaboration.
Streamline Your Tasks. 
This strategy is critical, whether you work remotely or in-office. Maximizing revenue, minimizing costs, and expediting the process is the goal of every business, and going digital is how you can achieve it. 
These factors are generally referred to as KPIs (Key Performance Indicators), and they're metrics by which you should also measure your remote work performance (or that of your team). Read this previous article on mortgage KPIs and our solutions for improving them. 
Continue your "team mindset."
Typically, working remotely means working away from the office, but in today's terms, it also means working physically distant from your teammates. Meeting up for coffee or organizing a team lunch just isn't possible right now. But there are other ways to build up those relationships:
Set clear boundaries as to when you are available to communicate. In addition to setting up office hours, use apps like Calendly to reserve time for calls or meetings that will take more than 15 minutes.

Share milestones and current projects. Celebrate one another's closed loans, referrals, or positive borrower feedback with the team. Remember to post praises on social media and tag the team member too! 

Break into smaller groups if your team is large. Having a core group is key to making sure everyone feels connected.
Increase warmth and genuineness in your digital presence.
This is a topic that we've touched on several times. A GREAT advantage that small to midsize lenders have over digital giants like Quicken Loans is that there is a genuine connection you have to the community and people. Emails, social media posts, phone calls, instant messaging are all opportunities for you to outshine competitors in a meaningful and caring way.
Remember to apply this idea to selling more loans! Read this article on consultative selling for closing more mortgage loans. 
Adapt quickly.
This point isn't so much about just working remotely as it is about the reasons why remote work is now necessary. Although we did not anticipate the crisis we currently find ourselves in, we understood that massive change in the mortgage industry and the workforce were inevitable. The lesson here is to prepare as much as you can with mortgage tech tools and digital resources necessary to keep moving forward (and growing).
Since 2003, LenderHomePage has become synonymous with reliable, adaptable, and advanced digital technology. But it doesn't stop there! With a team of experts continuously working to support you, your business, and your borrowers, you can trust that through it all, we are your team and your family. 
Need additional support, or would you like to learn more about our suite of digital mortgage tools? Contact us today!