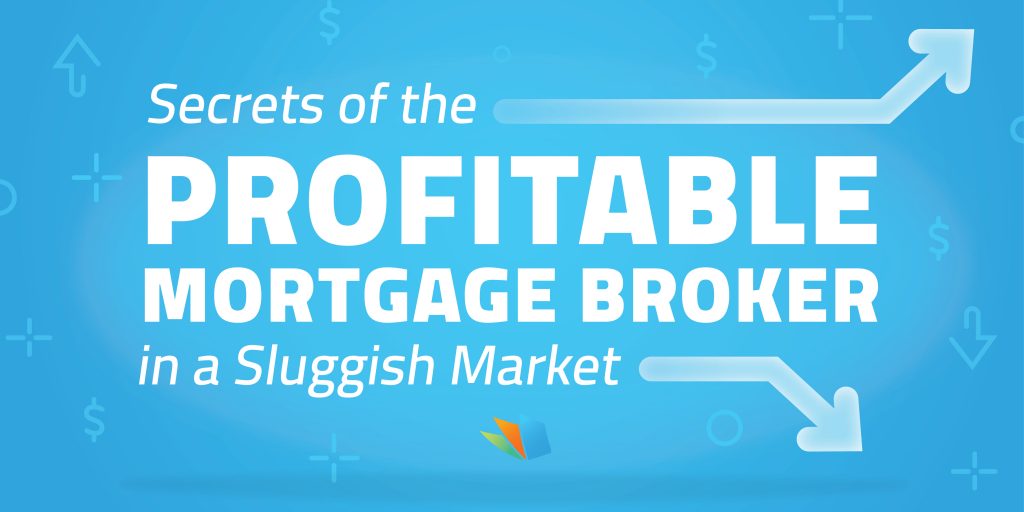 Brokers –worried that a sluggish market might affect your pipeline? Or maybe things are going well, but you'd like to plan for "just in case." Whatever your reasons are, use these "secrets" to help your mortgage business stay profitable even in sluggish markets.
Crunch the Numbers
It's important to know exactly how much revenue is needed to cover the basics each month. From closings to loan applications to generating new mortgage leads to buying Facebook ads to paying the light bill, know how much is required to keep the business going.
Remember your profit margin, too!  Do you know the minimum per loan needed for a healthy profit margin? Have you considered how much additional profit you need for investing marketing and mortgage tech to remain competitive?
Calculate the profit margin of each type of loan you're currently closing. You'll quickly notice that some loans are more profitable than others. So even if your volume is high, you could still improve your profit by switching your focus to the more profitable loans.
Lower Your Overhead
Having a "brick and mortar" mortgage office is one of the biggest expenses for mortgage professionals.  However, the industry and borrowers habits have changed significantly, and there's a lot of room for improvement here too.
Consider:
Going 100% paperless

Using online storage as much as possible

Using remote or on-demand workers

Sharing office space (realtor or accountant are good options!)

Subleasing your office space
The key here is to use mortgage tech as much as possible while looking for ways to share the cost of running a physical office. Better still, reconsider whether you need an office at all! Mortgage tech has come a long way in just these past 5 years –so much so that you can run your entire operation with your laptop and smartphone.
Boost Your Conversion Rate
Just like we mentioned above, sometimes you don't need volume to make more profit, you need efficiency. And that's where investing in a mortgage POS platform could help you kill it.
The right mortgage POS can streamline your business, increase conversion, and generate higher returns across all loans. In times of a slower market, you can see how this small but powerful piece of software can help you get the most across the board
Save Time with Automation
How much time does it take to complete specific tasks? How much time does it take to close a loan?
Time is also a currency. Spending too much time on generating new leads and bringing them to closing is just as bad as spending too much money on acquiring the lead with minimal profit.
Here are some tasks you can automate:
Bulk texting

Email autoresponders

Mobile apps

Borrower portals where they can check the status of their loan

Document uploader
Whether your goal is to stay out of the red or make $1 MIL, you can't waste time faxing, following up on the status of every single loan during the entire process, building and maintaining a mortgage website, designing a mortgage landing page for your campaign, and updating your prospects on the status of application.
The only way to reach your revenue and income goals is to remove the unnecessary, focus on getting more qualified borrowers through strategic marketing, and automate everything else! Call us today to learn more about automating your business with mortgage tech.