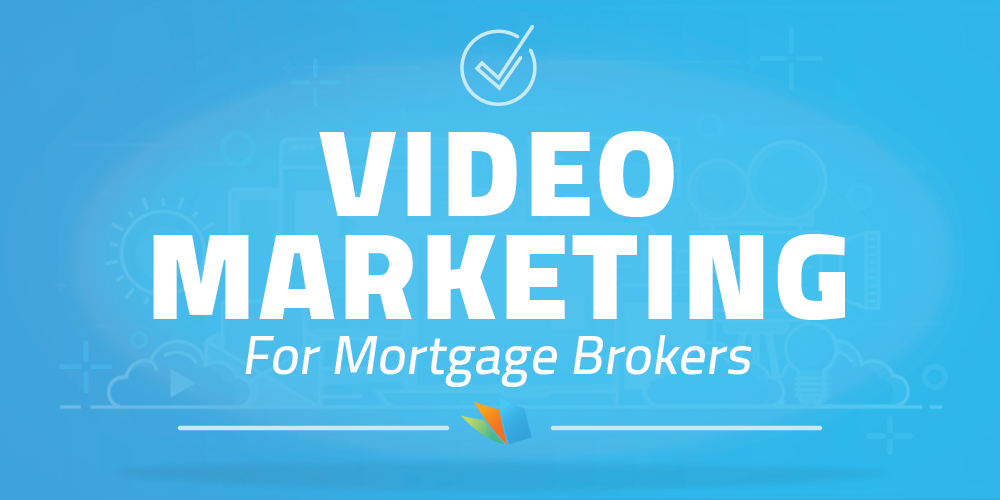 When planning your next marketing strategy, don't forget about a mortgage video marketing strategy, too. Today's consumers want content delivered in a variety of ways, and video content is quickly becoming the preferred medium.
With mindblowing stats of online video consumption, especially for Youtube, there's no doubt that video marketing has the potential to be a BIG mortgage lead generator for your business.
Why Mortgage Video Marketing Matters
Going one step further than the YouTube video,  social media videos has skyrocketed these past few years. Nicola Mendelsohn, head of operations for Facebook in the Middle East, Europe, and Africa, predicted that by 2021, content shared on Facebook will likely be 100% video (and probably all mobile, too, by the way). With current surveys that show that 47% of respondents prefer to watch videos via Facebook (as compared to 41% for YouTube), it looks that prediction is well on its way to becoming fact.
How did video content marketing become so popular?
Video for mortgage marketing many advantages. Since it uses both visual and audio elements, it's attractive to a broader audience. Plus the dynamic quality of the content is ideal for generating mortgage leads, creating awareness of your brand, and building a community around your services.
Despite its effectiveness and popularity in all industries, it remains one of the most underutilized marketing methods in the real estate and mortgage industry.
This means that even with just a few well-made videos, you'll be ahead of your competition –even the giant lenders!
what if you don't like making videos?
If you're the type to get camera shy, you can still make great videos! There are alternatives to the "talking head" videos such as a doodle style video, whiteboard videos, or even animated videos. Also consider co-branding videos by partnering up with a real estate agent, accountant, estate planner, contractor, or anyone else that you think would complement your mortgage services AND provide excellent value for your prospect.
If your budget allows for you, you can even higher talent for your video. Camera shyness is not an excuse for avoiding mortgage video marketing –there are ways around it.
What about equipment?
While some equipment is necessary, remember that a great video isn't so much about what you use as it is about the mortgage content. Think about the last videos you saw online –did they look like they were produced with expensive equipment? Not likely, yet many of them get hundreds or even thousands of views!
If you're curious as to how top YouTubers create videos, all you need to do is a quick search on YouTube for just that. Many content creators are happy to share what they use, what has worked, and what wasn't worth the investment.  But even without searching, the number one camera for creating video content is probably in your hand right now.
That's right, your mobile phone. Everything you need to capture a quality video can be done with your cell and plenty of natural lighting.
Where to distribute and host your mortgage video
Where you decide to distribute your video depends on the size of your lending business and the type of content you made. For example, if your video was created for brand awareness, SEO, or general info purposes, consider hosting platforms are YouTube, Vimeo, and Facebook.
Youtube
YouTube is the top video hosting platform. We like it because it's is free, it gets a lot of visitors every month, and it has the highest watch time of any other platform. YouTube videos are a combination of information and entertainment and can be SEO optimized so that they show up on Google searches.  So if you want your content to help with your SEO as well as shared, YouTube is the way to go.
Vimeo
Vimeo is a hosting platform that has a bit of a niche to it. You won't see as many ads on it as you do on YouTube and the production of the videos seems to be higher. They also have a paid option where you can host video privately for paid member access. If your mortgage marketing plan includes membership or recruitment,  Vimeo is a great platform for that.
Facebook
Facebook has come a long way in terms of video hosting to the point where it has become a top contender. The biggest draw to hosting on Facebook is that it's also the largest social media platform. That means that uploading your mortgage video onto Facebook is putting right in front of consumers that are ready to engage and share your videos. Facebook is also highly geared toward ad campaigns so you could use Facebook as the place to handle an entire video marketing strategy. Keep this in mind: Facebook users tend to prefer short videos, less than 2 minutes. For longer videos, we suggest uploading to YouTube,
**Special note: Instagram rolled out IGTV where you can upload a video that's longer than 1 min. We really like this platform as it has multiple ways to share and reshare, such as posting on the feed and posting on IG stories. Although you can post videos as long as 60 minutes, it requires a little manipulation of the video size.
This post is mostly about videos that you record and upload, but remember that there's live video as well. If your comfortable with doing one-take videos, Going Live on Facebook, Instagram, or Twitter can be a dynamic way to share a video where the audience is interacting with you.
Practice a few times to get the hang of it. It can sometimes get a little nerve-wracking, but the pay off can be great. Live videos are highly engaging and audiences are naturally drawn to the excitement of "going live."
Get Started Today!
If may sound like a lot of work, but once you realize how underserviced you consumers are with mortgage video marketing, you realize there is ample opportunity for you to establish your fanbase and convert them into mortgage leads.
Do you have a plan of where you're going to feed those leads? Do you have a mobile-mortgage website ready to receive your Millennial prospects? If not, we can help! LenderHomePage offers an extensive portfolio of digital mortgage tools designed to help mortgage professionals get more done. Contact us today for a free trial!