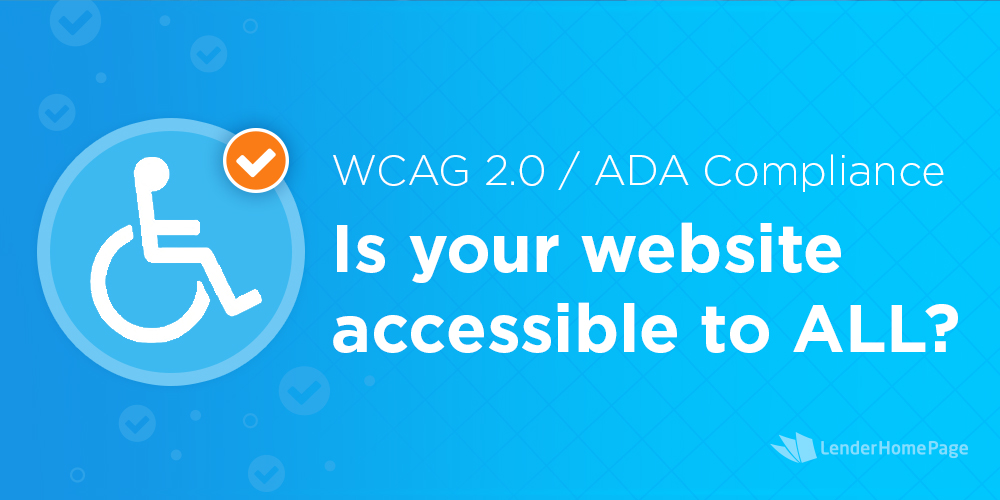 Inclusivity is important to LenderHomePage. Before it was even a requirement, our SmartApp 1003 already featured an advanced language localization to support Spanish-speakers with limited English skills.
But what about homebuyers that need different web accommodations to help them with the home buying process?
In true LenderHomePage fashion, our mortgage websites are ready to meet and support Web Content Accessibility Guidelines, or WCAG 2.0.
What is WCAG 2.0 and Why It's Critical to Your Mortgage Website
WCAG is a set of guidelines that help to make web content accessible and understandable to those prospective homebuyers that need accommodations.
For example, if you were meeting with a client face-to-face, those accommodations could be wheelchair accessibility, contracts printed in extra large font, or speaking with your mouth visible so that a hearing-impaired lip-reader can see what you are saying.
WCAG works in a similar fashion, except the baseline guidelines are for web content and user experience — plus it attempts to cover a wide variety of needs from perception to operability to understandability.
Another similarity of making physical accommodations and website accommodations is that failure to do so may get you in legal trouble! Since the internet and the guidelines for web accessibility are still relatively new, the regulations can be vague. This means that every business with a website is at risk of getting sued or fined. While this is not too commonplace, it certainly has occurred in the recent past and ensuring that your mortgage website meets the baseline WCAG may help you to avoid legal trouble.
How to Update Your Mortgage Website to Meet WCAG 2.0 Guidelines –2 Ways!
Fortunately, meeting these guidelines don't require a costly redesign of your current LenderHomePage mortgage site nor does it require a monthly service fee to have your site comply with WCAG guidelines.
For a one-time installation fee of $49, our developers will quickly install the UserWay widget (a third party that has been vetted by our team) to easily convert your LenderHomePage site to one that meets WCAG 2.0.
The UserWay widget has been selected by LenderHomePage not only because it is a comprehensive and robust solution but also because it is royalty-free and does not cause any additional recurring cost to our valued clients.
Click here to have one of our web developers install the widget on your LenderHomePage site.
Not a current LenderHomePage client? Click below to schedule a live demo!