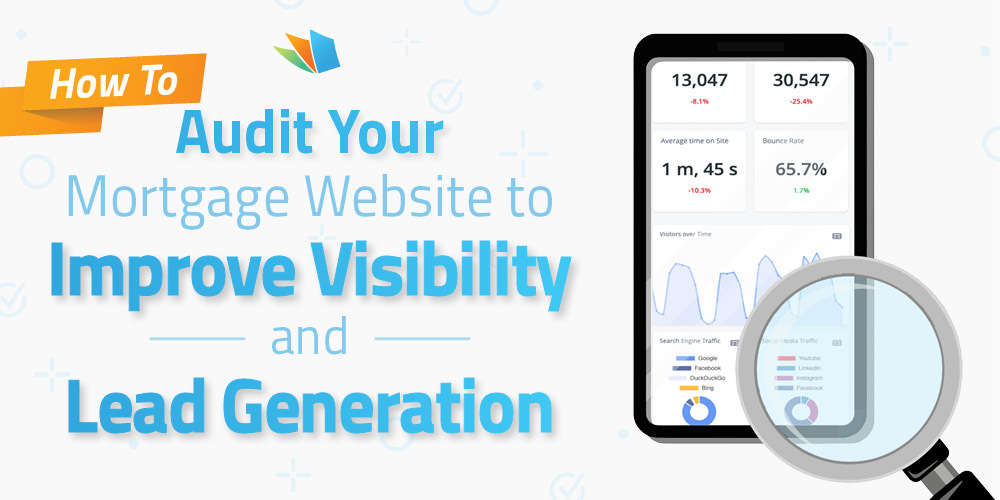 Your mortgage website is your digital real estate (no pun intended). But while you have the freedom to design it any way you want and the obligation to deliver an ideal user experience, you also must ensure that your website's visibility is optimal. This is where a mortgage site's structure comes into play.
As a mortgage provider, you may not have a team of web designers to help guide you through this critical process. That's why we created this 'mortgage website audit checklist' where we guide you through the most critical aspects you should focus on, ensuring that you've maximized your website's visibility and indexability.
What is a Website Audit?
A website audit is an assessment of every page on your website to determine elements that need correction or improvement. While it may be easy to spot issues on your homepage, an audit combs through your entire site, looking for visual and technical problems that can negatively impact user experience and search ranking.
Common issues that an audit may uncover are broken links, duplicate pages, missing meta descriptions, and not mobile-friendly.
Thin or non-original content and slow page loading are typical but significant issues that most mortgage websites suffer from, and it's no surprise. Creating pages upon pages of original, quality content isn't fast or simple.
And designing a website that provides optimal page speed often means a complete technical redesign of its framework –an overhaul that other website providers aren't willing to invest in.
But we did…
Meet LHP 3.0 — Websites Built For Speed!
But let's get back to website audits.
Why Bother Auditing Your Mortgage Website Anyway?
There are numerous reasons why you should conduct an audit of your mortgage website.
Gives you insight into your website's framework
Unless you understand the ins and outs of your site, you won't know what to alter to improve your search ranking.
Optimizing for SEO
Only through a website audit can you determine how to improve your website's SEO. Conducting a site audit can help you find what errors you have made so you can correct them and also identify any missed opportunities to gain more SEO benefits.
Better convert visitors
Track your visitor's journeys by identifying where your audience clicks and whether they fall off at a certain point. A website audit gives you a chance to spot these issues and get them fixed.
Beat competition
With a competitive website audit, you can see what is working for them so you can possibly replicate it. For example, SpyFu is a great tool for learning about the most popular keywords that your competitors use.
Backlinks analysis tools such as Ahrefs and Ubersuggest allow you to examine your competitors' backlink profiles and compare them to yours.
How to Conduct a Website Audit
There are many tools you can use to conduct a website audit. Free tools such as Google Pagespeed Insights and Google Search Console give you an excellent view of what's going on with your site.
There are also paid comprehensive website audits, although the information overload may leave you with more questions rather than answers.
So which audit road should you take?
We recommend starting off with a mortgage website template that addresses the most common offenses right off the bat.
After that, follow the list below of the primary areas you'll want to focus on.
DIY Website Audit Tips for Loan Officers and Mortgage Brokers
Use a site audit tool
The tools previously mentioned are great for pinpointing the most overlooked website issues, such as 404 errors, technical errors, duplicate content, crawlability issues, etc. Any red flag warnings should be the first ones your fix.
Review and Elevate Your Web Content
One crucial aspect of this audit is assessing the existing content on the website. Content not only serves as the voice of the business, but it's foundational to search engine ranking and conversion. However, editing and creating content is much easier said than done.
But that's where AI-powered editing and writing tool comes to your aid! Audit your content using AI tools that check your spelling, grammar, and tone. Depending on the tool, it may also suggest keywords to strengthen your SEO.
When it comes to content creation, professionals can use AI to efficiently generate first-draft content that helps expedite writing web content. Can it really be that simple? See for yourself!
Our newly launched LHP 3.0 websites come with built-in AI-writing tools, empowering loan officers and mortgage brokers to effortlessly craft compelling and relevant content for their online platforms. With this advanced feature, you can streamline the content creation process, optimize search engine visibility, and connect with your audience more effectively than ever before.
Take a closer look at your website's user experience (UX)
Nobody wants to stay on a website that is hard to navigate. Is your homepage clean with a clear, concise message? Would first-time visitors know where to navigate different pages and your contact page? Ask yourself these questions and make any changes accordingly.
Once you have done all of the above, make a list of recommended changes and hand it over to your developer(s) and or designer(s).
If you rather not bother with all of these design issues, your best bet is to go with a mortgage website template from LenderHomePage that is already designed for an optimal borrower experience and lead generation.
Features That Every Mortgage Website Should Have
Are you missing any of the below features on your website? If so, it's time to start creating a plan for implementing them.
An 'About' Page
Your clients want to know exactly who they are working with, so it's highly essential for mortgage companies to provide an 'About Us' page on your website telling them who you are and what makes you different.
Loan Officer Pages
Loan Officer pages give your team a way to promote themselves, your company and bring traffic to your website. To provide a more personal connection, add short bios under each team member's photo. Add the ability to apply with each loan officer and potentially schedule meetings with them directly. This is a great value add to clients and a feature that helps with attracting and retaining originators.
If you are the sole owner and employee at your company, you can include a longer bio next to your photo since you'll have a lot more real estate on the page.
Testimonials
A website should not just be an avenue to increase online presence. You can also leverage it to build trust. How do you build trust? By showcasing customer stories.
Having high-quality and relatable case studies on your website can ensure prospects that you are an expert in your field and have benefitted others with your work.
Especially in an industry such as real estate, where your clients have to make important decisions and invest a lot of money, you absolutely need to have case studies on your site to move your leads along the funnel.
Reviews
Client reviews serve as a validation of your business's credibility and reliability. During the consideration phase, prospects seek out feedback from others who have experienced your service and expertise first-hand.
By having a collection of genuine client reviews readily available on your website, you provide valuable information that assists potential borrowers in their decision-making process. By prominently displaying your reviews, you demonstrate that real people have had positive experiences with your business and brand, strengthening your reputation and making it easier to convert web visitors into mortgage leads.

Interactive Tools
Once a visitor has landed on your website, you want them to stay. To do this, you must provide free interactive tools and resources that engage prospects.
It's fine if you want to create gated content to collect lead information, but be sure to provide a handful of ungated resources as well. Not everybody wants to provide their information, but this doesn't mean they will not make a good client. An example of a free tool that every mortgage company should have on their website is a free mortgage calculator.
Sometimes, popups can be interactive. However, you want to keep these to a minimum as nobody wants to keep hitting the 'x' button to see the content that they came to your website for in the first place.
Social Media Icons
You may come across many websites where you scroll down to the bottom footer and find a line of social media icons for LinkedIn, Twitter, Facebook, etc. What's the real purpose of linking your social channels to your website?
Although it may seem counterproductive to lead key prospects away from your site, you should consider that the people who will click these icons are your site visitors who are taking the time to learn more about your company. They are likely deeply invested and just need to see that you are an expert in your field before they convert to a customer.
Make sure that you're consistently posting high-quality content to each of your channels to have a positive impression among your crowd. This is your chance to showcase that you are knowledgeable about the mortgage process. You can share your blogs, testimonials, infographics, social tiles, and any other information that can better convince your audience that they should choose you as their lender.
You should also include a link to your website through your social channels. This allows your social media audience to get one step closer to contacting you, which should be your final goal.
Optimize with LHP 3.0 – Request A Demo Today!
Lead Magnets / CTA Buttons
Encourage your audience to commit further to you by incorporating lead magnets and call-to-action buttons on your website.
A lead magnet is an element where you offer something of high value for free (such as an ebook or guide) in exchange for their contact information.
A call-to-action (CTA) button is similar. It contains only a motivational message that encourages visitors to take additional action that moves them closer to a funded loan.
That action could be to interact with your chatbot, call your office, use your online mortgage calculator to estimate a monthly payment, or even begin their online application. The messages on the buttons are typically short (ex., 'Inquire Today,' 'Schedule a Call with Us').
Blog
If your website does not already have a blog, you should create a section for it. Blogs help you showcase your expertise and knowledge while also helping you show up better and more frequently in local search queries.
Decide how often you will create content and post. A healthy schedule is to post about once a week.
Have writer's block? Use our AI mortgage writing tool to blast through it! Available on LHP 3.0 websites.
Effortless Website Optimization: Utilizing LenderHomePAge Mortgage Website Templates for Increased Leads
There are so many improvements you can make on your mortgage website to increase leads and encourage prospects to reach out to you faster. By making even the most simple adjustments, such as moving around certain elements on your website, you can greatly improve the visitor experience.
If working with website design elements is not your strongest area, leverage a mortgage website template from LenderHomePage.This out-of-the-box solution establishes a strong baseline that checks off most of the audit list. Then, you can use the tips provided in this guide to fine-tune your site as you see fit.
Elevate Your Mortgage Site's Visibility: Get A Demo