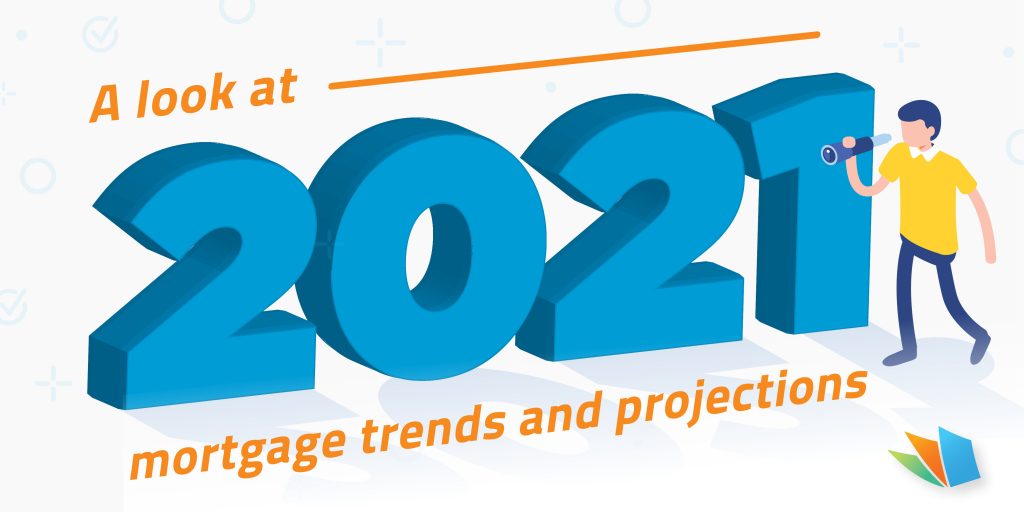 With positive news of a vaccine and a confirmed new administration, we're looking ahead at what experts are projecting for the mortgage and housing industry for 2021.
Mortgage Rates Predicted To Rise As The Economy Bounces Back
Both Fannie Mae and MBA project a mortgage trend of rising rates as the country's economy begins to recover, but they differ in how much. Fannie Mae predicts that 30-year FMR will hover around 2.9% while the latter estimates a more dramatic change –possibly going as high as 3.3% in the coming year and 3.6% by 2022.
Logan Mohtashami, HousingWire's Housing Data Analyst, suggests that the slow and steady economic bounce-back will be driven by:
An effective vaccine and COVID treatments that enable businesses to operate with a higher in-person capacity

Continued fiscal and monetary government aid

A healthy and steadily growing demand for housing
All of which suggests a mortgage rate trend that will inch higher in 2021.
On the other hand, the Federal Reserve has indicated that they will pursue low-interest rates for the next few years. While they don't directly control mortgage rates, the Fed's influence on the mortgage market is widely accepted.
2021 Will Be A Great Year For Home Sales 
2020 marked an unprecedented exodus as Americans left crowded cities for the suburbs. We expect this increase in real estate sales to continue as remote work becomes the new norm in many industries, luring many out of higher-priced markets and into more affordable housing.
Off-and-on-again shelter-at-home orders are also fueling the demand for more spacious homes, ones with ample room for a home office, gym, or large backyard.
New constructions, in particular, will be on an upswing. For at least a decade, builders grappled to keep up with market demands due to the high cost of new construction. However, the pandemic has driven down both the cost of materials and the competition with commercial builders.
VA Home Loans Soar With No Signs of Slowing Down
2020 was a landmark year for VA loans. For the first time in its history, the VA issued more than one million veteran loans, more than double the volume of 2019. Historically, VA loans have accounted for about 2% of all loans in the US. However, this year, it moved closer to about 10% and remains steady. 
Experts attribute this boom to younger veterans and the program's flexible credit score allowance and zero down requirement. We anticipate this tremendous mortgage trend to continue.
Expectations of On-Demand Housing and Origination Software Skyrocket
On-demand services like Uber Eats and InstaCart were an innovative convenience in 2019. But in 2020, businesses that delivered a remote or touch-free service became a necessity. 
As we enter 2021, American consumers have made a full transition into expecting all essential services, like mortgage acquisition, to have remote, on-demand capabilities. 
This shift spills over into mortgage business growth as well. Both real estate agents and prospective LO employees indicate that a firm's technological readiness, like providing origination software, is a primary consideration for partnering with a brokerage. 
Refinancing May Slow By The End of 2021
The refi boom may start slowing down towards the end of 2021 if indeed the economy somewhat recovers and rates begin to rise. However, with an estimated 20 million Americans with mortgages at rates over 4%, the rush to refinance before a significant hike remains prevalent. 
Like Mohtashami, Len Kiefer, Deputy Chief Economist with Freddie Mac, believes that 2021 mortgage trends will be tied to the pandemic, specifically whether it allows the economy to open back up.
"The key thing for the early part of 2021 is going to be what happens with the pandemic…[interest rates] may be modestly higher at the end of [2021], but pretty flat over the next 12 months."