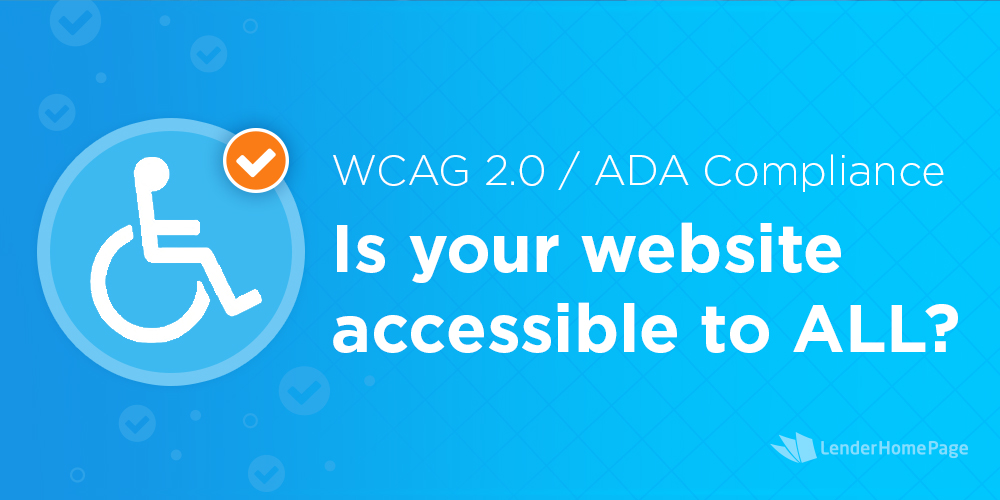 Across the country, several lenders, including some customers of LenderHomePage have received demand letters warning them that their websites were at risk of legal action due to possible non-compliance with ADA & Section 508 regulations. 
Section 508 requires federal agencies to make technology, including websites, accessible to everyone. Accessibility involves meeting the needs of people with a wide range of disabilities, including visual, auditory, physical, speech, cognitive, language, learning, and neurological. 
These regulations led to the creation of the Web Content Accessibility Guidelines (WCAG) 2.1 which defines how to make web content more accessible to people with disabilities. 
Failure to comply with Section 508 of the Department of Justice's ADA (American with Disabilities Act) Standards for Accessible Design could expose your company to hefty fines, the risk of expensive criminal and civil litigation as well as a reputation for being unfriendly to the disabled.
Making Your Website Compliant
At LenderHomePage, we make it our mission to provide the best possible service to our clients, and constantly improve the consumer experience.  As such, we have proactively taken it upon ourselves to make ALL of our customer websites more accessible and ADA-friendly. We have implemented a new standard feature on all websites to include the most widely used accessibility plugin that can help you avoid being in violation of the rules. The UserWay widget provides a baseline of features that help to fulfill the strict criteria from WCAG, ADA, and Section 508, reducing your risk of hefty fines, and even criminal and civil litigation.  
About the UserWay Plugin
Compliance standards for websites are evolving as new technologies emerge, and as laws change, making meeting those requirements a challenge. However, UserWay's plugin is automatically updated to current standards, helping to strengthen any weak spots on your mortgage website that may cause issues. 
Get the Facts About ADA Regulations and Your Mortgage Website
Our digital mortgage platform is built from the ground up, allowing fluidity to all our products –including supporting helpful 3rd party applications like UserWays ADA compliance plugin. 
Sign up for our free webinar hosted by CEO Rocky Foroutan where he will give an overview of Web Content Accessibility and how the Userway widget works with LenderHomePage mortgage websites. 
Just another way that LenderHomePage supports lenders and stays at the forefront of the digital mortgage age. Click to read more about WCAG 2.1 and download Userway widget today!