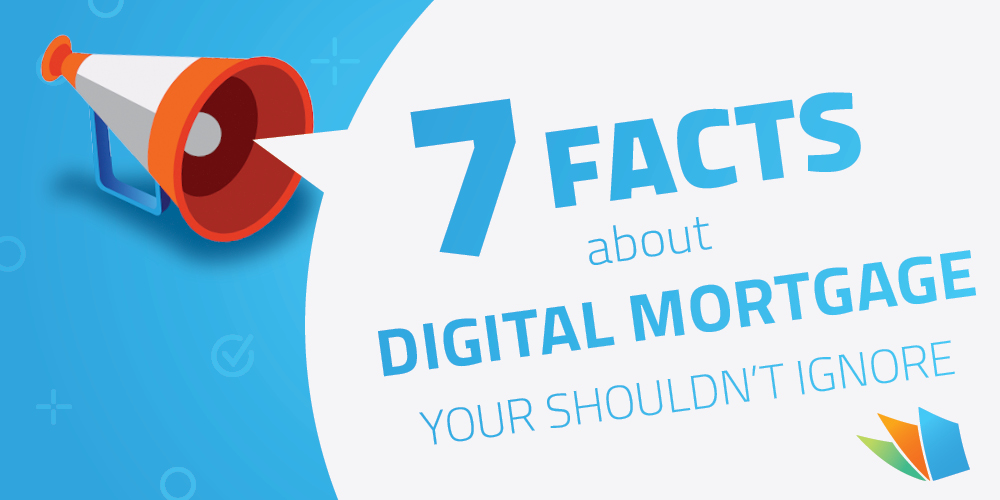 What do current stats say about a digital mortgage? Ellie Mae recently conducted a unique survey that revealed interesting facts and useful information about the digital mortgage experience from both consumer and mortgage broker perspectives. 
The study aimed to understand the experiences and expectations of a digital mortgage from both consumers and their LO's. 
Why does this matter? As we enter this revolutionary age of digital mortgage, we're noticing a marked shift in the way consumers "mortgage." How that translates to customer satisfaction and business success is worth discovering.
Read on to see what this provocative study revealed and find out how you can apply the information to build stronger relationships with your mortgage consumer and ultimately increase loan production.
Details on the mortgage professionals surveyed:
34.8% work at mortgage banks

22.55% work at local or community banks

18.14% work at credit unions 

9.31% work at regional banks 

9.31% are mortgage brokers

5.88% represents national banks and other institutions
Nearly half (46%) of those surveyed were employed by small lending institutions, staffed between one and ten loan officers. 8% worked for firms that employed more than 200 LOs.
Also, the majority of lenders surveyed worked directly with consumers. About 55% dealt in retail loans while 23% dealt in consumer-direct loans. 
What we learned from Ellie Mae's 2019 Digital Mortgage Survey 
Lenders Using Digital Tools Have Greater Loan Volumes
Does embracing mortgage tech lead to higher loan volumes? That's undoubtedly what the data suggests! According to the survey, despite a less than ideal housing inventory during 2017-18, 41% still saw an increase in loan volume. What even more significant is that lenders were 3x more likely to report a rise in 2019 loan production than they were during the year prior. 
How is growth like this possible?
The study explains: While lenders have always looked for a way to increase their business, the method has shifted to one that is more customer experience-focused. Understanding that both engagement and digital tools are deciding factors for today's mortgage consumer, 93% of lenders in this study said that now offer online portals for their borrowers.  
The same goes for mortgage mobile app usage. Lenders who saw an increase in loan volume were more likely to offer their borrowers a mobile app experience. However, it appears that the rise in loan volume is not related to the high usage of the app. Instead, it's offering the choice to use the app that is most appealing to borrowers. 
Digital Tools Builds Deeper Relationships Between Lenders and Borrowers
The study also revealed an interesting dynamic when it comes to the role of online presence for mortgage lead generation. One one hand, 39% of borrowers, said that they found their borrower through an online search. On the other hand, lenders revealed that 41% of their prospects are referrals. 
What this means is that online searches and overall digital presence are primary touch-point for prospects. They begin the search and look for "social proof" to reinforce their decision on which lender to choose.
Diving deeper, mortgage tech helped to solidify the relationship. By going beyond a digital 1003 by adding a portal, the lender creates multiple touch-points, further strengthening the relationship and trust. This action ultimately inspires referrals.
Communication With Borrowers Leads to More Closed Loans
Large lenders have more loans, but when we compare the ratio of loans closed, small lenders come out on top. According to the study, 27% of small lenders closed over 80% of their loans as compared to large lenders who only closed about 15%.
The reason for this wide gap?
Smaller lenders spend more time communicating with their borrowers. The solution, then for larger lenders, is to find more efficient ways of communicating. After all, reducing the number of loans is not an option. A digital mortgage platform is a logical solution. From instant messaging to milestone updates, lenders can stay connected to their borrowers no matter how large the volume of loans they are processing.
Digital Convenience Influences Consumer Expectations
Like we mentioned above, while not all consumers will immediately take advantage of digital mortgaging, the technology still greatly influences their choice of lender. The survey revealed that 50% of borrowers chose their lender based on whether an online application or portal was available. 
On a similar note, 47% said that an online portal for uploading documents was a deciding factor in choosing which lender to work with. The reason that online applications and portals are so critical to decision making is that borrowers associate these tools with faster closing times (66%), easy application process (61%), and accessible information (54%).
Borrowers aren't the only ones sold on digital convenience. Lenders are also reporting similar attitudes. 76% said it simplified the process, 75% said it shortened the time to close, and 73% said it reduced the time for data entry. 
Digital Tools Compliment The Lender-Consumer Relationship
Many mistakenly think that mortgage tech will replace the personal touch of a lender. However, the study revealed the opposite. About 38% of the borrower's surveys that they were contacted between one and five times during the loan process — but felt it was not enough. Surprisingly, this was especially true for millennials. 
In contrast, most lenders (75%) felt that their level of contact was appropriate. While this discrepancy may seem minor, a perceived low contact can lead to low customer satisfaction. The study offered an interesting solution. Instead of only reaching out more often, it suggested varying the forms of communication –using digital tools –offered a convenience complimented the relationship.
Thus, mortgage tech doesn't replace the lender's personal touch but enhances it.
Build Confidence Through Education
Adding to the importance of communication is the value that borrowers put on being educated about the loan process by their lenders. Overall, borrowers feel that lenders are doing a good job of explaining their loan options and what to expect during the process. This is great news!
Gaining Lifetime Clients with Digital Mortgage
In a shocking revelation, only 9% of lenders expected repeat business from a large majority of their borrowers. This meager number represents missed opportunities due to a lack of effort. After all, why try to gain a repeat customer if you don't expect them to become a repeat customer. 
By focusing on building relationships, open communication, and offering mortgage tech choices, all mortgage professionals can ensure their loan pipeline is always filled with qualified prospects. Schedule a free demo of the stackable digital mortgage platform by LenderHomePage.