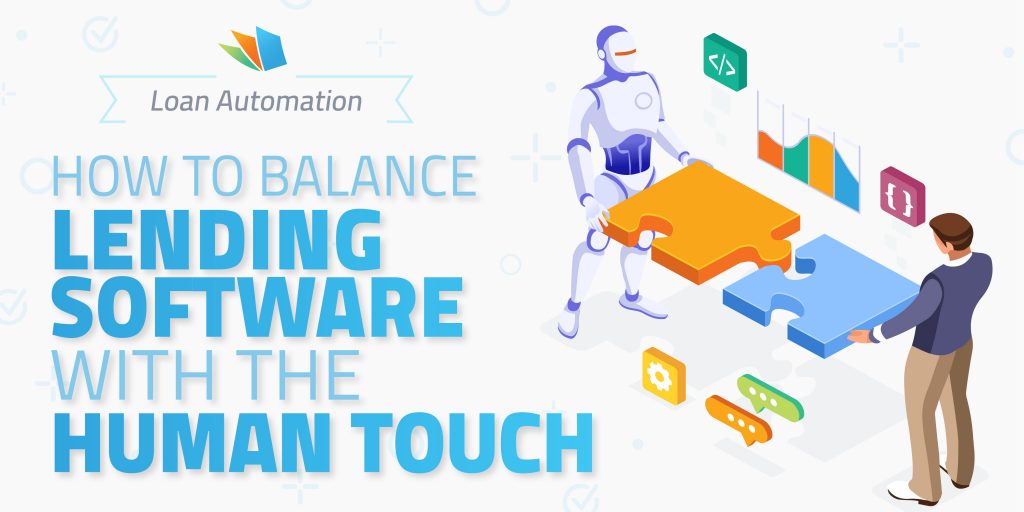 Historically, whenever there was a technological leap, it was met by some resistance. Resisting isn't unique to the mortgage industry –it's evident in any industry where technology altered or interfered with "business as usual", particularly when it comes to human interaction. 
Ultimately (and with a massive push from the global pandemic), the industry moved past the initial uncertainty. The demand and immense benefits of loan automation could not be ignored. 
But does that mean that the human touch is now extinct or irrelevant in lending? Heck no!
Loan Automation Humanizes the Digital Mortgage Experience
The reality is that the emergence of digital mortgage has made the human touch even more vital in lending–and this applies to both human skills and humanizing mortgage technology. 
Here's what we mean: 
Mortgage automation is not meant to replace the loan originator but rather eliminate dull, repetitive, and tedious tasks.
Mortgage tech that interacts in a personable way –humanizing the experience –is preferable and

statistics prove it

.

While certain aspects of lending such as gathering and analyzing data, interpreting results, offering scenarios, and implementation are best done with machines, the human element is necessary for ultimately deciding the best course of action, building relationships, marketing, sales, organic lead generation, and business development.

Here's how the Harvard Business Review explains the role of the human touch in the age of machines, "It's these human capabilities that will become more and more prized over the next decade. Skills like persuasion, social understanding, and empathy are going to become differentiators as artificial intelligence…take over our other tasks."
Uniquely Human Skills Modern Lenders Must Develop
Expand your emotional intelligence (EQ)
Coined by Daniel Goleman, "emotional intelligence" comprises four domains: self-awareness, self-management, social awareness, and relationship management –each of which are vital to outstanding work performance.
While we don't have a validated psychometric scale for emotional intelligence, there's a compelling case for expanding EQ skills. Several studies have tied high EQ to career prosperity and have found that a significant amount of financial success is attributed to "human engineering skills." Unlike IQ, EQ is a learned skill, enabling you to network faster, build stronger customer relationships, increase trust, set goals, and be self-driven.
Grow your empathy
Related to EQ and the foundation of a world-class borrower experience, empathy facilitates meaningful communication and trust-building. As empathy coach Tony Robbins puts it, "Nurturing empathy in business brings numerous benefits, including increased sales, productivity, innovation, and competitive advantage."
Another way to think about empathy is "giving people the attention they deserve." Humans have an innate desire to be understood and valued, which is why an empathic LO will likely have an easier time helping prospects move past their hesitations and onto applying for a loan.
Having a more engaging rapport doesn't have to suck up all your productivity time either! Remember that you're balancing this human skill with mortgage automation.
Let the machine take care of the mundane tasks so you can focus on empathic lead nurturing.
Key Features of a "Humanized" Mortgage Automation System
Numerous lending software programs promise improved efficiency through automation.
However, achieving organizational efficiency through automation requires more than downloading a few apps. Here's what to look for in a comprehensive loan automation solution that compliments your lending soft skills and humanizes/simplifies the lending process for all.
Workflow design
An essential function of loan software is the ability to design, improve, and automate workflows. Look for a solution that allows you the ability to create detailed workflows quickly and intelligently. 
Mobile-office compatibility
In today's stay-at-home and connected economy, mobility is more critical than ever. Modern originators must be fluid and ready to work from anywhere –flowing from working at the office to the home desktop to a smartphone without a hiccup. 
Integration
One of the biggest challenges of automating the loan processes is integrating third-party apps while maintaining security and compliance. Truthfully, few mortgage automation systems do this well. Automation systems that nail this down work seamlessly with lending essentials like asset verification and risk assessment, plus business essentials like email marketing and CRM systems.
Managing tasks and deadlines
Task management is a major feature of mortgage automation solutions. For processes to run smoothly, your entire mortgage team and partners must know what to do and when to do it. Choose a loan software system that allows you to create and view pending tasks, and reassign tasks as needed. This applies to your borrower, too, by the way. A needs list is a no-sweat way to keep them on task and the loan progressing.
See how you can streamline your business and engage loan prospects with a single sign-on platform. 
Access control and security
To protect your systems' security and your borrower's information, you need the ability to customize access privileges. Cloud-based solutions offer the advantage of storing massive amounts of encrypted data in a "virtual vault"  –data that can be efficiently transferred without compromising security or context.  
Communication
Effective communication is key to all relationships –particularly those that involve intricate financial services like acquiring a mortgage. Your loan automation system should offer features like in-app chat with both partners and borrowers and communication archival. From the borrower's perspective, their interaction with your loan software should feel personalized and use consumer-friendly language and logic. 
---
When it comes down to it, negotiating the volatile web of meanings, consequences, and lending scenarios require a human touch. And the deep-rooted consumer desire for human engagement isn't going away. 
But neither is digital mortgage acquisition and the need for automation. 
Therefore, the challenge and differentiating factor will be implementing both loan automation and the human touch to maximum effort. Those that master both will be unstoppable in the new normal.