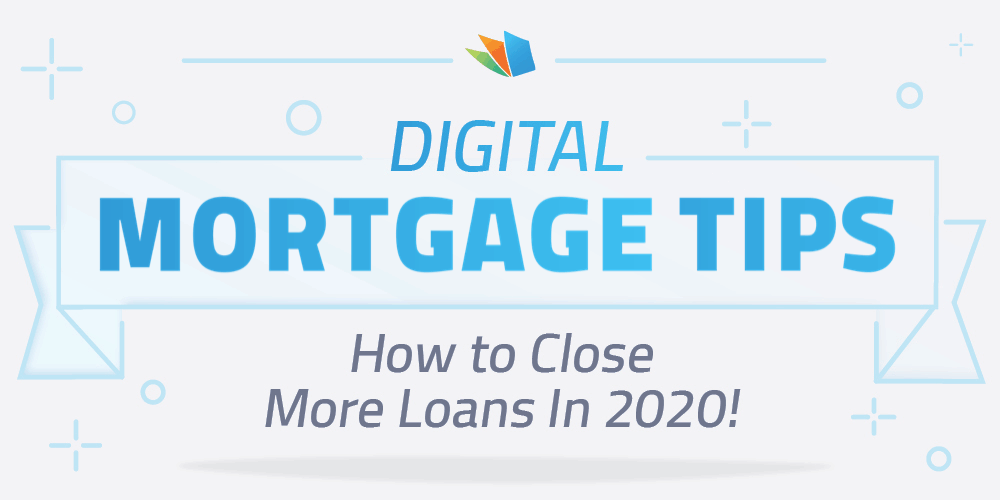 No matter where you're business was at the end of 2019, we bet closing more loans is part of your plan for growth for this new decade. But if plans were worth an actual dollar amount, we'd all be rich. Nope, the only thing that can make it possible to close more loans in 2020 is to implement a plan. But which one?
Knocking on doors or handing out business cards won't cut it. Social media and web presence are the new way to network. 
Adding a run-of-mill digital 1003 to a static mortgage website won't do much for closing more loans, much less help you to compete with gorilla lenders like Rocket Mortgage.
What about loan process automation–is your office still, for the most part, doing it the same as is was in 2018? If you answered yes, then that's a danger sign of stagnated growth. 
We're living in an age of unprecedented innovation and opportunities in the mortgage industry. If you've done little to update and upgrade your mortgage automation, processing, and marketing in the past year, 2020 may be your last year doing loans. 
 Yes. It's. That. Serious.
If you're looking to close more loans in 2020 (or still be in business by the end of the year, for that matter), you need to start with a plan that includes digital mortgage tools. 
But before we delve into the plan that will help you close more loans in 2020, let's address the elephant in the room –the rumors that mortgage tech and AI will replace loan originators.
Could it be possible?
Unequivocally, the answer is no.  
Evaluating loans, matching borrowers to the right opportunity, recognizing favorable alternative loan options, and building meaningful consumer relationships strong isn't something that tech can do all on its own.
From beginning to end, the loan process requires massive amounts of human logic. 
So there you have it. Digital mortgage tech isn't here to replace you, it's here to help you get more. More loans, more free time, and generally more done. 
But like we mentioned, mortgage tech are the tools. The rest of it is largely up to you and executing a plan for getting more loans.
With that said, here's your plan for closing more loans in 2020:
Make More Connections
This one can actually be seen through two different angles. The first is just how we worded it — connect more. The second is to "close gaps." Here's how to do that. 
Meaningful connections:
Create a drip-email campaign specifically for potential borrowers that didn't finish filling out the entire 1003. This helps to keep that lead warm not only be remaining visible but also providing value to their lives. 

If you haven't already, set up a weekly blog and make sure to email it to both borrowers and prospects. This is similar to the first tip, however, a weekly blog is more of a "wide-cast" net. 

Touch base with your previous borrowers and ask for referrals. A study from Ellie Mae revealed that only about 9% of lenders surveyed expected a referral –which translated to little effort in trying to gain a referral!

Leave a comment to 10+ social media followers every day. 

Get more active on Linkedin! Not only will this help to widen your network but it will also help to give "social proof" for you as a professional. Prospects research not only the business name and online reviews but also your name. Seeing an active professional Linkedin profile is powerful.
Close gaps:
Make it easy for prospects to get in touch with you. Make sure your website, email, and phone number are on every digital presence –and multiple times! Our mortgage website templates come built with about 11 call-to-action buttons or links.  

Along with that same thought, close the gap by making it "push button" easy to get in touch. Make use of link integrations on social media platforms and other links where a prospect can reach you with one click. 

Do more collaborations with other businesses, offering real value. This helps to increase the potential of gaining leads through visibility and through reciprocation. When you offer help (collaboration), it triggers a psychological desire to return the favor, sending more leads your way. 
Continue to Learn 
No college enrollment needed! Heck, you don't even need to read 50 books a year like Bill Gates does. However, you should have that same level of commitment.  After all, there is truth to the proverb, "the more you learn, the more you earn." 
Naturally, you'll want to concentrate on topics that are immediately applicable to your lending business, especially in sales –and you should! But go beyond and immerse yourself in related topics such as digital marketing, persuasive writing, working capital management, leadership, entrepreneurship, and investment property management.
Also, don't limit yourself to books! Subscribe to digital marketing blogs for lenders, check out podcasts, look into webinars and online courses, and consider a membership to an audiobook platform like Audible. 
Admittedly, it may be difficult to see the immediate benefits of gaining more knowledge to close more loans. However, no doubt you're familiar with the connection between personal improvement and increasing your potential. Trust the process.
Investing in personal knowledge and encourage your team to do the same will only have positive results. 
Need a place to start? Read these articles:
Feeling more advanced? We recommend these from our digital mortgage blog:
Automate Tasks
Automation has been a hot topic here at LenderHomePage. We've written quite a bit the past weeks about it. That's because we firmly believe that automation leads to success. We'll even let you in on a little secret –automation is foundational to us being able to serve thousands of clients with a small team of experts. Automating certain tasks frees up time and resources so that we can focus on customer service and badass mortgage tech development. 
But precisely how do automating tasks lead to more closed loans? Check out these recent stats on the connection between digital mortgage automation and lending business success:
Ellie Mae's 2019 study revealed that of the 2,000 lenders surveyed, 41% saw an increase in loan production when they implemented digital mortgage tools. 

The same study showed that small to mid-sized lenders saw the greatest benefits, closing over 80% of their loans.

From the consumer's perspective, the Ellie Mae study showed that about 50% of consumers choose their lender based on the availability of an online portal, which automates the loan process for applicants.

Consumers associate loan automation with faster closing times (66%), easy application process (61%), and accessible information (54%) –not only is all this true but offering automation like a mortgage-point-of-sale is something consumers are specifically looking for from their loan experience!
Surprised we didn't give you a step-by-step outline to closing more loans? That's because, just like your borrowers, every situation requires some tweaking and refining to make it the BEST plan for your particular business structure.
Use the Connection – Continuing Education – Task Automation as a general plan for closing more loans and customize it to your lending business. Looking for a digital mortgage platform that also offers customization? Take LenderHomePage for a test run!