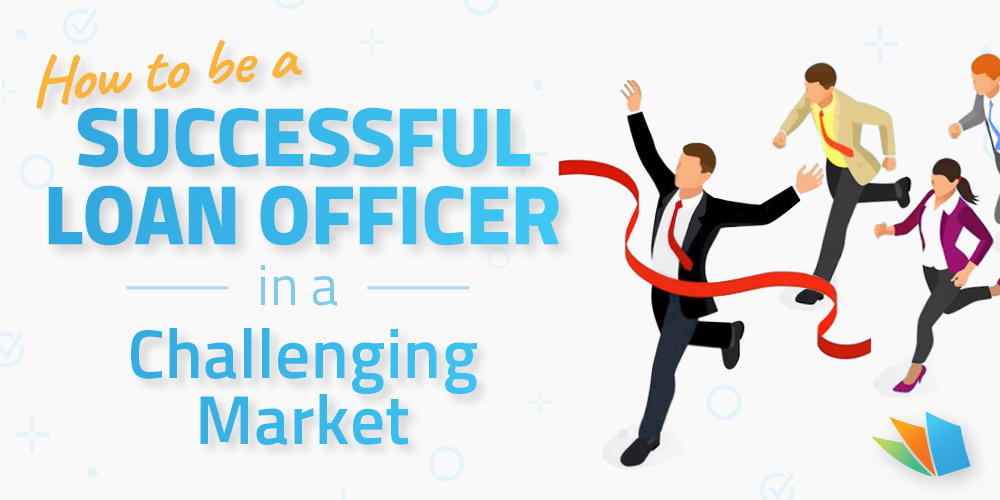 If you've been a loan officer for any number of years, you're familiar with the ebbs and flows of the mortgage market. When things are good, they are very good. And other times, they are "less good." Then there are times like the one we're currently experiencing where it's particularly challenging.
The good news is that all signs indicate we're over the worst of it. The market has somewhat stabilized, and consumer confidence is on the rise. However, while the market is steadying and self-correcting, it's still a far cry from a booming demand; profitable lead gen and conversion continue to be tough.
Thriving in the current environment and preparing for booming success when we're on the upswing again means loan officers must adapt and innovate now.
You must take charge of the future by embracing change and finding new solutions that set you apart from the competition.
In this blog post, we'll explore key strategies to help you become a successful loan officer in any market—from understanding your most lucrative channels to knowing how to leverage mortgage tech to win more referral partners. With our insider tips, you'll be on your way to becoming a top-performing loan officer –no matter the market!
Ignite Business Growth! Book a Website Demo
Successful Loan Officer Lead Gen Strategies
Consider the following four recession-proof strategies to have a pipeline of consistent leads coming through.
1. Identify 3-4 marketing channels that bring in the most qualified leads.
When you focus on too many lead channels at once, it's difficult to keep up, and you may spend too much time on marketing strategies that bring little to no return for your business.
Instead, examine your analytics to understand which marketing channels are truly most successful at converting leads to customers. Your channels could include social media, co-marketing with existing realtor partners, paid leads, paid mortgage digital marketing, organic leads from Google searches, review sites, referrals, and social media platforms.
Examine which channels supply the most leads and have the highest/fastest conversions.
Filter it down to the top three or four that work best for your mortgage business, and see how you can take it a step further. Be sure to set smart, attainable goals which motivate you to work better towards them.
Since digital marketing is a major part of successful mortgage lead generation marketing, be sure to also check out our eBook on how to increase your digital presence online to gain more traffic and leads. The eBook also covers using mortgage loan officer marketing tools to your advantage, including leveraging social media platforms and search engines to find high-quality mortgage leads.
2. Establish new realtor relationships and nurture existing partnerships.
With higher rates and most mortgage transactions lying on the purchase side, you'll want to consistently work to establish new realtor partners and add value to existing ones. Keeping regular contact with your realtor partners and continuously providing value is key to gaining more purchase leads. Sending a sporadic text or call to "check-in" and see if they have a prospective borrower they'd like to send your way is a poor and ineffective way to build a mutually beneficial relationship.
Instead, you must think of ways to positively contribute value to your existing realtor's business, especially in the form of digital currency, such as content, tech tools, and marketing. Plus, you need a way to engage new realtors with a compelling reason to work with you.
For example, originators using Loanzify Mobile App are able to co-brand the mortgage mobile app with their realtor partners to keep prospective buyers engaged with home searches, location-based mortgage payment calculators, and instant mortgage readiness checks – instrumental and advantageous features that consumers won't find on other real estate apps like Zillow.
Boost Referrals: Demo the Ultimate Marketing Platform
Going above and beyond to provide extraordinary value to your real estate partners is the only way to stand out and strengthen your relationship and is one of the best strategies for mortgage lead generation.
3. Leverage mortgage technology as a unique differentiator.
One aspect that will forever help your business stand out from your competitors is the technology you use and provide to your customers.
But this is where most companies get it wrong. It's not just about having tech or even the latest tech (although legacy software is ill-advised).
The #1 benefit you want from your technology is providing customers with the best mortgage experience possible. Home financing is intimidating enough –it should not feel like a chore, too. Luckily, intuitive consumer-facing mortgage software from LenderHomePage helps homebuyers obtain home financing easily and quickly while making the journey exciting.
If you resolve the issue of borrower experience better than your competitors can, you'll close loans up to 5x faster. Not only that, but building out a stellar customer portfolio attracts other marketing-qualified leads, and you'll be well on your way to success.
4. Gain Insight into Your Local Market and Niche Opportunities
As a loan officer, staying informed about national mortgage trends is essential to providing excellent service to your clients. However, it's equally important to understand your local market thoroughly. National headlines may not always apply to your region, and being aware of the nuances of your local market can help you identify revenue opportunities that might otherwise be missed.
One way to stay on top of your local market is to cultivate relationships with real estate agents in your area. These professionals are often the first point of contact for home buyers and can provide valuable insights into the current state of the market. And as mentioned above, real estate agents are a vital aspect of lead generation –particularly in a challenging market.
Another strategy is to track the data and metrics specific to your region. This can include things like the number of new home starts, the number of homes on the market, job market demands, and significant city improvements that may draw the attention of curious home shoppers.
By staying up-to-date on these metrics, you can identify trends and changes in the market and adjust your strategies accordingly.
You can also use this information to create short blog posts to send out to your prospects and referral partners.
Wrapping up: How to stand out as a loan officer
Loan officers must stay informed of the current market shifts and use strategies such as optimizing their marketing channels, leveraging mortgage technology, building relationships with realtors, and understanding local markets to succeed. Whether in a booming market or a downturn, there are ways to remain competitive and profitable.
Plus, being prepared should never be underrated when it comes to achieving long-term success as a loan officer—regardless of what type of environment you are working in.
So if you're ready to take action, contact us at LenderHomePage today and get access to powerful digital tools that will give you an edge against all competitors in any market. We look forward to partnering with you to win.
Drive Success: Demo Our Digital Mortgage Marketing Platform