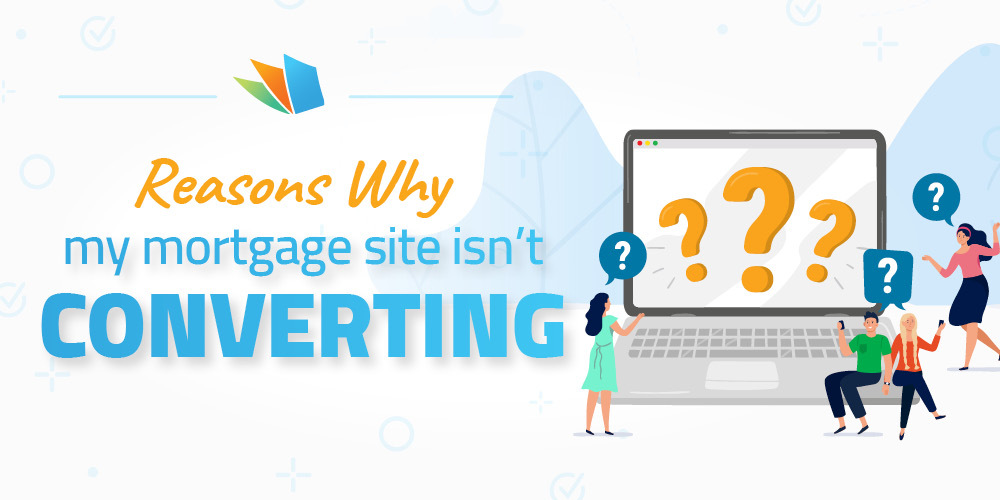 Similar to how businesses live and die by sales, mortgage websites live and die by conversion rates. A thriving conversion rate means mean a full pipeline with a steady revenue stream while poor conversion means you're struggling to keep your mortgage business afloat. 
The thing that many mortgage professionals don't realize is that the secret to converting isn't increasing website traffic. It's actually improving the customer experience –or in our case –the borrower experience.
These are the key markers of a great borrower experience:
Useful. The more useful your website or digital mortgage tools are, the better the experience.
Usable. Meaning that the website or mortgage POS platform is easy to use. 
Desirable. Leverages the power of clout, image, identity, and other emotional triggers.
Logical. Design and navigation should be so users can easily find what they need.
Accessible. Accommodates users with disabilities.
Credible. Well-designed, functional, and with valuable content that signifies a trustworthy business.

5 Areas To Improve On Mortgage Sites For Better Conversion Rates 
Better Placement of Call-To-Actions
This tip may seem too easy but it's surprising how many mortgage websites ignore the most logical tip of all: put your call-to-action (CTA) buttons where users will see it. Specifically, you want the CTAs to follow the natural path that users take while navigating your site and you want them to be prominently displayed.
Be mindful of not pulling their attention in too many directions. Try to have only one CTA visible at any point on your website so as they click around and scroll down they're head isn't spinning with options (which will cause them to click out of your site).
Unclutter and Define Mortgage Website Elements 
Along the same vein, you want the design of your website to be clean and professional. Group copy and various elements together in manageable chunks to better the define space and so users can consume the information with ease. 
On the homepage, remove anything that doesn't directly affect their decision. That goes for copy, too. Elements like your mission statement or company history are best left for your "about" page. 
Make It Accessible From All Devices
Responsiveness is an essential part of the customer experience. Mobile responsiveness refers to the website's ability to both change layout according to the screen resolution but also alter the functionality (mobile-first) so that it's easy to use from every device. A responsive mortgage website would resize automatically so that the user doesn't need to pinch or widen to get the content to fit the screen and elements like buttons and menus would be simple to use from a mobile device.
Considering that over 70% of searches are now conducted from mobile devices, you can see how important it is to improve this area to increase your conversion rate.
Design for Intuitive Interaction and Consistency
An intuitive and consistent design creates familiarity and credibility while reducing the learning time users need to convert. This can be done with elements such as uniformity of fonts, colors, graphics, buttons, and tone. Echoing the point above, place your CTAs in locations where users would naturally click. By doing this, you reduce frustration, enhance ease of use, and increase opportunities for your digital shoppers to convert into mortgage borrowers. 
Improve The Mortgage Intake Process
Researchers at Google found that the structure of web forms has a significant impact on willing a user is to fill it out. Even simple things like polite error messages and when to use a drop-down versus a check box influence conversion rate. As does readability, meaning the font size, spacing, and wording. 
LenderHomePage: Mortgage Websites Built for Conversion
At LenderHomePage, we understand how vital it is for mortgage professionals to have a digital presence that is professional, attractive, and converts immediately. With over 40 mortgage templates to choose from, each one designed with all the necessary elements of a high converting website, you can launch a dynamic site within minutes instead of fiddling with it for hours. Simply plug in your business information, your logo, and customize the color scheme and you'll be ready to impress your digital mortgage shoppers. Get a free 14-day trial here.