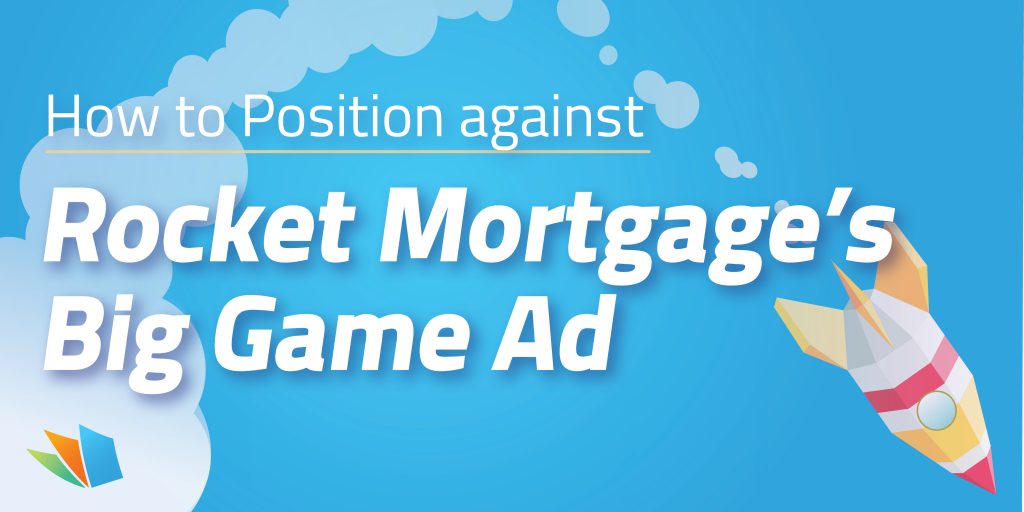 When it comes to advertising, the top of the food chain of ad placement is, well — the Big Game! And this year, Quicken Loans is making headlines even before the game as they're the first official mortgage sponsor of the NFL.
As the official mortgage sponsor, Quicken Loans will be hosting the Rocket Mortgage Sweepstakes, where winners will have the chance to win cash prizes as much as $500,000. To get an idea of how much the online mortgage company could potentially be paying out, consider that if this sweepstakes were around in 2019's game, Rocket Mortgage would have paid out about $1.25 million. 
The obvious question is: How the heck can a small to midsize mortgage broker compete on that scale?!
We get it. Quicken Loans is intimidating, especially when they're spending millions on getting their online loan services in front of the eyes of your prospects. 
Does that mean you're done for? Have they won the digital mortgage race?
Amazingly, no, it doesn't!
We'll even go as far as saying that they're doing you a favor. That's right, not only should Quicken Loans' deal with the NFL not worry you, it should even excite you. Confused? Let us explain.
The bigger Rocket Mortgage appears, the more they lose the human touch. 
The thing is that, despite living in a very digital world, we are still creatures of relationships. When you think about it, the reason that Facebook dominates is because they make it so easy to connect with real people. 
So while Rocket Mortgage is out there spending millions trying to connect with prospects through impersonal cash prizes, small to midsize mortgage brokers can focus on creating meaningful, long-lasting relationships. 
Does that mean you should completely ignore digital? Absolutely, unequivically the answer is no. Ignoring digital in the mortgage industry is the worst mistake you can make.
What you want to be in the optimal, mortgage sweet spot of digital with a "human element." 
And that is how we designed our mortgage point-of-sale system –Loanzify. These are just a few of the ways that this tool empowers both you and your borrowers to connect, meaningfully, in a digital world:
Loanzify is customizable to your brand, boosting confidence with the borrower that their local mortgage pro is competitive and current with technology

Digital 1003 uses easy-to-understand, interview-style questionnaire for frustration-free application

In-app chat allows borrowers to send messages and documents to their mortgage professionals directly. 

Real-time timeline shows borrowers how close they are to closing while explaining what to expect in each phase. 
And that's just the beginning! Loanzify's functionality gives small to midsize mortgage pros the digital presence and function that positions them to compete with Rocket Mortgage at a local level. So when you see the big game this Sunday and Rocket Mortgage ads flashing everywhere, remember this:
Loan prospects aren't just looking for digital convenience; they want a local mortgage pro that will help them with achieving their dream of homeownership. No face-less, "rocket" lender can do that.
Want to see what else LenderHomePage can do for you? Click here for a free trial and test drive our digital mortgage platform today!