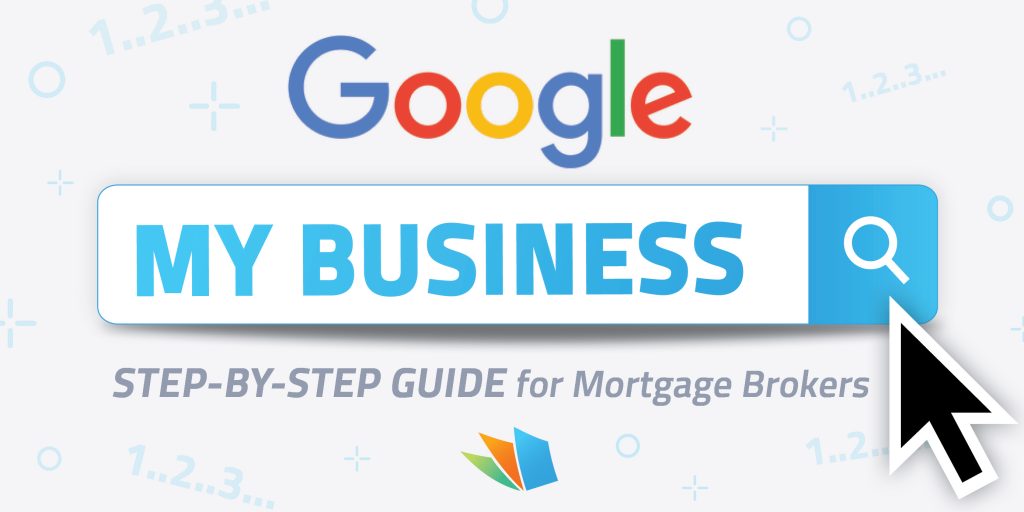 Listing your mortgage business on Google My Business (GMB) is part of your SEO strategy. Or at least it should be. More than 50% of search inquiries happen via mobile and are often for local businesses. Since this true, it's no wonder that Google will put GMB listing front and center whenever on mobile searches.
So while SEO on your mortgage website serves as a foundation for your digital presence, your GMB is a beacon. 
In this step-by-step guide, we're going to show you how to set up, verify, and optimize your mortgage GMB listing to give you the best shot at getting your business in front of prospects that are actively looking for you.
How to Create and Optimize a Mortgage Listing on GMB
Step 1 – Create a Google Account
All GMB listings must be created under a Google account. It's perfectly fine to use your personal email account since it won't show up on the listing itself. This Google account is also where you'll access the listing dashboard and where you'll receive notifications about activity, such as reviews or image views. 
If you don't already have a Google account, you can create one here: https://www.google.com/business/
If you already have a Google account, then it's just a matter of accessing GMB from your suite of apps. 
On Google Chrome, open up a new tab. At the upper right corner, next to your profile image, you'll see some dots arranged in a box. Click on that, and your Google apps menu will dropdown.

Select "My Business," to access the dashboard and get started. 
Step 2 – Set Up the Details of Your Business
Google will walk you through the setup process. First, add your business name and address. You'll then be asked if you serve outside this location. Select "yes" as this will let your prospects know you're willing to meet them outside your office. 
Then, you'll choose the geographic locations you serve. List every city you serve to maximize exposure and optimize your listing. The next step is to select your business category. You'll have a few choices when it comes to "mortgage." Choose one (you can add more later).
The last step is to enter your contact details. Enter your phone number and mortgage website URL. Note: you'll see that an option for a free website. If you don't already have a mortgage website, please sign up for a free 10-day here. Google websites are elementary and lack all the necessary functions of a mortgage website. 
Click "Finished" to be taken to the control panel where you can continue to optimize your mortgage GMB. 
Step 3 – Verifying your business
Before your business appears on GMB listings, you need to verify it. Google has a few different ways they allow you to do this –the most common one being through a postcard with a code. 
Make sure that the address you listed is correct and add your contact name. Click on "Mail," and you'll receive the postcard in about 5 business days. When you get it, go back to your should dashboard (see step one), select "Verify Now" and enter the code. Done!
If for some reason, your postcard doesn't arrive, you can request another. 
Verifying By Phone
Some businesses have the option to verify with a phone call. If this option is available to you, you'll see it listed. Double-check that the phone number listed is the correct one and click to verify. You'll receive a text with a code that you enter.
Similarly, some businesses can verify by email. If this option is available to you, you'll see it listed. When you choose this option, you'll get an email with a button to click to verify. Just click it, and you're all set.
Step 4 – Optimizing GMB for Mortgage Services
Now that the basics are set and your business is verified, it's time to get to the nuts and bolts of your mortgage listing SEO. From your dashboard, select "info" and update. 
Fill out this area with as much information as you can and make sure it's accurate. Anyone can "suggest an edit," so you want to make sure that your information is as accurate as possible the first time.  
Next, add some photos. Your logo is a must. A headshot is also a great idea if you're solo. Pictures of team members, your office building, and office space are other images you may consider uploading. 
Check out your insights to see how well your business is ranking. Take notes on Google's suggestions for enhancing your listing and publish updates natively on the "post" section. This helps immensely for SEO ranking as well. Plus it also comes with a call to action (CTA) right on the post, making it easier to convert those prospects.
So now that you've increased your mortgage leads with an SEO optimized listing, what's next? The mortgage journey, of course. Explore our suite of digital mortgage tools, all designed for enhancing your brand, workflow, and consumer-facing mortgage process.