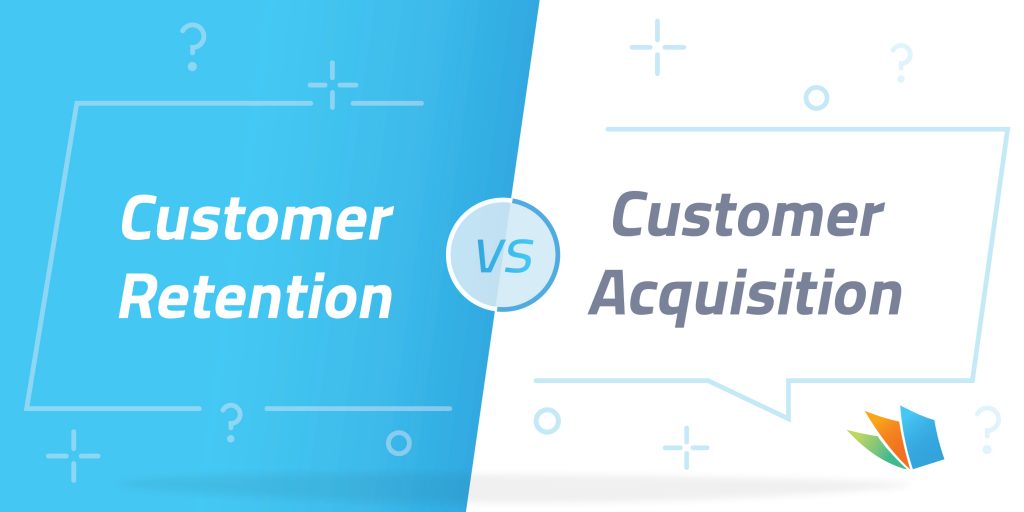 A large portion of our time and budget is dedicated to mortgage lead acquisition. But here's something often overlooked: It's actually less expensive to nurture a mortgage lead into a customer than it is to acquire a new one. 
 In sales, this is referred to as "acquisition versus retention," and this concept is critical for your mortgage business success. Here's why.
The first reason, we already mentioned –it costs less to nurture a mortgage lead to closing. The second reason you need to know the difference between acquisition and retention is that the marketing tactics themselves are different for each type.
Most of our previous posts focus on marketing for acquisition. However, this one will focus on mortgage marketing for consumer retention –ie, working a lead until it converts into a loan application. 
So before we discuss the mortgage consumer retention marketing and how to maximize their potential, let's clarify who is in the acquisition stage and who is in the retention stage. 
Mortgage Acquisition Stage– This is someone that is interested in a mortgage but has yet to share their information through a lead capture form or a pre-qualify form. They may have visited your website or may even follow you on social media. However, they have yet to share their contact info.
Mortgage Retention Stage– This is someone who's info you have. You may have acquired it through a lead capture form when they signed up for your newsletter or because they pre-qualified with you. We often refer to this group as "prospects."
Quick facts about mortgage consumer retention
A 5% increase in mortgage customer retention can increase profits by as much as 95%

It costs an average of 5 times less to retain a mortgage prospect than it does to acquire a new one.

The success rate of getting a current prospect to complete the full 1003 is 60-70% versus a 5-20% chance of getting a brand new lead to fill out.

About 70% of consumers end a relationship with a company due to poor experience and customer service. 
Foundational Factors that Influence Mortgage Consumer Retention
Cost and Value – Including actual and perceived savings. Consumer perception also relies on whether they believe they are getting more for their money. 
Consumer Experience -Traditionally, the experience is through face-to-face customer service. But today, it's even more urgent that their digital experience is just as excellent. Most notably, a mortgage consumer's first experience with your lending business is with your website. Consumer experience, including fast loading time, easy to navigate, and simple 1003 are but some of the factors that influence mortgage consumer retention. 
Saved Personal Details -Single sign-on 1003 makes the mortgage experience hassle-free for the consumer as well as more secure for your mortgage team. 
Best Mortgage Marketing Ideas for Retaining Consumers and Gaining More Loan Applications
Email Marketing
Email is one of the most cost-effective marketing tactics and has one of the highest conversion rates. 
The reason that it has one of the highest rates of conversion is that the prospect has already interested. They gave you their email, after all.
That means they're expecting to learn more about your loan services. And if you fail to email them regularly, you run the risk of losing them to another LO. 
 The Right Email Message for Mortgage Consumer Retention
Send home loan information that is relevant to their needs and attempt to be as specific as possible. So while a general update is okay occasionally, it would be best if you emailed content about a particular loan product they need. 
However, sending general home loan and refi emails, such as those from your weekly mortgage blog, is better than nothing. And remember to include a call to action such as "Click to Read More," "Start Your Home Application Now," or "Contact us for more info."
BONUS! Even after the prospects converts into a loan and closes, you can still email them! Keeping the line of communication active helps to enhance customer satisfaction and increases the chances that they will refer to your mortgage services.
 Consider the following emailing campaigns for those that have already closed their loan with you:
For those currently in the mortgage process – create a drip campaign that features articles about what to expect during the process, frequently asked questions, how to prepare for moving in, and a list of local resources necessary for moving into a new home.

For those that have already closed – create a drip campaign featuring articles about home maintenance, managing finances, and future loan services such as refi and 2nd mortgages.
Customer Appreciation
Thank your prospects for being part of the "family" by offering exclusive perks. This could be a free ebook or a webinar or even a physical workshop that you hold at your office. Teach about the various aspects of getting a loan, as well as the digital mortgage process. Invite a financial adviser or realtor partner for even more value for your "mortgage education" program. 
 Yes, this is also a great way to entice new leads. However, current prospects convert faster, so pay extra attention to them. 
Ask For Feedback
Asking is the surest way to know what's keeping your prospect on your list (retention) and what's keeping them back from applying for the loan. Collect consumer feedback with a simple survey. Consider asking questions:
Improve Customer Service
How would you rate your experience with us?

Are you satisfied with the length of time it takes to get a response from us? 
Solve Problems
Are our mortgage service and education newsletter useful to you?

Have you contacted another lender about getting a loan?

If you have, how would you compare your experience with them as compared to with us?
 Showcase Your Strengths
What is your favorite thing about our mortgage services?

Would you recommend our business to a friend shopping for a home loan?

What part of your experience with us has exceeded expectations?
Improving Digital Mortgage Journey
Is it easy to find answers on our website?

How useful has our mortgage app been in shopping for a home loan?

What features about our online application did you like the most?
Help you understand consumer needs
Do you feel more knowledgeable about home loans since connecting with us?

What do you like most about our newsletter updates?

What do you like the least?

Is there anything else you'd like to share with us?
 We suggest asking for feedback about two to three weeks after they gave your their contact info, and they have consistently opened your email.
Need more support with mortgage consumer retention? Upgrade your digital mortgage platform! Click here for a free trial and see all the bonuses we've included in our mortgage website, all designed to bring you enhance the mortgage consumer experience.