Imagine Santa's elves going all out to make your holiday season more cheerful. They decked out your yard to the envy of your neighbors. That hard-to-find gift you've been stressing over? Already wrapped and nestled under the tree. Done.
We're Santa's Elves to your Digital Marketing
Our new Social Media service is a fast, impressive, and effective solution to ENHANCE your marketing reach, BOOST your lead generation, and INCREASE brand recognition.
Social media has proven to be one of the most powerful ways to reach prospective borrowers in 2022, and it will be even more critical in 2023. But doing it with consistency and relevancy is a challenge. We get it.
However, it cannot be ignored.
Adding our new social media to your marketing stack TODAY will ensure you get the best price on the mortgage industry's most robust social media marketing service.
Automated and Done-For-Your Social Media Marketing: Exclusive Sale for the Season!
Helping you leverage social media to make meaningful connections with borrowers and stand out as a local industry leader.
Automated Social Media features:
Evergreen content — Search-optimized, high-value content
Diverse Topics— Ranging from consumer tips, loan product info, holiday, and more
Branded — Graphics are branded with logo and company color scheme
Landing Pages –Content has dedicated landing page within your LenderHomePage website
Automated –Posts are automatically shared on company social pages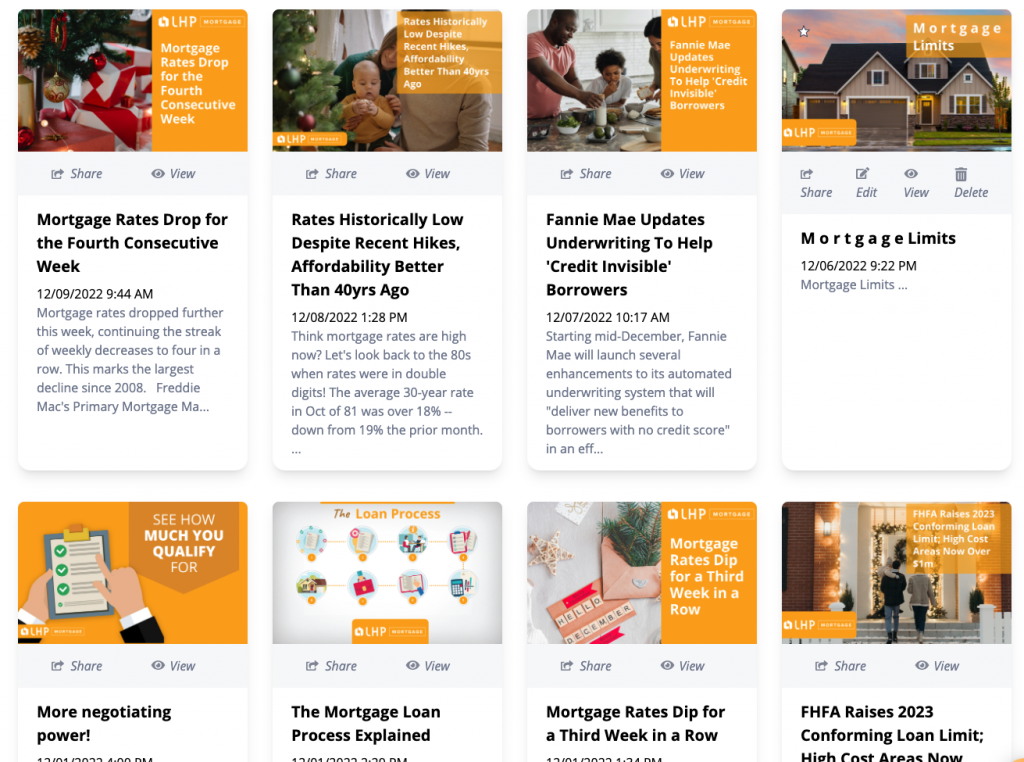 Done-For-You Social Media features:
Trending News –Buzz-worthy industry topics and breaking news
Engaging –Insightful and relevant content that invites conversation
On-Brand –Graphics branded with company logo, LO profile image, and NMLS #
Content Library –Access to 100+ share-worthy social posts
Fresh Content Weekly –New content added 2-3 weekly with email notifications whenever new posts are available.
The Joy Of Getting The Best (at the Best Price!)
Our industry is facing some challenging times, so we want to ensure that you get our most affordable pricing on tools designed to help you win. Don't miss out! Click below to access our limited-time holiday deal.
Get "40% Off" Social Media Deal